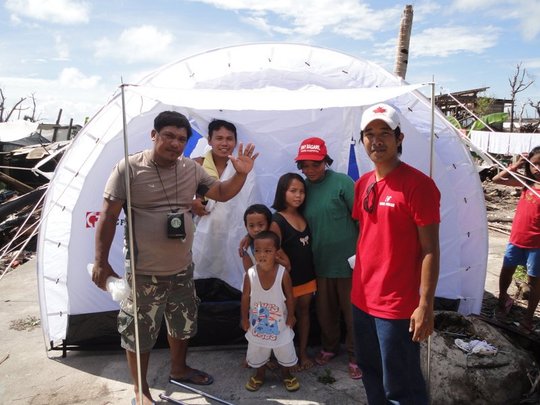 Thank you so much for your support to our project. We have finished the first phase of our Typhoon Haiyan response and are currently planning our rehabilitation program for the next phase. We hope to raise more funds so we can continue working with our local partners to help survivors recover in the mid-term.
Here is a report post-emergency phase.
----------------------------------------
We have completed our emergency relief efforts in Leyte and Samar in partnership with fellow Alliance member CDRC. A total of 1,900 relief packs were distributed to families in the towns of Alangalang and Albuera in Leyte from November 23 to December 3. The relief packs consisted of food items and hygiene kits good for one week for a family of 6 persons, as well as sleeping and shelter kits.
On December 5-7, we also distributed 500 emergency tents in Guiuan, Samar, the first town to experience the brunt of Typhoon Haiyan, as well as 400 tents in Tanauan, Leyte, a coastal town in Eastern Samar where destruction caused by the storm surges is visible in numerous toppled houses and debris on the roadside. In addition, 60 more tents will be distributed in different areas in Leyte. Many survivors lost their homes or are faced with the difficulty of repairing their homes given the lack of supplies in the devastated areas. Most have been using plastic sheets to temporarily cover their roofs; while some have built small makeshift shelters made of debris or scavenged materials.
Measuring 3 m x 5.5 m x 2.1 m, each tent can accommodate a family of up to 6 people and can be easily set up by 4 people in about 10 minutes. Our staff demonstrated how to set up the tents before distributing them to the beneficiaries, most of whom had their houses washed away or destroyed by the strong storm surges.
One of our emergency tent beneficiaries had this to share:
"I live in our house here with my aunt, uncle and sister. When the typhoon happened I was in Cebu. I'm a student at Cebu City University majoring in Electronics because I want to be an electrician. My aunt was in the house, but it was completely washed out by the storm surge. Nothing was left. I came back to evacuate my sister to Cebu. I decided to stay here so I can help fix our house. We sometimes receive relief goods. We don't buy at the market because we don't have any money. We can't fish because our boats were also destroyed. We made a makeshift nipa hut so we can sleep somewhere, but now we have this tent, my aunt, uncle and I can use this instead. I'm really thankful to the Japanese people for helping us." - Jerome, 18 years old, Guiuan resident, Civic Force emergency tent recipient
While bigger towns like Ormoc and Tacloban are experiencing a revival of their local markets, many smaller towns in Samar, one of the poorest provinces in the Philippines, are still reliant on relief goods. Businesses like groceries and supermarkets should restart operations to help normalize the local market. As it is now, local informal sellers are taking advantage of the extraordinary situation by selling goods 2 to 3 times the normal price, even if the government is supposedly controlling the market prices in the affected areas. Survivors we interviewed even said that some of the informal sellers are even selling goods they looted from stores in Tacloban.
Most of our beneficiaries were fishermen and farmers who lost their livelihoods in the typhoon. To help them get back on their feet, we are planning to provide support through livelihood assistance programs. Your support in the next phase will is always welcome. Donate today.