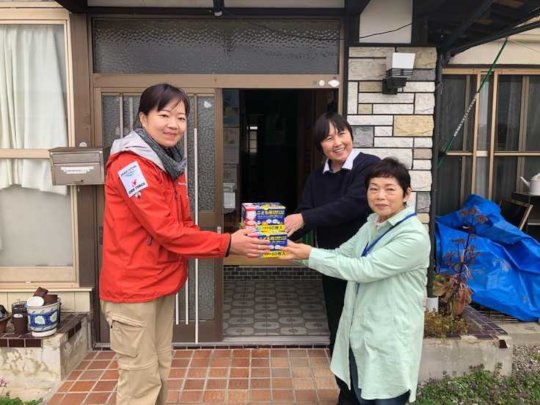 In our last report from February 2020, we informed you about our emergency response to COVID-19 in China with over 500,000 masks distributed to affected areas. Since then, as COVID-19 hotspots spread to other countries around the globe, Civic Force began focusing on emergency response in Japan.
With personal protective equipment (PPEs) such as surgical masks and gowns in high demand and supply chains disrupted, many medical and welfare facilities were unable to replenish their stock of PPEs. These front line workers were constantly exposed to the virus and the patients and clients they dealth with were often the most vulnerable subgroups such as the elderly. Through the joint emergency response team called "ARROWS," Civic Force and our partners responded to the needs reported by these facilities, expanding activities and beneficiaries as the pandemic grew.
March Activities
-- Distributed over 160,000 protective masks to nurseries, kindergartens, day care centers, and welfare facilities in Fukuroi starting March 2.
-- Leased and installed a mobile trailer office at a hospital in Osaka on March 5. The trailer was used asa waiting, consultation, and triage room depending on the changing needs of the hospital.
April Activities
-- Leased and installed an air tent at a hospital in Osaka on April 7. The tent was used as an overflow area for patients waiting to see a doctor.
-- Distributed 54,800 protective masks to 274 welfare facilities in Tokyo from April 8-10.
-- Leased and installed trailer offices at two hospitals in Kyushu on April 23.
-- Dispatched a medical team to the Italian cruise ship, Costa Atlantica, docked in Nagasaki on April 28. There were 148 confirmed cases on the ship and our medical team was dispatched at the request of Nagasaki Prefecture's Disaster Management Assistance Team (DMAT). The ARROWS medical team helped provide medical consultations and assisted with patient transfer operations.
May Activities
-- Launched a new fundraising project to support recovering communities that were previously affected by other disasters. Through the NPO Partner Project, Civic Force will support local organizations that provide much-needed aid to their communities such as providing safe spaces for children and education assistance.
-- Civic Force's Executive Director, Kaori Neki, joined six other NPOs across Japan in submitting a letter to a member of the House of Representatives, petitioning to expand the eligibility of the COVID-19 subsidy program to NPOs. NPOs across Japan have been leading efforts in the national emergency response to COVID-19 and need more support.
Please continue to support Civic Force's activities by spreading this report on social media and donating. Thank you for your generous support!