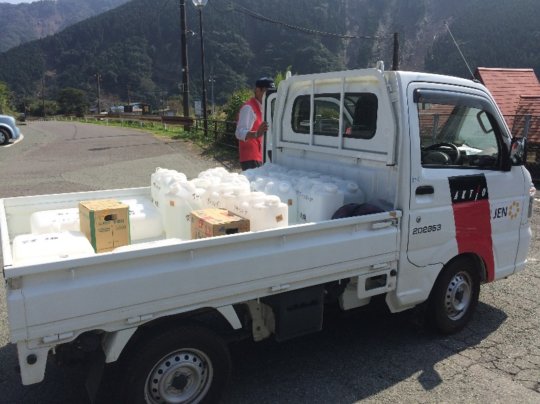 Following the devastating Kumamoto earthquake in April, 2016, support organisations, including JEN, came to Kumamoto and have been providing support to survivors. While it is true that organisations from other prefectures are working hard, local organisations have an advantage over outside ones in approaching affected people, understanding their needs, and providing precise assistance to them. JEN regards assisting those local organisations as a pillar of its supportive activities in Kumamoto.
Kumamoto Green Co-op is one of the local organisations that have been supporting survivors since shortly after the occurrence of the earthquake. As one of the ways to assist the co-operative, JEN has been lending it a freight lorry since September.
The Kumamoto Green Co-op has been delivering supports in many kind since 15, April, the day after the occurrence of the Kumamoto earthquake, such as, delivering relief supplies including food and water; helping with debris removal and cleaning up survivors' houses; offering baths, legal aid services, entertainment for children, and a food van service; and preparing soup kitchen.
In each activity, it has been displaying the geographical advantages in the area and a capability of arranging the logistics on grass roots level to reach every survivor there.
Approximately 4,000 units of temporary housing for people displaced by the earthquake have been built around the prefecture. Local governments and social welfare councils are encouraging survivors move into the temporary housing.
Other displaced people of about 9,000 households are living in rental housing subsidized by the government to make up for the lack of temporary housing, and yet more survivors are still living in their damaged houses.

Unlike those survivors living in the temporary housing, the survivors living in rental housing, or in their own damaged houses, are in the most vulnerable position because it is extremely difficult for local governments to track their whereabouts and understand the problems that these people face. Responding to this situation, the Kumamoto Green Co-op has taken advantage of its own network of connections to approach those survivors, understand their needs, and provide meticulous assistance to them.
One of examples is a support activity being done in Minamiaso village where the main source of income of the village are from livestock farming. In some parts of the village water supply is still disrupted but survivors who have cows and fields to look after cannot abandon their houses. The Kumamoto Green Co-op has been supplying water necessary for daily life and a tank of water for continues their business agricultural purposes to those survivors.
JEN is lending a delivery lorry to the Kumamoto Green Co-op so that it can deliver aid more quickly to further parts of the area.
JEN's support activities also include efforts to wash off volcanic ash with high-pressure sprayers in Miyaji district, Aso city, due to the eruption occurred in Aso Mountain the last November.