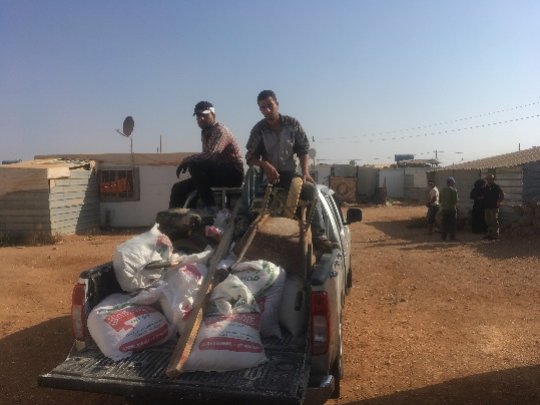 It's only mid-August but already it's 40 degrees celsius at Za'atari refugee camp.
This year, JEN started providing support to improve the well-being of the most vulnerable families at Za'atari camp.
A 3 meter x 5 meter container, "caravan" is provided to a family of 6. The caravan is not large enough to live in, so many families add extra rooms onto the caravan, to create a kitchen and bathroom. To use the space next to the caravan they lay cement as the ground is rocky and uneven.
However, it is difficult for many families especially those in need of nursing care, single parent families, families with many children and wheelchair users to earn the money needed to improve their living conditions. So some families live on an uneven dirt floor. So, JEN supported 8 families improve their living conditions, if only by a little, by making cement floors for them.
JEN will be there for the most vulnerable households to keep providing the support they need.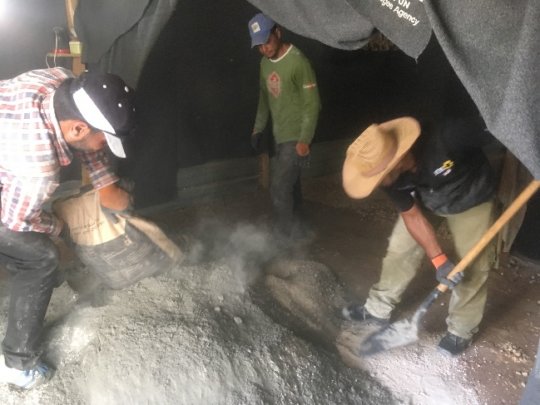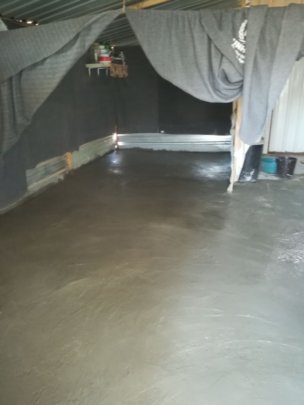 Links:
Since July 10, JEN has provided emergency assistance for survivors who were affected by the flood in southern Sri Lanka in May.
=====

On August 27, JEN completed the distribution of emergency shelter kits distribution to 150 households in 13 districts.
We would like to thank you once again for your continued support.
This is a report on the distribution of tent reinforcing materials JEN has provided in a camp in the Wanniyawaththa GN Division, Nivithigala DS, Ratnapura District.
Temporarily shelters were installed and people affected by the flood resumed their daily lives. Houses are located on the mountainside at the end of the steep path.
Unlike the material JEN has distributed can withstand heavy rain, so people can settle down and have a roof over their heads until their houses are rebuilt.

Even while we were providing this assistance, the news of extensive floods and mudslides came in one after another from India, Nepal, Sierra Leone and elsewhere.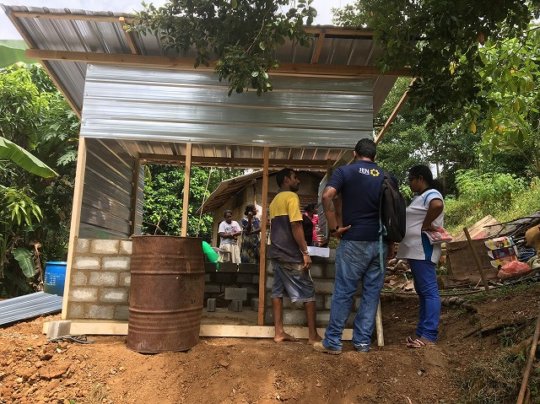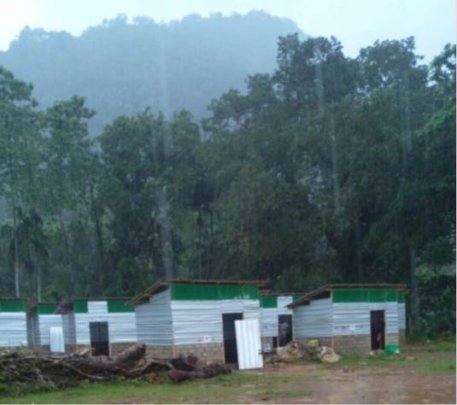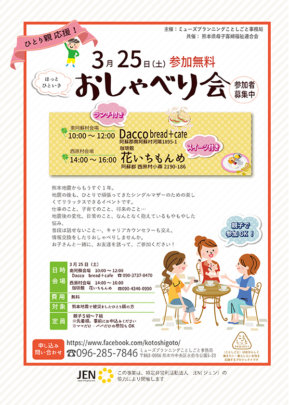 This year JEN, with our partner organization, Muse Planning (contents available only in Japanese), gave help to single parents who were affected by the Kumamoto earthquake as part of our assistance activities for victims of the earthquake.
The "Single-Parent Chat and Lunch Meetings" were held in Mashiki Town and Higashi-ku, Kumamoto City in March and April, respectively. In these meetings, single parents took the time to talk to each other about their daily lives. A career counselor ran a workshop to give advice on how to get a job.
The participants really appreciated the meetings as exemplified by their comments:

"I was able to talk about my worries and anxieties and get peace of mind as I now realise that everyone is in the same boat"
"It was good that I could get to hear the stories of various people"
"My heart felt lighter when I met people who had similar problems"

Average annual income of single mothers in Kumamoto City has not increased for quite some time and has been stuck at about 1.8 million yen, which is less than half the average wage of the entire Kumamoto Prefecture.

Single fathers earn 2.91 million yen, which is about 70% of the prefecture's average (according to the Kumamoto prefecture single parent family survey). The earthquake affected areas where already earning a living was not easy.

Kumamoto Prefecture conducted a survey on single parent families in August, four months after the disaster

Regarding the changes in income, only 2% of the people experienced a rise whereas 16.4% experienced a decrease; in particular, as many as 25.3% of the residents experienced a decrease in the Kamimashiki area where the extent of damage was most severe.

The single parent family survey which Muse Planning conducted with the assistance of JEN also clarified that people's expenditure has increased.

Some people claim that not only did their income decrease but also that they spent their savings quickly because the cost of washing, bathing and eating out dramatically increased, so many face financial hardships.
Other people say that both cleaning-up after the earthquake and evacuation were costly too and that life has become very hard.

With their children at home people also said they had the additional problem of not being able to go to work.
JEN has learned from our assistance experience in the affected areas around the world and in the Tohoku region that after the disaster strikes the situation, rather than getting better, tends to at first get worse.
JEN is determined to continue our assistance activities all over the world by giving the highest priority to the care of people who are most in need.
WARNING: Javascript is currently disabled or is not available in your browser. GlobalGiving makes extensive use of Javascript and will not function properly with Javascript disabled.
Please enable Javascript
and refresh this page.