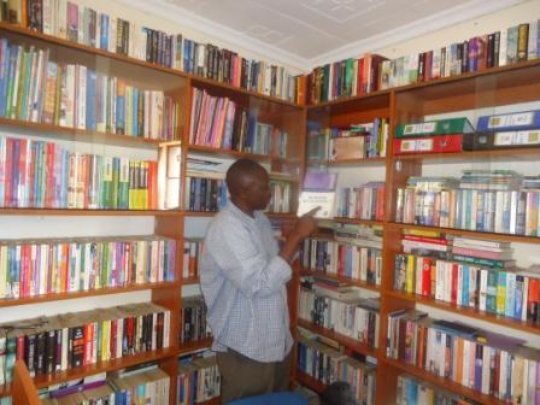 We are convinced that education plays a key role in the struggle against poverty. That is why Progressive Volunteers is working on all these projects to support needy students and help schools in economically and socially disadvantaged areas in our community. Education is imperative to tackling poverty. When individuals have the chance to learn basic life and literacy skills, economies grow faster and poverty rates decline. When people go to school, they are able to eventually earn more money and support their families
Despite the elimination of school fees in Kenya it has been common practice for primary and secondary schools to collect additional money or resources from parents to fill in the gaps left by the limited government allocations. Other associated costs such as transportation and uniforms have rendered school education inaccessible to the poorest and vulnerable. The most affected are children living in the slum areas of the city and rural areas. With the help of numerous donors, our community library with 2,330 books for all ages, school books, literature and fiction, numerous magazines, newspapers have offered students a place to read from and get academic assistance from a pool of volunteer teachers and mentors.
In 2019, we had a target of reaching out to 40 needy students, we can report that we are far below average and have to work extra hard in the remaining 3 months to meet the target. We have devised a method of making good use of our community lilbrary to reach out to many more students to read from.
One of the schools heads we have partnered with for 6 years had this to say about the support to his school: "Since St Joseph Education Centre received the books, student population has increased, and teachers have found it easier to teach. Our children are happy with the support and here is a comment from one pupil (Purity, a class seven): "My performance has improved, both my teachers and parents are happy with me. I used to get 297 marks out of 500, but now I score 385 marks out of 500.. I hope to perform better than this next time. I will be the best in my final exams in class eight''.
Every quarter we feature a beneficiary who has benefitted from this programme and excelled in his/her studies. Last quarter we featured Aketch and this quarter we briefly share about Hannington. Hannington is from a single parenthood and has since his birth depended on his single mum for his upkeep. Unfortunately, the mum passed away early this year and left him in the hands of relatives to take care of his basic needs and his education.
The adopt a student, change a life programme identified him as one of the needy students in the society and has taken up his education. Currently, he is in class 8 at Baba Dogo primary school in Ruaraka and courtesy of the programme, he is continuing with his studies and is expected him perform better in the end of the year Kenya Certificate of Primary Education and be enrolled in the secondary school programme in 2020.
We would like to take this moment to thank all our donors who have made this possible by contributing to
sponsorships. We request you to be continually engaged with our work by starting a recurring donation and by adopting a student and following up on their individual performance. We thank you for all you have done for educating the needy students in Kenya, and we look forward for your continued support!
Aketch is from a very poor family. She is the third born in a family of seven siblings. Her parents could not pay for her form 2 tuition fee though she showed a lot of interest in continuing with her studies. The family has been struggling even for good food, clothing and health care.
Through one of the volunteer mentors, the family of Aketch came to know about PV-Kenya's adopt a student scholarship project being offered for children from underprivileged families. Aketch's mother approached the Project Lead who accepted to support her education.
Currently, Aketch in form 2 at St Joseph secondary school in Ruaraka is continuing with her studies and has become very active during the classes and we expect her to perform better in the end of term one examination. During the term period, she got recognized by the school management for being perfect in work completion, active participation in all activities, and for her performance in studies. She is also a member of a first aid club in the school. The organization through a team of dedicated volunteers, have continued to provide free evening teaching assistance to Aketch and this would help improve her academic performance.

Aketch's parents are short of words on how they feel about her education and very much appreciative of the project. They say that everything has been possible because of the scholarship provided by PV-Kenya and GlobalGiving.
The organization requests individual donors to continue supporting the project as well as spread the word far and wide through email and all social networks. This would enable the project to meet the target of identified 40 academically gifted students who need financial assistance to continue their education in 2019.
WARNING: Javascript is currently disabled or is not available in your browser. GlobalGiving makes extensive use of Javascript and will not function properly with Javascript disabled.
Please enable Javascript
and refresh this page.