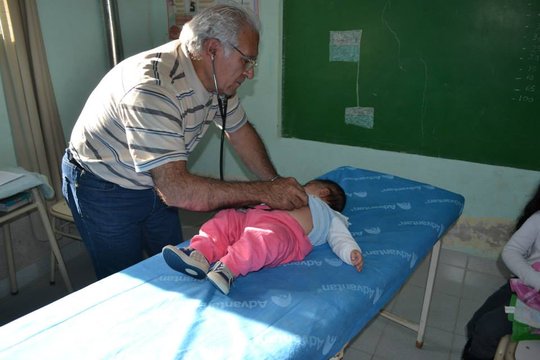 Friends of Sumando Manos Foundation
The famous writer Antoine de Saint-Exupéry, in his book "The Little Prince", wrote these beautiful lines: "It is only with the heart that one can see rightly; what is essential is invisible to the eye." For us, seeing with our hearts the reality of the children we help is what drives us to work. Part of our project is a dream that we take by the hand to every community we reach. It is to plant a seed of a better future in the hearts of the children. To accomplish this dream we must improve the present. This is what we propose to you, that you help us give a child a dream.
Accomplishments and projects
Through the Santa Clara Civil Association a trip to Santiago del Estero was completed in June, during which Schools No. 843 "Juan Domingo Roldan" and Kindergarten No. 382 "Taquitos" in Taco Atun and School No. 297 in Tala Atun were visited. To reach the schools, dirt roads with gravel, mud, and potholes must be travelled. The teachers get to the schools by hitchhiking, walking, or on motorcycles. The children walk five to ten km daily to attend classes. 170 new pairs of shoes were given out and 160 children and 70 adults were examined and received dental treatment. Toothbrushes and toothpaste were donated, and extractions and cavity treatments were performed. Due to visits and controls performed periodically through our program, the general health was good. The results of periodic examinations can also be seen when considering pediatrics; only cases of colds and fever were found. These are due to the commonly low temperatures of this season. Medicine for each particular case was left at both schools. Although there were no cases of malnutrition, a few anemic babies were observed. The young mothers receive two cans of powdered milk from the government per month, which should suffice to provide the necessary nutrition. The pediatrician explained to them how the babies should be fed from now on. Neither of the two schools have electricity. Both have gas generators that are maintained with great difficulty because of fuel cost. There isn't any drinking water in either of the places, so the schools count on a filtration system. School supplies, non-perishable food items, clothes, and shoes were given.
*During the month of June members Santa Clara Civil Association travelled Jujuy and Salta. 5 Schools were visited. Clothes, shoes, school supplies, toothbrushes, toothpaste, medications, instruments necessary for dental care, as well as non-perishable food items, powdered milk and cooking oil were delivered. These foods are what teachers need to cover the children's basic nutritional needs. Medical and dental attention was given. A total of 143 children received care and the results were very favorable compared to other visits.
*We continue with our Program "For a Child's Breakfast". Approximately 270 children benefit from this program, and they receive food for their breakfast and/or lunch. This campaign is key, because in many schools what we donate is the only daily food that the children receive. All help is welcome. With ten dollars a child's breakfast for an entire month is provided. For more information, visit www.sumandomanos.org.
* During the month of May and again in July medical visits to the communities in Los Oleros, Posadas, Misiones were made. During these visits, 41 children and 20 adults were cared for. The problems detected were mainly bronchial and respiratory; parasitosis, low weight, cough, skin problems, among others. A nebulizer was donated to the woman in charge of the medical clinic by the company SILFAB. It will remain in the clinic under her supervision and it will be used to help the locals whenever they may need it. The interest that the mothers, many of them young, take in their children's health is remarkable. They bring their children very warmly dressed, and also pay close attention to the information they're given about disease prevention and hygiene in general. It is an area where the population is in need of basic resources and finds itself very distanced from the health centers. The locals who attend always reiterate their gratefulness for the attention that's given to them and that covers such an important basic need.
* In May a medical visit to Merendero Belén in Salta was made. Medical attention was given to 22 children and 2 adults, respiratory problems being the most common issue. A total of 40 children participated in recreational activities after the clinic, and then shared a snack prepared by Eva, the indefatigable and loving owner of the house. She welcomes the children on Saturdays with elaborate crafts and on this day delighted them with a tasty "arroz con leche" accompanied by breads spread with dulce de leche.
*In May and June medical services were given in González Catan, Buenos Aires. The space was shared with the group Educare, "Education in Human Values", who did various workshops with the children. In pediatrics, 31 children were cared for. The majority of them had upper airway infections. The second most common issue was lower airway infections: bronchiolitis (for which aerosolized medication was used). With lower prevalence, there were illnesses of the digestive tract (gastroenteritis, parasites). 2 adults were also seen and psychological visits were made by 4 people. During the day, the children were served breakfast and lunch.
*Continuing the services that occur monthly at the community soup kitchen "La Casita Feliz" of González Catan in Buenos Aires, pediatric medical attention and dental care was provided. Professionals of other specialties also participated (ENT doctors, clinicians, gynecologists, cardiologists, etc.) and a psychologist. Birthday parties were started, where the children share cakes. The facility is decorated with balloons and candy is given out. Every Saturday, 30 to 60 children attend this place to receive breakfast and lunch. They do different activities like watch movies, draw, etc. Sumando Manos donates some of the food and milk so that this can be possible.
*Coordinated by our collaborator in Argentina, Teresa Donaire, several material donations were received. Among these are shoes, kitchen supplies, kitchenware, tablecloths, napkins, kitchen aprons, appliances, clothing for children, babies and adults; quilts, blankets, tricycles, children's cards, films, costumes, story books, school supplies, candy, curtains, toys, medication, a large tent, a stove, a toy chest, a swimming pool, two complete dental chairs and first aid items among countless generous donations from our donors in Buenos Aires. These donations were sent in April and June to schools and institutions in the provinces of Corrientes, Santa Fe, Salta, Misiones, Entre Rios, Chaco, and San Luis. The Hospital Dr. Velazco of Cancarán, San Luis thanks all donors for their contributions, which were made possible by Dr. Sonia Sartor. On this occasion, they received medications, a pediatric nebulizer to help with the children's treatments, toys, and clothes for the families that come to the hospital. Also, a rubber floor was installed (now the children won't freeze their little tushies while playing at their health checks!), toys, and pencils to entertain those in the clinics and those admitted.
*Together with HelpArgentina and the Foundation "Huerta Niño" we will build an vegetable garden for the School 373, "El Botón" in El Soberbio, Misiones headed by the Director Osvaldo Bordón. The program "Mi Huerta" (Spanish for Vegetable Garden) consist of organizing and supporting organic gardens in rural schools that are sustainable, lasting, and beneficial to the community. Each project is unique. The specific needs (greenhouse, irrigation systems, walls, perimeter fence) are taken into account.
*In Las Talitas, Tucumán pediatric visits were made in April and June. On this occasion, the most common pathologies were bronchitis and parasites. Less common were cases of skin problems (impetigo, scabies, pediculosis). As always, a snack was shared with the children and workshops about human values were given. Stories were read and various recreational activities were held.
* We are sending donations of powdered milk and food to the "Hogar Mamitas" in Posadas, Misiones. This facility is a home for young moms that suffer from discrimination, rejection by their families and is located in the outskirts of the city. Because it is a transitional place, the number of girls ranges from 8 to 15 and because many of them already have one or two children, there are around 15 more people there. They are welcomed with love, given a place where they can go through their pregnancy with good food, medical attention, the chance of studying, learning crafts, sewing, etc. In accordance to their capabilities they maintain a garden, cook, and sell empanadas and other products they have manufacture.
*School No. 166 "Moisés Bertoni" in Cerro Santa Ana, Misiones received the contribution of foods such as powder milk, cookies, rice, sugar, cereals, etc to be used in the snacks given to their 120 students. In this educational establishment the children of rural families in the area and children of the bordering Mbya community converge. This integration is one of the highlights in the educational community. To provide an education more suited to the needs of the children, the faculty has added a bilingual teacher. The students also received new shoes and school supplies. In the Guarani communities "Tava Miri" and "Pindoyti" in San Ignacio, Misiones, recreational activities were shared and powdered milk was donated.
Income and Events
* We continue to provide pediatric services for schools in remote areas in different provinces in Argentina though the donations we receive on GlobalGiving, where when clicking the following link, you can learn all the details about the project, stories and pictures of the children and the supported communities. All help is welcome. With $10 a child's breakfast for an entire month is provided. With $25 the costs of the medical visits they receive are also covered. We thank all those who have collaborated through donations and votes of support with our project, especially hp Argentina, Discovery, Moodys and Comcast for their contributions through the corporate program "Gift Card" in GlobalGiving. For more information and to donate, please visit:
https://www.globalgiving.org/projects/pediatric-services-in-remote-areas-of-argentina/
*Thanks to Johnson & Johnson and Microsoft corporations, who through their Gift Matching program in USA keep helping us by matching the donations their employees make, at a rate of 2 to 1 and 1 to 1 respectively.
Thanks for trusting in our foundation to be the liaison between yourselves and the unprivileged children who need our help.
Sumando Manos Foundation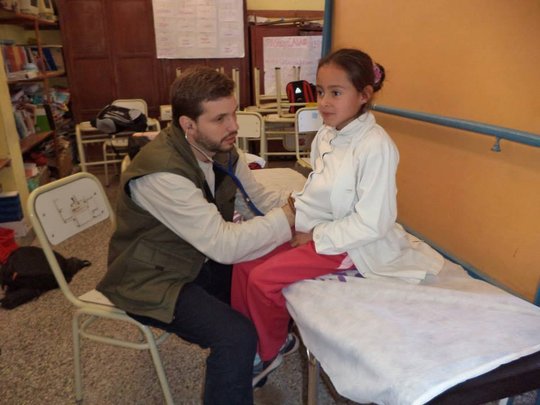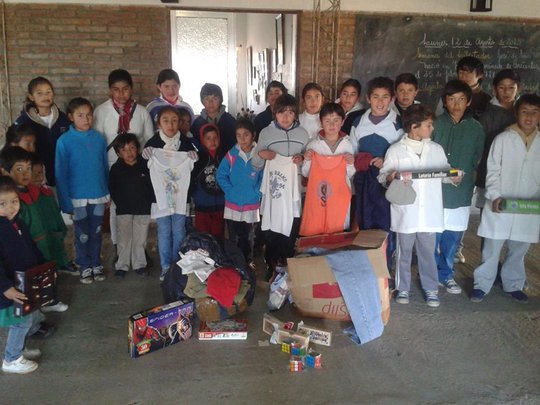 Links: