"Give things their value not for what they're worth, but for what they mean to you" Gabriel García Márquez
In times like these when materialism creates so much confusion between what we need and what we want, it is important to identify the true value of things and every little act that makes a difference. Thanks for being a part of this project!
Projects
In March, at the beginning of the school year, we resumed our program "Breakfast for the Children" in Chaco and Misiones. Approximately 300 children benefit from this program and receive breakfast and/or lunch. This is a key campaign since at many of these schools this is the only meal the kids receive in the day. Anything you can do to help will be welcome. With USD10 we can provide breakfast to a child for an entire month. to receive further information and donate, please visit: www.sumandomanos.org
We completed the installation of a water well at School 395 JUAN JOSE CASTELLI, located in PARAJE EL GRAMILLAR, CHACO. We repaired an engine that transports the water through the pipes to a 12000 liter tank at the school. There were repairs made to the tank as well. The tank also receives rainwater. We added a 1hp engine to take the water from the well to the tank that was placed on the roof of the school. As a result of this work, the school will have between 10000 and 12000 liters of water available. We also repaired toilettes, sinks, faucets.
A few months after the installation of a water well and pipes in School 239, Pampa Chica, Chaco we can see the benefits and the impact of this project in the school vegetable garden. It is producing more vegetables thanks to the installation of pipes for watering purposes and this in turn complements the food supply for the school lunches while helping the children develop responsibility and group work ethics. Even though natural resources are scarce, they can be used for the benefit of the school. The amount of water that is used for the school and garden is very small compared to the amount of water we may use on a daily basis so it is our purpose to bring drinking water to more and more schools in remote areas. This would be extremely difficult without your support that's why we want to share the joy of the impact of this project and the improvement of one of our schools that benefits almost 200 children and their families as well.
Teresa Donaire, our partner in Argentina, coordinated several donations that were sent to different schools and institutions in Entre Ríos, San Luis, Misiones, Chaco, Santa Fe, Corrientes and Salta. Since we're at the beginning of a new school year, the donations included mainly school supplies, clothes, shoes, toys and medicines. We delivered 4 bags of shoes that were sent from Miami, collected at an event organized by a group of children from the Hockey Meerkats. The shipments were sent free of charge by the following generous carriers: Expreso Almafuerte (Entre Ríos), Expreso San Juan Mar del Plata (San Luis & Salta), Expreso Petrovalle (Misiones), Expreso Misiones (Misiones). As usual, we received donations of packing materials from Cesar Rolando, from Famyca.
Santa Clara Civil Association.
Our trip to Salta and Jujuy took place from the 9th to the 16th of March. We delivered food, clothes, shoes, school supplies, toys and medicines to the schools, and also provided medical care. The children are healthy overall but some show weight loss associated to the holiday period (Dec-March), as usual. The children are not fed appropriately during the holidays since the school cafeteria is closed. Their dental health shows signs of improvement due to the continuity and awareness of the population on preventive care. The volunteers shared lunch, breakfast, and even a night's rest with the children, a unique experience. Recreational activities were conducted; they played foosball, soccer, etc. Children in Jujuy have shown their work in the yarn, which is a regional activity that impacts the economy of their families. All schools visited received donations from schools in Gonzalez Catán. The participants of the trip were a doctor, a nurse, a dentist and two drivers; all volunteers and in their own vehicles.
Casita Sai in Florencio Varela, Buenos Aires
During the first three months of 2014 we continued the soup kitchen services 4 times a week and the children receive snacks 3 times a week. On Sundays, the services are provided all throughout the day providing breakfast, lunch, snacks and dinner. There are about 50 people receiving these services (children, teenagers and mothers). On the 3rd Sunday of each month we also provide medical services that include: health clinic, dentistry, dermatologic attention, otolaryngology, and psychological attention is provided on a bi weekly basis. We also conduct Education Workshops related to human values and give tutoring to children and teenagers. We organize fun activities for the children such as games, sing songs, artistic work, etc. we celebrate the birthdays.
"Casa Feliz" soup kitchen Gonzalez Catan – Buenos Aires
Every Saturday from January to April we provided breakfast for the children, serving chocolate milk, cereal and cookies. For lunch, the meal is served with bread and juice. After breakfast, the children help pick up and clean the place and organize activities such as coloring and drawing. These activities are coordinated by volunteers from Organizacion Sai or the soup kitchen. On Saturday the 11th approximately 30 children older than 10 went to the water park in Punta Lara. They departed the soup kitchen at 8.30AM and came back at 7PM. The transportation was provided by a local company.
In January and March pediatric, dental and psychological services were performed. Approximately 30 children and several adults per visit received medical care. The most frequent problem presented among children were dermatological, respiratory and optical conditions. Seven children received dentistry services. Treatments included including various fillings and two extractions. 4 women were treated as well. 19 children and 8 adults received Otolaryngology care. The most common illnesses were: upper airways infections, external otitis media, pharyngitis, nasal polyposis and allergy. Each case was treated with the proper medication. In reference to psychological services, 5 children and 8 adults received services. The most common situations presented were family difficulties, family violence, difficulty accepting limits, conduct and anxiety disorder. Follow up appointments were made to revisit patients in 15 days.
We also conducted Human Values workshops where the key areas discussed were personal care, happiness and dedication.
Since we are now at the beginning of the school year, we delivered 60 backpacks with school supplies and 10 bags with school supplies for our high school students. These were all donations we received. The younger children received teddy bears and candy.
The lady in charge of the house where the soup kitchen takes place, Gloria, cooked lunch for everyone, served with homemade bread, juice and bananas.
Noccan Kani – Santa Fe
We completed the repair work of the ceiling in Noccan Kani center, where 80 children receive snacks, tutoring and attend workshops on a weekly basis.
Merendero Belen (soup kitchen) – Villa Solidaridad – Salta
During the first four months of the year we conducted the usual activities on Saturdays. On Monday 6th, in the afternoon, we celebrated Día de Reyes and the children received presents and candy.
On 03/15 we resumed the health services. 14 children and 4 adults received care. The most common pathologies were: Infected dermatitis, acute pneumonia, pharyngitis, gastritis, and healthy control children with intestinal colic. Each case received the proper medication.
LAS TALITAS – TUCUMAN
On Saturday 03/15 we resumed our pediatric services in Las Talitas. The care was provided by Dr. Gabriela Filtrin, who took care of 33 patients. 30 children between 6 months and 14 years old, a 21 year old girl and two ladies, 57 & 58. The most common reason for the visits were parasitic and respiratory diseases. Each case received the proper medication. We also provided respiratory disease prevention workshops to mothers and their babies. They all received the medication needed.
In the afternoon we organized a workshop to learn about the Planet Earth and how to take care of it and have respect for different life forms that inhabit. The afternoon snack served was milk chocolate and bread.
We organized different workshops every Saturday, where about 35-40 children participate and enjoy different activities like story reading, games and drawing. The children also helped prepare their snacks and enjoyed other activities, where different topics such as team work, cooperation and no violence were discussed. We delivered clothes and food to the children who joined us.
HOGAR MAMITAs en la Provincia de Misiones
Several volunteers visited Hogar Mamitas, nearby Posadas, on April 5th. We delivered diapers, food, clothes, shoes, milk powder, cleaning supplies and personal hygiene items.
In this location we provide shelter to pregnant young girls from deprived areas, who were rejected by their families. This institution does not receive any government assistance. These girls receive care, love, medical attention, food and learn crafts, cooking, etc.
They collect funds by selling some of their own work and the items they create. They also help in a soup kitchen. Most of them arrive to this home looking for help and bringing their other children with them.
This time we met several pregnant girls and others who already gave birth. You can see in their faces the happiness they feel for having found a place where they are respected and cared for.
Numerous children were playing, some of them gathered at the entrance when they saw the volunteers. They were eager for affection extending his arms to receive and give loving cuddling while laughing.
They looked intrigued, going through all the bags with the items donated. The mothers were happy now, a moment ago they were worried about not having enough milk and diapers for their babies.
LOS OLEROS, POSADAS
On 03/27 we conducted our first doctor visit at Los Oleros. The attendance was substantial because of several pathologies typical of this time of the year. Because of bad weather, the neighborhood had been isolated and was not able to receive any services. Teachers could not enter, nor any means of transportation. Despite being relatively close to the capital city, the neighbors were literally isolated. In extreme cases they could go out on horseback.
The medical service provided by the Dept of Health continues to be inadequate and fails to meet the demands and delivery of medicines. We provided medical care to different cases such as throat problems, fungal infections, urinary tract infections, etc. Many mothers also came to control.
SERVICIO COMUNIDAD TOBA DE DERQUI PCIA. DE BUENOS AIRES
In this community we organize activities 3 times a week. Approximately 55 children participate. They receive afternoon snacks (Monday, Wednesday and Friday) which include chocolate milk or mate cocido with milk. There are always pastries prepared by the adults with the assistance of the children and sometimes cookies too. There is one person in charge of the snack and service but there are also other mothers from the community who help.
The first Sunday of March there was an additional event organized with the children and mothers of the community. We conducted educational activities, drawing, plays about human values, board games. There was also a session about "going back to school" where the children shared in a poster their expectations for the new 2014 school year.
The children received haircuts and the afternoon snack included chocolate milk, homemade bread and chocolate pudding.
During the month of February, our project in GlogalGiving was selected as "project of the month". As a result, our donations for the month increased considerably and we also received recognition for our hard work from our donors from all over the world.
Beyond this event in February, we continue offering pediatric services to the remote and deprived areas of Argentina with the donations received from GlobalGiving. Please click on the link below to access all the details of our projects. Every donation is welcome. With U$10 we can provide breakfast for a child for an entire month, and with U$25 we can also provide health services. Thanks to all those who collaborated and voted for our project, especially hp Argentina, Discovery, Moodys and Comcast for their contributions through the corporate Gift Card program in GlobalGiving. https://www.globalgiving.org/projects/pediatric-services-in-remote-areas-of-argentina/
EXCELLENT NEWS:
Amazon has chosen Sumando Manos Foundation as one of the participating organizations of their contribution plan. Every time there is a purchase done in Amazon initiated from the link: www.smile.amazon.com and selecting Sumando Manos Foundation as the charity that you are supporting, 0.5% of the purchase will be automatically donated to our Foundation! Thank you Amazon for selecting us! And thanks to all those who collaborate and make us the connection between you and the children who need our help.
Thanks everyone for trusting in our foundation to be the liaison between the children who need our help and yourselves.
Sumando Manos Foundation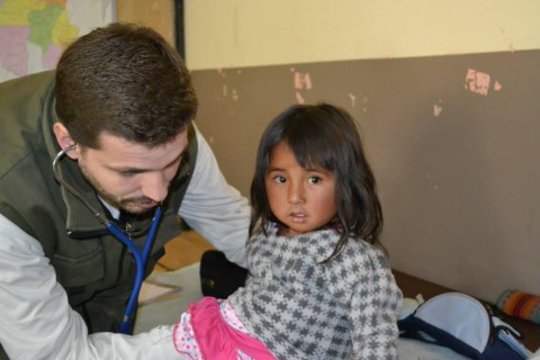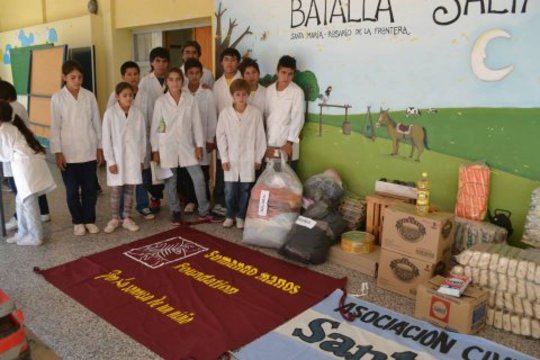 Links: