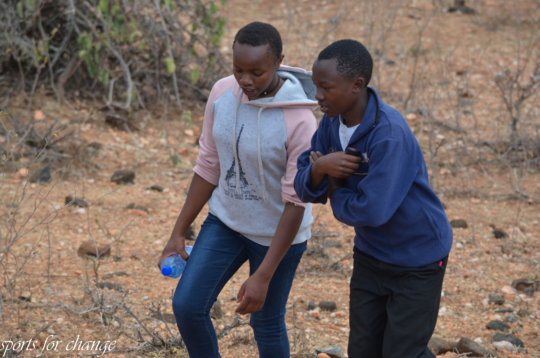 Sports For Change is incredibly passionate about young mentorship. We are driven by a world vision where every child lives to his/her fullest potential have a positive future through access to education and mentorship programs.
Since our inception in 2009 we are extremely proud to have supported 30 children access quality secondary school education through school fees sponsorship. Two of the students are working and 5 are pursuing different courses in different colleges, among them one is doing medicine and another structural engineering. The rest are still in secondary school. We have also supported more than 1000 underprivileged children by supporting their school. We cemented 10 classrooms in Teule children home and distributed books to various children homes and underprovided schools.
What is beautiful about our work is that we take pride in catalyzing volunteers' into action. With each encounter through sporting events our volunteers become a part of making profound investment in children. What is even more beautiful about our work is the impact we have in children's lives and in seeing the same sense of pride and accomplishment mirrored in our partners and volunteers.
We met our students for a young leader's forum- why the forum?"Simply because the process of becoming a leader holds many valuable lessons in any Childs life"
We have noted that when leadership potential is natured, the ability to relate to others improves and skills in communication, conflict resolution, decision making and goal achievement are redefined. Initiative and responsibility increases and self concept and personal fulfillment flourish-This is our dream and vision for every child and the motivation behind the young leader's forum program.
Our investment in young leaders-Is to develop Interpersonal skills that are necessary in every aspect of human endeavor. In an ever changing world,
The programming gradually embraces the fact that no education system and school curriculum in its own is sufficient at providing young adults with the necessary tools and resource to adequately nature future work forces, future scholars, and future leaders.
We incorporated hiking as a sport to make the student open up, share, know each other better and encourage each other. In a session dubbed 'walk to encourage' the students were paired after every 30 mins. The team sat in the bush and shared what they have learned about each other.
Our students come from very humble backgrounds ,they appreciate eveny opportunity to travel to know places. Our mentorship program was held in Namanga at the border of Kenya and Tanzania. The student had a chance of visiting the brder and learning how immigration work. They were lucky enough to get a chance to close to the Tanzania border for photos a feel of another country.The excitement was overwhelming and price-less.
Our students really appreciate this moments, what others take as little, is very big and memorable to them. We appreciate and thank YOU our supporter. We have ACHIEVED alot ,CHANGED alot, given HOPE, all because you have joined hands with us. Our students would really love to viit Mombasa in Dec. We request you to make their dream come true. Make hem smile ts Christmas by donation whatever you can.
We are forever THANKFUL!