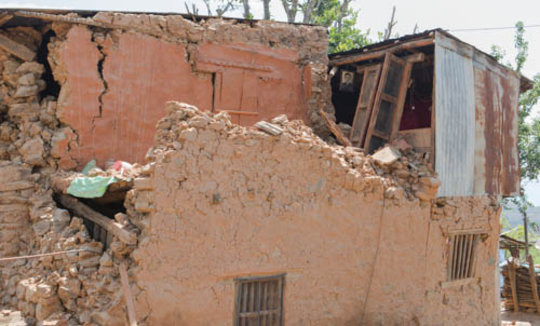 It's been a week since a powerful earthquake shook the tiny village of, where our project Her Farm is located. While the news stories here in Nepal are Kathmandu-centric, the loss in the villages is beyond comprehension. About 85Mankhu% of the population of Nepal lives in rural villages like Mankhu. Houses here are built of stone and mud and lack the structural integrity to stand against the incredible forces that befell us one week ago with tremors continuing till this time. Of the 200 homes in Mankhu, perhaps 20 survived. For the residents, all is lost. Household possessions, clothing, food stores and even seeds for this years crops are buried beneath stone and mud.
Mountain Fund has provided supplies for temporary shelter to nearly every family needing it in this village and many in the neighboring village of Goganpani as well where the loss of housing is equally great. Tarps and tin roofing have been provided with more of such supplies due to be delivered soon. We've brought up from the valley below, over a very rough road 4km long, sacks of rice, beans, soya and other foodstuffs. It was all gone in a day to the homes here and we have another truckload on the way.
Power is now mostly restored in the village. We have 3 families living in the schoolhouse at Her Farm and dozens more in a tent city on our land. For the villagers the rebuilding will be a slow and difficult process. These are subsistence farmers with very little cash money. While walking through the village and surveying the loss two days ago with a young man who lives here, I commented that his family is lucky since 4 out of the 14 people in his home have cash paying jobs. He replied back to me, "Uncle, that's just enough to feed us all." I asked what the family will do to rebuild their home and he replied, I don't know.
Two people perished here in the quake and several were injured, though not seriously. If the quake had struck in the evening when people were inside of their homes, the losses would have been staggering.
A baby was born in the village today, a sign that for all the carnage of the past week and the hardships the people here have endured, life does go on and will go on. Mountain Fund is headquartered in the village and we will be here to help in the aftermath and will stand shoulder-to-shoulder with our neighbors to rebuild their homes, theirs lives. It will take months of effort but Mankhu will rise.
Thank you for your support and concern in this dark hour. Together we will see the darkness go and light appear.