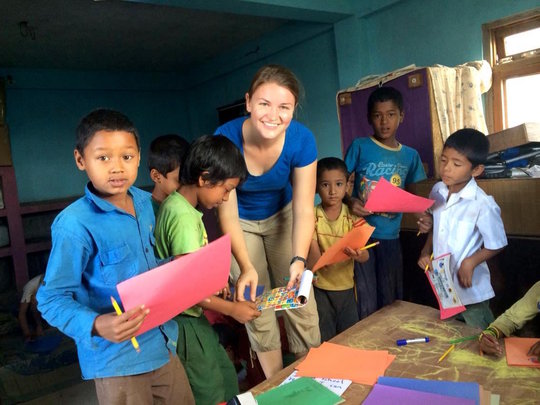 On April 25th an earthquake hit Nepal. Our village, Mankhu, was severly damaged and up to 85% of the homes were destroyed in the initial quake with more damage taking place in the two large aftershocks. As a result all of the classrooms at Her Farm were turned into temporary housing for those in the village who had lost their homes.
We are happy to report that though the classrooms are still occupied by families who were displaced by the earthquakes, we have been able to restore our classes in the former dining room of our volunteer house at Her Farm. The monsoon season is underway at this time and it is impossible for people to rebuild at this time so they remain living in our classrooms.
In spite of some space constraints we've gotten our regular sessions back underway. The day begins with homework help, followed by English lessons. Computer lessons remain temporarily suspended until we can reoccupy the classrooms. Breakfast is served all the children and they wash, brush teeth and depart for their regular classes at the local school by 9:30am.
This is a final report for this project. We are combining this with our project for Her Farm since they are so closely related. Please visit the Her Farm project today and continue to follow what we do to provide support for girls in schools. We continue to provide uniforms, schools supplies and other means of support to the girls at the Mankhu school via Her Farm.
At Her Farm, we have also begun a morning homework club and we are serving up a hot breakfast each morning to ensure the children have the best possible chance of success at school. We hope in 2016 to add a lunch program at the local school as well. Many children come to school empty handed and have no lunch.
Links: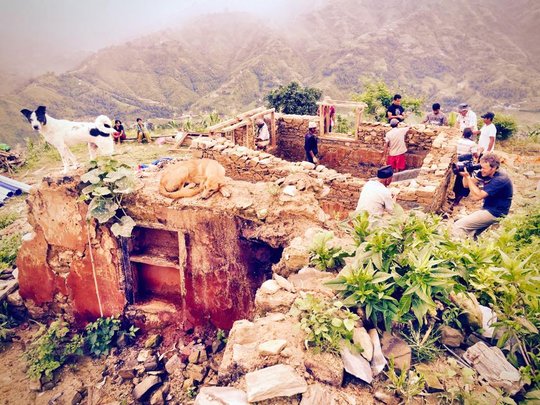 We've begun training the local villagers in various methods that can be employed to rebuild their homes. While very litttle construction will take place until after the monsoon season (September) this is a good time to meet with locals and demonstrate different ways they may wish to reconsider building their homes to make them safer in the event of any future earthquakes.
The typical village home is historically constructed of stones and mud mortar and is two rows of stones wide. While heavy center beams are customary in the construction what is not customary is any sort of ring beam that ties all four walls together. With all walls free to then move in any direction, regardlesss of what an adjoining wall may be doing, the structures become very unstable in an earthquake or in more technical terms the walls become "out of plane." This has happended in many earthquake zones around the world and especially those where poorer villagers live and construction techniques are not widely known.
There are many solutions to the problems of typical construction and alternative methods of construction that can be done with local materials. Mountian Fund has conducted a workshop on how to build using earthbags. This method substitutes rice bags filled with dirt, compacted, stacked and reinforced as a substitute for local stone construction. It's a cost effective way to build and the technique has been proven to hold up well in earthquakes. At our farm in Nepal, Her Farm, we have classroom building that we made with earthbag technology that survived the quakes in Nepal with nothing but very superficial damage. We recently held workshops with locals and people from other communities as well, in which we spent several days demonstrating this method of construction. Several NGO's who attended these workshops are currently in the field using earthbags to reconsctruct housing and schools.
A simple and cheap method to reinforce the typical village stone and mud wall is the introduction of gabion walls. A gabion is is stacked stones that are tied together with wire. In the case of our trainings in the villages it's stacked stones wrapped in wire fencing. This technique, whcih has been around sine the 1800's is proven to help withstand earthquakes. Randolph Langenbach is currently teaching this method in the village. Langenbach, a well repsected Architect has studied what causes building failures in earthquakes throughout the world and has consulted to UNESCO in the aftermath of many quakes globally on construction methods.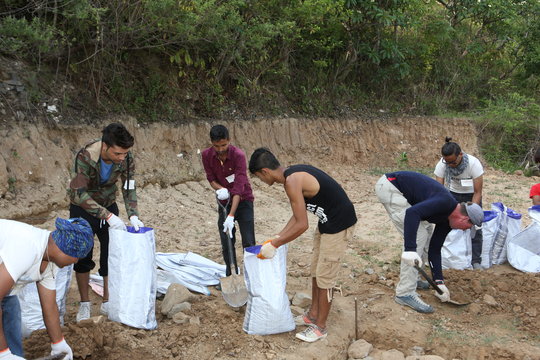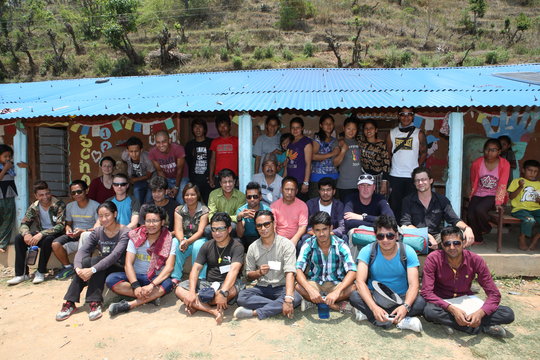 WARNING: Javascript is currently disabled or is not available in your browser. GlobalGiving makes extensive use of Javascript and will not function properly with Javascript disabled.
Please enable Javascript
and refresh this page.