Dear Donor, Supporter and Friend.
It's been 2 years since Nepal was devasted by a series of large earthquakes. Please take a moment to read our report (attached as a link) on all we've done in response to those quakes with your support and assistance. It's time for us to move on. We've done all we can at this point. Please visit our project Her Farm Nepal. We will continue to be in the village of Mankhu and Goganpani as well working on other development projects in these communities and hope you'll visit our project Her Farm Nepal and watch our progress. https://www.globalgiving.org/projects/womens-farming-cooperative/
Thank you.
The Mountain Fund
Links:
Giant "tipper trucks" continue to reach the villages here at Her Farm in the Dhading District thanks to the road improvements your support allowed us to make. People are starting to receive money from the government as well as the go-ahead to start rebuilding. These huge trucks are able to bring 3-4 times the materials in one load, compared to the smaller trucks. Before the road improvements, only small trucks were able to navigate the road up to the villages but now these large ones can as well. That hasn't hurt the small truck business though, in fact it's beter for them as well. Instead of only one small truck serving these villages, as it was before the quakes, we now have 3 smaller trucks taking farm products down to market and bringing materials up on a daily basis. The people in the village win two ways. First they can get more product to market and at better prices due to competition in the trucking sector now. Secondly, they can transport far more building materials at far less cost than before.
I'm attaching some photos of progress on the first full-service emergency shelter/emergency coordiation center in the country which we are building at Her Farm Nepal, as well as some photos of the giant trucks bringing building materials up for that project.
The road needs more improvements to reach some upper villages and those same upper villages are experiencing water shortages as well. We are currently examining just how to get water up to them as well as how to further improve the road, so please, don't forget us here in Nepal, rebuilding is really just begun and the funding from the government isn't going to get much done.
Thanks for your continued help
Scott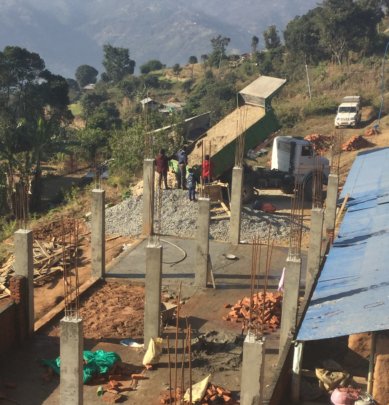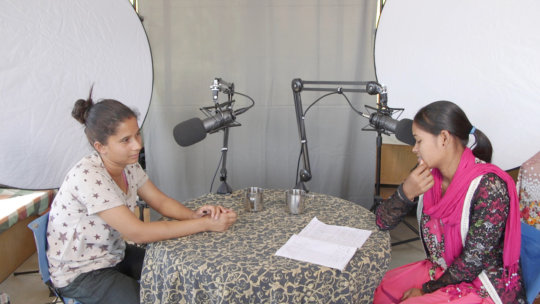 The women of Her Farm Nepal have had a keen interest in podcasting, photography and filmmaking for some time. Recently we set up a studio at Her Farm to encourage them to explore these interests more fully. We've just completed our first full podcast from the village. A young Nepali woman named Belmaya has been learning video and photo skills with assistance from a woman from the UK. Belmaya visited Her Farm to see our studio and talk with the women of Her Farm about creating podcasts, videos and photos. Sushila sat down with Belmaya in the studio and conducted a 16 minute long interview about the challenges that Belmaya, as a married woman with a child, has faced in trying to produce her first video. The link attached to this report is the audio of that interview. It's recorded in Nepali language. At the same time Sushila was conducting the interview, Namuna and Laxcha were filming it on two different cameras. The girls are now learning how to edit that video and we will update this report soon with the video of the interview.
Links:
WARNING: Javascript is currently disabled or is not available in your browser. GlobalGiving makes extensive use of Javascript and will not function properly with Javascript disabled.
Please enable Javascript
and refresh this page.