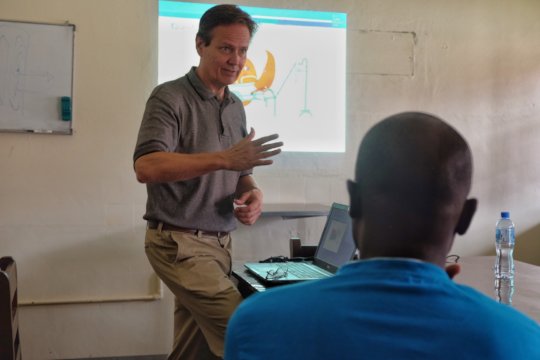 "I love being an ECP because I am able to handle all emergencies by identifying and stabilizing life-threatening conditions and consult where necessary. This makes me love what I do - saving lives." – Teddy Kiire, Emergency Care Practitioner
Emergency Care Practitioners (ECPs) are shaping the future of emergency care in Uganda. They provide essential, lifesaving services in their communities, like:
Treating 30,000 emergency patients per year. This was half of all the emergency care provided across Uganda in 2018.
Each ECP treats over 40,000 patients during her/his career.
Public health surveillance – ECPs are the first line of defense against infectious disease outbreaks
Mortality decreased by 25% in patients treated by ECPs in rural Uganda
Dr. Randall Ellis has been working closely with the ECPs as our Global Health Fellow in Masaka since September. Please take some time to read his story below about the ECP impact that's thanks to your support.
Over the past 15 years I've worked in a variety of global health settings around the world; what GEC has been doing over the past 10 years is certainly unique.

Recognizing the huge physician shortage in Uganda and throughout Africa, GEC is training nurses and clinical officers to provide quality emergency care appropriate to the settings where they practice.

The students are trained as ECPs. In the US, they would be called nurse practitioners or physician assistants. ECPs can be trained in 2 years, whereas it would take nearly a decade and a much greater cost to train physicians to do the same tasks. Patients dying in Uganda do not have time to wait.

I've been in Uganda for nearly 3 months assisting the ECP trainers with teaching and curriculum development. I have been impressed with the knowledge and skill levels of the trainers and students. The students are energetic and eager to learn practical skills and put them to use.

For example, two weeks ago we had a simulation of a mass casualty incident where multiple critical patients come to the Emergency Department (ED) at the same time. The students were taught to triage and prioritize care, and to organize and lead others involved.

Approximately an hour after this teaching session, a student found me in the lecture room and hurriedly exclaimed "there's a mass casualty." I couldn't believe it.

I walked to the ED and learned that a truck had turned over. Multiple patients were brought in at once. Just as had been simulated, the patients were kept close together with supplies in the middle. An entire team was working together with the group being coordinated by one of the ECP trainers, Alfunsi.

The students quickly and calmly assessed the patients in a stepwise approach and addressed their critical needs. The scenario went just as practiced and all the care was provided by the ECPs. I did not join in, because I did not need to.

Giving Ugandans the skills, the tools, and the knowledge to take care of Ugandans is what GEC does, and does well. I have seen it in action.

Dr. Randall Ellis
GEC Global Health Fellow
Thanks to a very generous donor if we raise $10,000 before Dec. 31st, we will unlock a $10,000 matching gift!

Can we count on your support today to help unlock this extremely important match?
We know that care provided by ECPs decreases mortality by 25%. And your contribution today will directly train new ECPs in 2019. That means your gift trains emergency medical providers who save 1 of every 4 people who otherwise would not have survived. That's a one of a kind investment.

Please consider a gift by Dec. 31st to help unlock the match!
Happy New Year!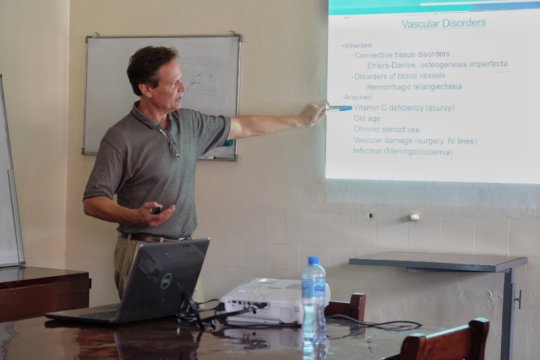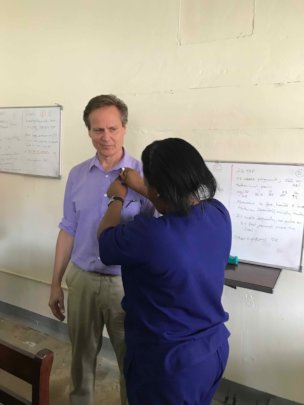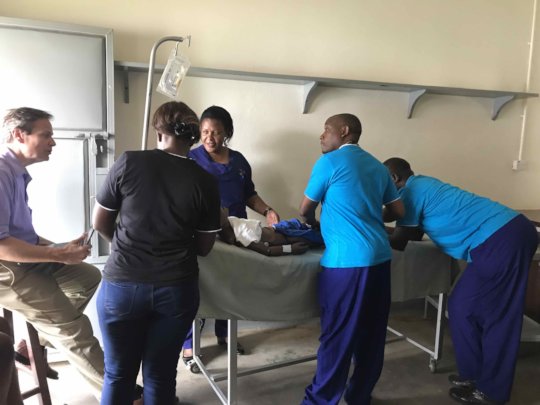 Links: