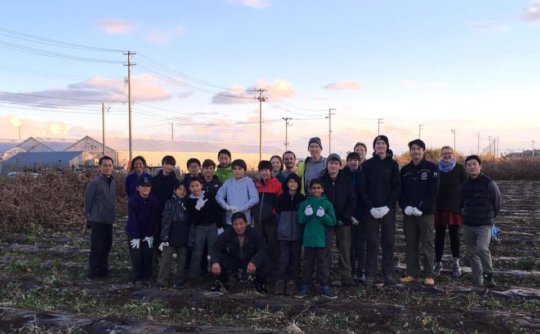 Happy New Year!
This is the Year of the Inoshishi // Wild Boar in Japan and, energized and empowered by your generosity, we will work very hard throughout the year to find ways to continue supporting Tohoku.
It is hard to believe that it has been nearly eight years since the devastating earthquake and tsunami. You have helped us assure people in Tohoku that they have not been forgotten as they continue to overcome daily challenges in further rebuilding their lives. Recovery and rebuilding take years. People are still living in what was originally intended to be temporary housing and there are still significant housing, infrastructure, labor and other shortages in the region. In addition, with the passage of time and the occurrence of devastating natural disasters in other parts of Japan, the number of volunteers going to and the amount of charitable donations being made for Tohoku continue to drop.
Since our last report, we have made two trips to Tohoku — bringing children and their caregivers from a children's home and members of a boy scouts troop, each in the Greater Tokyo Area, to Miyagi Prefecture by bus to volunteer, gain greater confidence and learn about disaster preparedness. These volunteer trips and critical learning experiences are only possible with your generous donations.
Late autumn and early winter are very busy times for farmers in Tohoku as it is when they must finish harvesting their crops, clear the fields and prepare the soil for next year's growing season. Labor shortages continue to make it very hard for local farmers in Tohoku to run their farms and in turn to further rebuild their lives. Many of the local farms are family run with one, two or three family members doing all the work themselves. Growing rice, vegetables and fruit sufficient enough to earn a modest livelihood and to repay the significant debts they incurred after the earthquake and tsunami is very labor intensive and the local farmers cannot do all the work by themselves. They need the continued support of volunteers.
With your generous donations, Hands On Tokyo was able to bring the children, their caregivers and the boy scouts to Miyagi Prefecture to help local farmers, Saito-san and his wife, and the New Rice Center (NRC) in Yamamoto-cho. The NRC is an agricultural association of local farmers who grow and promote local rice and local produce.
In October, Hands On Tokyo brought 20 volunteers from a Greater Tokyo Area children's home — including junior and high school boys and girls — to Yamamoto-cho. We helped Saito-san by weeding greenhouses where Saito-san grows paprika plants. Paprikas are his primary crop and main source of income with which to feed his family and to repay his bank loans.
In December, Hands On Tokyo brought 23 volunteers from a boy scouts troop in the Greater Tokyo Area to Yamamoto-cho. Many of the boy scouts have volunteered with Hands On Tokyo in Tohoku before and volunteering in Tohoku is their favorite community service activity. This time we helped Saito-san by clearing a large field of dead eggplant plants. This involved disassembling metal poles that were used to suport the growth of the eggplants, gathering the poles and related supplies for next year's growing season, digging up the dried plants and piling up the plants on the sides of the field. It was very labor intensive and the boy scouts worked hard. They also learned an important lesson about sustainability and reusing what can be reused in our daily lives. Afterwards the boy scouts enjoyed warm sweet potatoes with Saito-san that he had baked in an open fire by the field while we were volunteering.
The local farmers always ask us to convey to everyone who supports our volunteer activities in Tohoku just how much they appreciate all the support. What Hands On Tokyo volunteers are able to accomplish in a day would take the local farmers and their families many days to complete. The sound of children's laughter Is also very healing in an area still recovering from the 2011 natural disasters.
All of the children also received natural disaster awareness and preparedness training. We took the children and the boy scouts to an elementary school near Yamamoto-cho which is now a memorial. There the teachers, students and some local residents survived the tsunami by standing on the highest point of the school.
Ogatsu in Miyagi Prefecture was completely devastated by the tsunami and is still far from being ready for reconstruction and redevelopment.
In October, Hands On Tokyo — with your generous support — brought children and their caregivers from a children's home in the Greater Tokyo Area to do gardening at the Ogatsu Rose Garden Factory. We removed rocks from topsoil and added fertilizer to prepare good topsoil for this coming year's flower growing seasons.
In December, Hands On Tokyo also brought a boy scout troop from the Greater Tokyo Area to Ogatsu. We helped move timber and boulders for use in building new garden beds.
A local resident built this garden near the land where her mother perished in the tsunami to calm the souls of those who perished in the tsunami and so that former residents and visitors can once again see beauty when they first enter Ogatsu. It is also a place where families go to grieve the loss of their loved ones in the tsunami. The garden keeps growing every year and now includes a small grove of olive trees.
Both times on the way to Ogatsu, we also stopped at Ogawa Elementary School to pay respects by offering incense and flowers to the souls of the teachers and students who tragically perished in the tsunami.
These volunteer trips were very impactful on the children, their caregivers and the boy scouts. For the children who are the beneficiaries of volunteer activities at their children's home, this volunteer trip was an opportunity to experience volunteering themselves, to gain new experiences and life skills and to gain further self confidence. Thank you very much for your generous support in helping make all this possible. The children greatly appreciate the opportunity and are still benefiting from all that they learned and experienced. Many want to volunteer again and they have encouraged others in their children's homes and at their schools to volunteer in the future.
There is still so much to be done and there are still many people in need of encouragement and support in Tohoku. With your generous support, we will continue to organize volunteer trips to help farmers and others in Tohoku as they continue to work hard to rebuild their lives.
Thank you very much in advance for your continued generosity, for touching the hearts and souls of so many people in Tohoku and for helping provide these life changing volunteer opportunities to so many children living in children's homes and to other children in the Greater Tokyo Area.
Slowly but steadily the road to recovery is being paved.