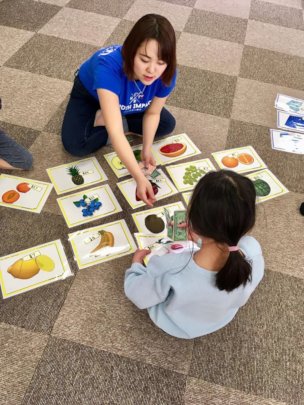 Hello Youth Impact Supporters,
Thank you for your generous support of Hands On Tokyo`s Youth Impact. This spring has been very busy for the Youth Impact team. In addition to all the regular volunteer projects with special needs individuals and vulnerable children, we continue to support the LIVES Food Truck and Youmewe`s Designing Artists Academy. We are looking forward to updating you on all of these projects in this report.
Volunteering with our community partners remains at the heart of the Youth Impact program. It is here that our students learn how to assist and empower our community partners. Our repeat student volunteers often note that consistently volunteering with the same demographic has helped them to cultivate meaningful relationships with communities we serve and has taught them the tangible, positive impact of volunteerism. Hands On Tokyo is really proud that our students have internalized this message and are committing to volunteering regularly. We hope that you can take pride in them too.
As for topics we are teaching in class-we have focused on teaching practical lessons such as: reading clocks, exchanging money for goods, learning about world cultures. In addition, we always make time for the students to get creative. Our St. Patrick`s craft and painting were a class favorite. We hope you enjoy the picture from our classes.
On a different note-the LIVES Food Truck has made some very important strides. For just a gentle reminder of what the LIVES Food Truck is- it is a food truck that employees individuals with mental and physical disability. Our special needs workers prepare, cook, and serve the food with the assistance of student volunteers. We believe that this model represents not only inclusivity and empowerment of differently abled people-but also what a collaboration between special needs individuals and students could be.
We are proud to say we have made tangible strides concerning this project. As of April 2019, we have started starting selling around 80 lunches per week-all of which are prepared by our paid special needs staff, Hands On Tokyo, and student volunteers. You can catch us at Meiji University`s Izumi Campus on Thursdays and Showa Jyoshi University in Sangen-Jaya on Fridays. Additionally, generous donations have helped us ensure that special needs employees are paid the Japanese minimum wage-1,000yen per hour. If you are interesting in learning more about this projects and ways to support it, I encourage you to check out our global giving page (https://www.globalgiving.org/projects/lives-food-truck/).
Finally, I wanted to touch quickly on our collaboration with Designing Artists Academy, our summer art day camp for children living in institutions because of poverty, and abuse and neglect from family members. The camp will run from August 12th to August 20th. Each day children will get to experience different creative methods: photograph, jewelry making, t-shirt decoration, painting, and many others.
We have recruited 7 students from Youth Impact to support the camp as mentors or artists. Our volunteers` ages range from sophomores in high schools to seniors in college. We are really proud of the diversity of our volunteers, and also the interesting ways they will contribute. Our student artists will be leading cupcake decoration, ceramics, and mural painting. The other four will be mentoring our vulnerable children-encouraging the campers to express themselves through art and most importantly, create a positive relationships with the children. For more information, please check our Designing Artists Academy page on GlobalGiving (https://www.globalgiving.org/projects/designing-artists-academy/).
We want to say a big thank you again to our donors. Since the renewal of the Youth Impact program in 2017, we have evolved significantly. We hope that every time you read one of our reports that you are able to see that as well and note all the ways we have used your donations to educate young people in Tokyo. We look forward to updating you again in three months time and thank you again for your support. We hope you will consider investing in us again.