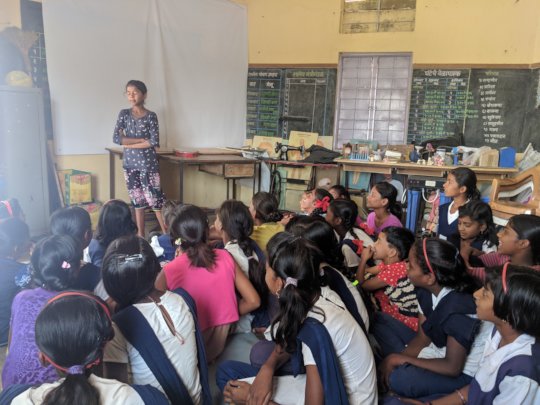 Mann Deshi Champions Travel Coach Athlete Nayan's story
Most of us know of only one world -the world which we saw on the maps or the one which our eyes followed as our geography teacher revolved that little blue-green globe kept on her desk with the tip of her single fingernail .But what we need to realize is that there are billions of small little worlds in this planet of ours and occasionally we just might get an opportunity to get a glimpse of one or the other.
A long distance away from the hustling-bustling city, across the dried up Man ganga river lies a quaint little village. The name of the village itself means god of dust and that's exactly the only thing which the lord has blessed this village with. A huge expanse of barren, dried up land with no source of water and little vegetation. However, dust gives birth to everything and everyone. we humans too are made of dust but a little girl of this village called Nayan has been made with a tinch of magic dust brewed by the lord of this village himself for she was born in a house just beside his temple. A child of 12, her day might seem quite ordinary for she gets up, has a bath and then goes to school. A school whereshe studies, plays with her friends and then wrestles in the afternoon. Yes, wrestling. Never will you see a child so young be so passionate about something, as for the whole day her tiny little feet keep tapping on the floor and a single chant of 'wrestling, wrestling...' keeps playing in her head until and unless its time.
The first sign is when the Mann Deshi Champions coach pulls up on his bike along with the wrestling mats. Barely containing her excitement, she and her best friend run off to change their clothes and remove their jewellery for they want to be fully prepared when the coach enters and then they just might get a chance to wrestle first. Every day is an intense workout but that beautiful, mischievous smile from Nayan's face never wavers. No matter how many times she is thrown down , she jumps up. Gives a broad grin for she knows that the next game is going to be hers. This goes on for hours until the coach calls it a day, for its time for lunch. However, the collective groan and heavy sighs are unmistakable. The children are hungry but the hunger in their heart for the rush, for that energy surpasses their body's needs. Talking about energy, the reservoir of which the child possesses is insane. One might think that an afternoon full of rolling and slamming down people would leave her drained out for the rest of the day but that's where you are wrong because you might as well take her seriously when she says 'we are the children of the soil on which we wrestle on, we don't need energy , we are born with it' .
After wrestling, Mann Deshi Champions coach prepares all the young girls for 1 hr of storytelling session where children tell their daily lives stories. Last week Nayan told a story of how she saved a girl from drowning into the water well.
Nayan learned swimming in the water well. Nayan goes for swimming. It's a little water well where her mother washes the clothes. Facilities and privileges are no match for skill and passion and Nayan proves this.
She swims continuously, the length of the tank for hours but even here never thinks of leaving her friends behind. Very slyly she coaxes one of her friends every other day to come to the water well and the moment they stand on the edge, she pushes them in and while they are drowning, she instructs them ways to get themselves out of water. Though hilarious, this may seem like an absurd way of teaching not to mention a quick one too. But this is how Nayan learnt swimming and that too ,in a single afternoon.
For a place so underdeveloped, the mindset of the people of the village is quite progressive or at least that is true in case of Nayan's parents. Her parents are adamant in providing every opportunity to both their son and daughters alike for their sole goal in life is to see their children make a name for themselves. The children in turn are equally driven to prove their worth. When asked about the competitions she has participated in, Nayan's eyes widen under a veil of seriousness for she moans that she hasn't won 'big gifts' yet but knows that with the intense practice sessions she is bound to succeed.
This youthful zeal coupled with the maturity and seriousness far beyond her age is the reason why this child will succeed in whatever she chooses. Nayan has a long path to travel and not a straight one either for the burden of expectations on her shoulders is heavy and the obstacles on her path are many. And even Though she is a child of the soil, she never really learnt to bite the dust.