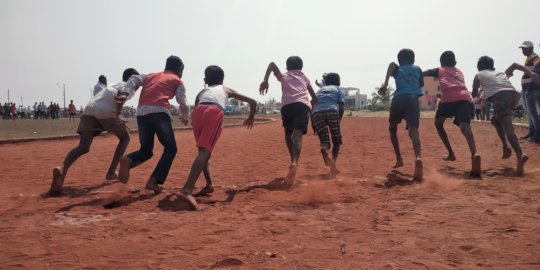 At Mann Deshi Champions program with the grant of global giving individual donors, we have started giving athletes daily varieties of nutrition. Initially Mann Deshi Champions provided children every morning banana, peanuts and jaggery, now as a new addition to their diet we have started giving eggs and dates. We believe that egg whites will be able to give children a source of protein and dates will give iron especially to girls.
Since month of August Mann Deshi Champions have started conducting workshops for children, to address different issues of the society. At the workshop we perform skits and plays on real life community issues. E.g. On the environment issues a co-ed group of 10 to 12 performs a skit where the buffalo dies of eating plastic wrap of a snack bar, farmer loses his livestock and money, despite of all this the one who survives is plastic wrap.
Programme Impact Sports for Development Workshop
Increase in social indicators – social cohesion (especially related to caste), school attendance, better physical health, reduced child marriages. SDG: 1 No poverty, 4 Quality education, 5 Gender equality.
Increased sense of self – confidence, self-esteem, safe place to play and have fun, sense of identity, participating in sports competitions, exposure to new situations, access to mentors and positive role models, new and diverse friends, growing ambitions
Increased values – teamwork, discipline,
Stage daring and speaking out capacity: Since the athletes are taking part to address the gender, environment, sanitation etc issues through a skit and play their ability of stage daring has increased.
Impact nutrition and health:
Healthy mind and Healthy body
Physio visit in September
Injury prevention work-outs are given to wrestlers
Awareness of their daily diets to 55 athletes
Program accomplishment in July-August- September
In the month of August and September 7 wrestlers have won prize money of over 150,000 rupees, a marathon runner have won prize money of 100,000 rupees,
Wrestling: Taluka: female- 9 / male- 22 District: male- 12 / female-3 (State & National still to be conducted)
Steeplechase: 1 National level athlete
Discuss Throw: 1 National level athlete
Shot-put: National
Field hockey: female: 4 nationals / male: 1 nationals
Track and Long distance: 1 All India
Badminton: 1 State
Running: Taluka: female: 22 / male: 26
Awards: Two of our best athlete award by athletics federation of India
Top National athletes: Reshma: Long distance, Vaishnavi: 3000 m steeplechase , Aditi Discuss throw, Sarita: Field hockey, Kajal: Field hockey. Kajal: Wrestling etc.
The wins at various competitions are creating a sense of confidence amongst the young athletes. The everyday practice at the champion's ground enables them
SDG Indicators achieved:
Goal 1 No poverty goal 1: Mann Deshi Champions makes sure that all the children attend school regularly. Due to the training, athletes are able to get compensated and win prizes. Some of the athletes like Reshma are the main bread-winners of the family.
Goal 2. End hunger, achieve food security and improved nutrition and Goal 3 Healthy life: Mann Deshi Champions provides nutrition to its 55 athletes in form of bananas, eggs, chicken, jaggry, peanuts, dates, almonds and protein. In the month of sept and August banana, eggs and peanuts were provided. For Goal 3 sports is a heart of SDG's goal 3 for healthy life-style.
Goal 4 Quality education and lifelong learning opportunity: At Mann Deshi Champions athlete all the children attend school and apart from that our workshops teaches them life skills like courage, communication, stage daring, plays and acts etc
Goal 5: Gender Equality and empowerment of all women: program provides financial independence to some athletes as well daily work-shops and co-ed sports activities help boys and girls to understand.
Animal chaser to a marathon runner- Reshma
In San Francisco at the women's forum Reshma said I love running, it gives me a confidence and no one can stop me. She spoke in front of 7000 business women of California. Reshma is a 4th daughter in her family. Her father wanted to have son, from the beginning of her childhood she was unwanted. Today Reshma had represented for India in the US for a cross-country Invitational championship where she got silver medal in Virginia state.
She wakes up at 5am every day. In the morning dark, she does her long distance runs on the hills of Mann taluka. While growing up Reshma used to come to Mann Deshi Champions sports field for practice. She is the first in her family to travel to the US for competitions. Reshma is a braid-winner of the family she earns income by running marathons, she came 2nd in Pune International Marathon. Almost every Sunday she runs marathons. Reshma earns about 20 to 30 thousand rupees in high season by running marathons.
The highlight of her life is running, she just loves running, she believes running has made her happy, confident and because of sports she is 21 years old and still not married. Sports have made her fearless and given her dignity in the community. Today Reshma's parents who wanted a son are now recognized in the community because of Reshma's popularity. She is a role model for young girls of her community.
In Reshma's community, every girl her age is already married and stays at home looking after their families. On other side because of sports, recognition in the community and earning income Reshma is traveling different countries and exploring life. Today Reshma trains for long distances in Pune.