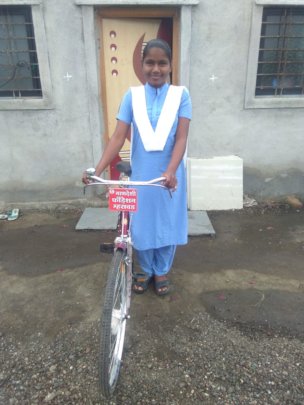 Dear GlobalGiving Supporters,
I would like to share the story of Akansha-
Akansha lived at Palashi with her father & Mother, she has a fourth sister. Her father was drinking more and making violence at home. So Fed up her father drinks, her mother moves with four daughters to her uncle's home. After moving there, her mother started working as a bricklayer and managed their family financially.
Unfortunately, One of her sisters was continuously being sick so the more money was spent on her hospitalization. Also the lack of transportation was from her place to school so she was delayed to the school daily and missing her important classes. She was punished by her teacher as well.
Aksnsha wanted to buy a cycle but she couldn't afford it. She wanted to overcome her condition and wanted to take an education. Akansha was going to school by walking 1 km. Akansha wanted to study and she was a clever girl. One day, Mann Deshi staff went to the school for training where she was studying. Mann Deshi staff asked for the needy girl's name for the cycle. Teacher suggested Akansha's name for the cycle and filled a form. After that proceeds, In Mann Deshi Mahotsav, Akansha received the cycle from Mann Deshi Foundation. She was so happy with Mann Deshi Foundation's support of the cycle.
Thank you so much for all our GlobalGiving Supporters !!!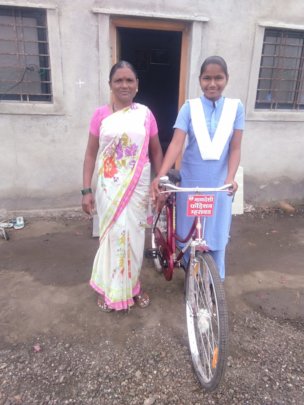 Links: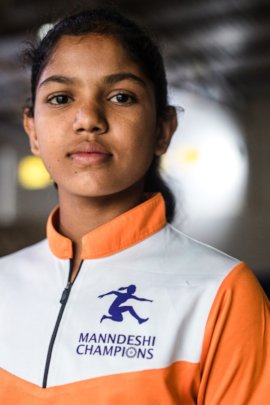 Shivani, a new generation athletic sensation. This 8th Standard girl is competing with and sometimes beating the national medallists in local competitions. The 13 years Old's potential is getting nurtured at the Mann Deshi Facility. It will be super interesting when she will be participating in the higher stages. She belongs to a family of farmers like most girls in the area, and she loves farming. Her parents are hardly aware of her achievements and potential. They are only aware that she likes to run, which is what she is doing. She herself is yet to recognize the hidden potential. For 400m, cloaking 1.07 during the trials under 13 is equivalent to a national junior record. She is an active participant in the personality development workshops and always makes people laugh with her acting performance. She is also learning the swimming techniques at the Mann Deshi Champions swimming pool. When she first arrived at the Mann Deshi center, she was quite shy and hardly spoke with anyone. She just liked running but wasn't aware of the tactical aspects. The participation in local competitions and expert coaching is turning her into a next-level athlete.
Another multi-talented Rupali is the most studious among all at the Champions facility. Though shy and very less spoken, an eleventh standard science student has diverse interests other than sports. Every day she used to walk for 8 kilometers to her college and back other than the routine practice. She recently received a bicycle from Mann Deshi to commute. She has a keen interest in astrophysics and, if received proper guidance, has the potential to get into a good university. When she joined Mann Deshi Champions, we had to work on her basics during the lockdown period. She is a long-distance runner Practicing for 3km, 5km, and 10km. From a very humble background, she has very high dreams about her academics as well, and also, during one of the workshops, we realized that She is a nice singer as well. We think she has a lot of potentials that we can tap upon.
Way forward with opening up of the routine activities, we are looking forward to 2021 with great hopes. We have ready to take on the new challenges in upcoming competitions and the next level of personal developments. We hope to inculcate the following Sports Conference: With the immense success of the state-level online conference that we held in July for coaches and primary school teachers of Government schools, we are ready to go ahead with the next phase of the initiative with the cooperation of education department. Through this conference, basic sporting education shall be created among the local district's primary schools.
Robust Coaching: We have added several coaches to our team for track and field and swimming. With a focus on the upcoming competitions, online coaching is there, but we are also getting regular in-person guidance from the expert coaches from the paramilitary. We are hoping to have a great season ahead. Gymnasium & Swimming Pool: With the infrastructure in place, The Gymnasium facility will be ready in the next few months with state of the art equipment for holistic development. The well-equipped swimming pool is already in place and has been used for national level swimmers and other athletes for recovery and building techniques.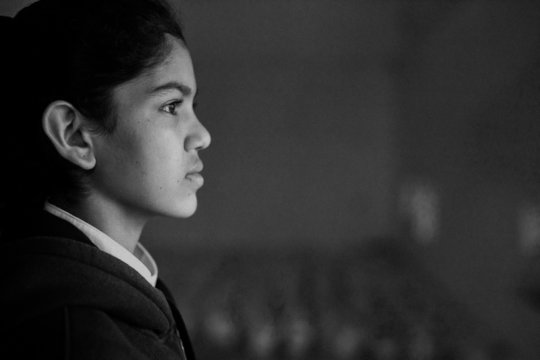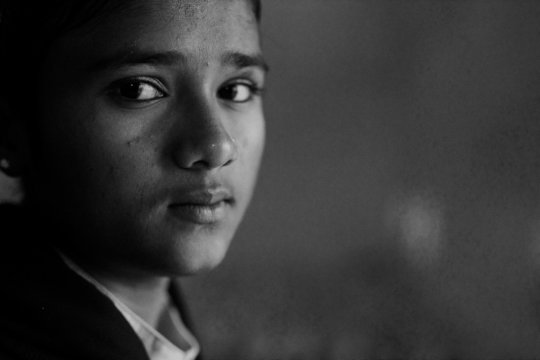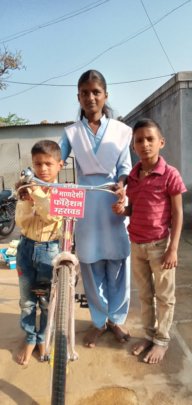 Dear GlobalGiving Supporters,
I would like to share the story of Shivanjali:
Shivanjali lives in Vaghioshi village in a family of four members. Her father worked as a bricklayer so financial problems were in her family. She was studying into the 9th standard at Andori and it was nearly 2 km from her place where she belonged. Shivanjali was going to school by walking and this daily walk from her village to her school distance was taking too much time to reach up to school and also it was affecting her studies.
One day, the Mann Deshi staff went to her school at Andhori for providing the information regarding the "Freedom Ride" program. In this program we offered the bicycle to the needy girls. If your school has any needy girls to take this opportunity so you can suggest that girl's name. Then the teacher suggested the Shivanjali's name and about her financial situation. According to all conditions, we provided a bicycle to Shivanjali.
"Now shivanjali saves her time for her studies and she is glad to have a bicycle", she says.
Thank you so much for all our supporters !!!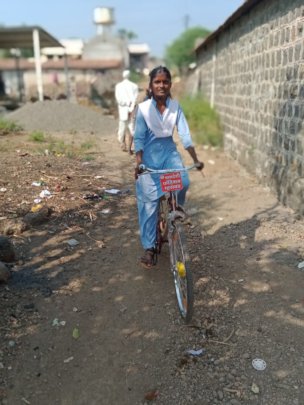 WARNING: Javascript is currently disabled or is not available in your browser. GlobalGiving makes extensive use of Javascript and will not function properly with Javascript disabled.
Please enable Javascript
and refresh this page.