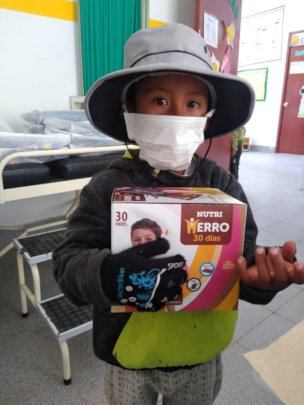 Dear donor,
Firstly, we want to express you, from the bottom of our heart, our profound and sincere wishes of well-being and good health for you and your family. We are facing difficult times, but with union and commitment we can successfully overcome them.
It is now 4 months since we started this noble crusade for the health of children in rural areas of Ancash, Perú and we want to tell you about our progress.
With your support, our nutrition program was able to reach 100 boys and girls! And our gratitude is infinite.
"Before the nutritional campaign, I had anemia, I felt tired and I had no appetite to eat. But now, with the help of Misión Huascarán, I have improved. I feel very well! Thank you Mission Huascarán!". It was the testimony of one of the students from the school of Yanamito - Áncash.
On the one hand, we have achieved our target population count with screening tests to be able to know their blood hemoglobin level and thus, be able to know their state of health.
On the other hand, 450 children and their parents have received prophylaxis treatments to eliminate parasites from their organisms and we have delivered 2,900 packages of cookies with high content of iron to complement their feeding.
Likewise, despite the organizational difficulties caused by the COVID-19 pandemic, we have joined the vital cause of providing support to prevent this virus by doing the following actions:
Provide cleaning and hygiene training to mothers to prevent the spread of COVID-19.
Teach parents to manage an in-house bio-garden.
Deliver conserves and nutritious cookies.
Organizing a virtual exhibition on how to prepare meals with a high level of iron to ensure the health of children.
To make all these possible, we still need to count on your support through the GlobalGiving platform. Every donation is always heartwarming and appreciated but during this uncertain time it means more than ever.
The world holds great challenges for our society and children are the light of hope for the future to be prosperous.
Wishing you, health, and family unity.
Misíon Huascarán's team.