Dear Friends and Supporters
My apologies for this brief report as I pack and make ready to move house and home. A stressful time and I can't wait to settle down and relax a bit.
However I am able to report some exciting developments with our health (HEAL) programme. I have reported before about discussions with a local (Humla) Ngo - Self Help Promotion Centre Nepal (SHIP-Nepal). We can report that SHIP have now taken over the management of the 5 health clinics and birthing centres under the management of local qualified staff. New staff have been appointed to ensure that each clinic is properly manned and supported with qualified staff. A very successful example has always been our Sarkegad clinic where a mixture of government and Nepal Trust staff have been employed and have demonstrated how a remote clinic can be run efficiently.
The Nepal Trust will continue to support the clinics materially and financially for a period of up to 5 years with the objective of handing over operations to the government system. This plan has the full support of the District Health Officer (DHO) and the local village Health Committees.
A month long field survey was recently carried out to work on and to inform the handing over of responsibility of HEAL to SHIP-Nepal through discussions with local Health committees and Ward committees. The field visit also carried out a detailed survey of each health post; its immediate requirements; improvements to be made and the local demographics. This new approach has revitalised the local communities who are more determined than ever to provide better management and service.
Elsewhere we continue to support the government health service with infrastructure development. We have almost completed the construction of 3 new clinics in south Humla at Maspur, Piplang and Tumcha. These replace old tumbledown buildings and will be part of the government system. For the future we will support the government system wherever there is a need.
I hope you are as encouraged as I am about this new approach to a unified health system in one of the remotest corners of the world. This together with our children and maternal health education programme is making a huge difference to the health of the local populations in this remote district.
Many thanks for your support and help and I hope you will stay with us and encourage your friends to add their support. Children and pregnant mothers die needlessly without some basic help.
Namaste.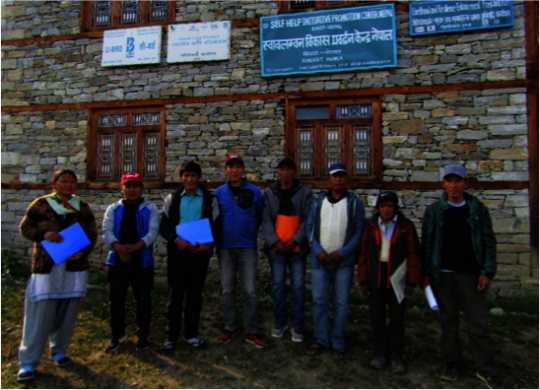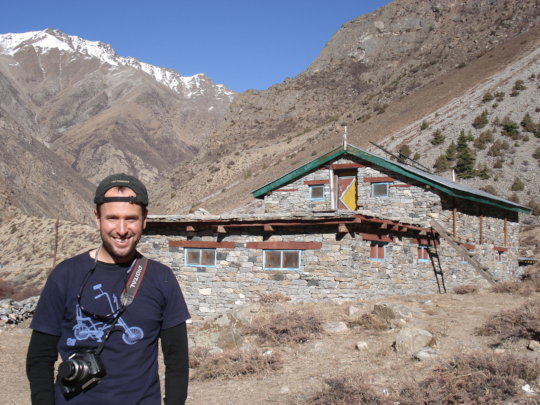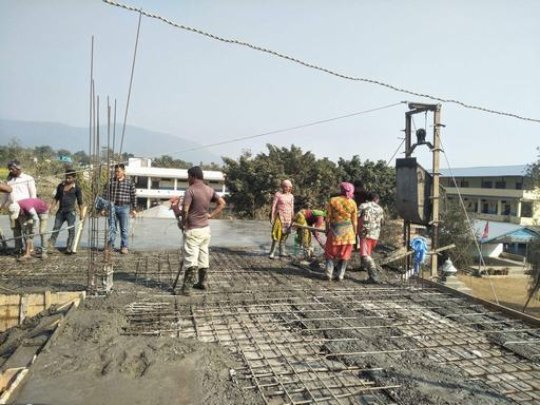 Dear Friends and Supporters.
The Kalika school rebuilding project is going well and construction of the main building and the toilet block is well advanced. Some politics reared its ugly head when the Maoist group Biplav demanded donations and forced our workers to halt construction or they would create more problems.We are now in discussion with them to solve the matter and we hope to complete the building by this summer.
This is something the Nepal Trust has had to deal with before, particularly during the civil war. However, we was recognised as a trustworthy and reliable organisation and allowed to continue our work. The majority of other agencies and government offices had to pack up and leave.
The havoc and destruction caused by the 2015 earthquake is more widespread than previously thought particularly affecting schools. Over a much wider area many were totally destroyed and a greater number were damaged to the point of being unsafe. The Trust is now working in a number of areas to help rebuild schools and improve education opportunities for the many deprived children in some of the remoter areas.
One such area is the district of Makwanpur southwest of Kathmandu. It is fairly close to the capital and also to the Indian border to the south. Makwanpur is a prime target for human trafficking both within and outwith Nepal. The Safe in School project aims to keep students safe in their school; this involves implementing various child-centered activities at the school. Our assumption is that this will increase school attendance, decrease school dropout rates and motivate students to increase learning achievements. The project concentrates on improving the quality of the school facilities in some of the poorest villages in Makwanpur district, which were also some of the most earthquake affected.By focussing on reducing dropouts and increasing school enrolement we can ultimately keep children out of the hands of traffickers whilst improving their life chances.
Five primary and lower secondary schools attended by 1500 children have been identified for structural improvements. An additional component includes capacity building that will involve child health education, girls hygiene, improved nutrition, and teacher training.
Your help and support for this vital project would be much appreciated. Children need the building blocks of life to have a sustainable future and we can help them to achieve this. Thank you for all your help and support since this disaster happened but we need much more to make an impact. Tell your friends and encourage them too.
Namaste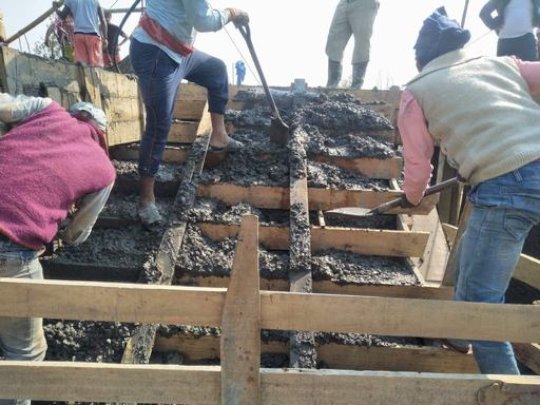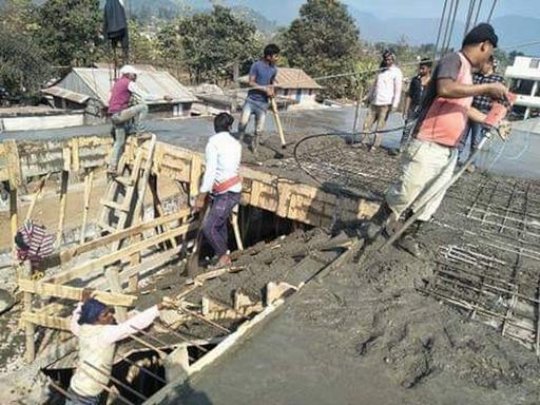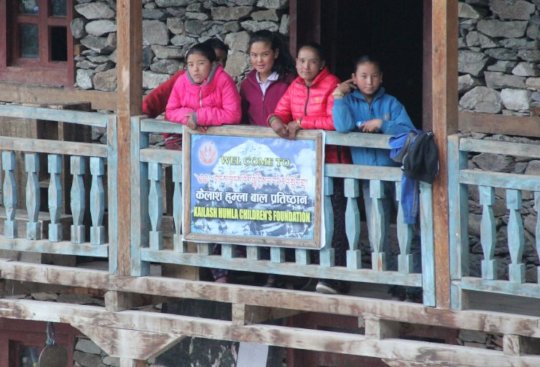 Dear Friends and Supporters
Muchu village is about as far as you can go in north west Nepal before you hit the border with Tibet/China.It lies in the beautiful Karnali river valley at an elevation of over 3000m. It is the 'centre' for a number of smaller villages scattered around within a few hours trekking. There is splendid monastery there that has been helped to renovate by the Nepal Trust.
It sits on the main trail to Mount Kailash, an important pilgrimage site for Buddhists and Hindus, and can be very busy during the tourist season. Simikot, the headquarters for Humla, is a 2-3 day walk south but Tibet, to the north is less than one day a way. Economic activity has always preferred the northern route and this will remain so as a road is slowly being developed from the border to the south and eventually to Simikot. It has always been the plan to set up a trading station at the border to generate income to support the school and its hostel for outlying pupils. We are sure that this will happen because the people of Muchu are traders, that is what they do and it is part of their heritage. With our help they will surely succeed.
Winter has now passed and the snow at school level has gone. Work is progressing well to build the canteen/kitchen and storage facilities to meet the increased demand from children from outlying villages.Work on new additional classrooms will start later in the year.
A good education increases life chances and is an incredible lifeline for children from such remote and difficult areas. Your support is much needed and gratefully received. Thank you for all you have done to support this cause and we hope you will continue with us. Please tell your friends and encourage them to.
Namaste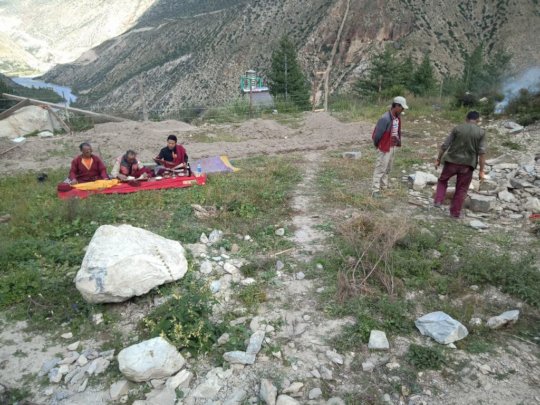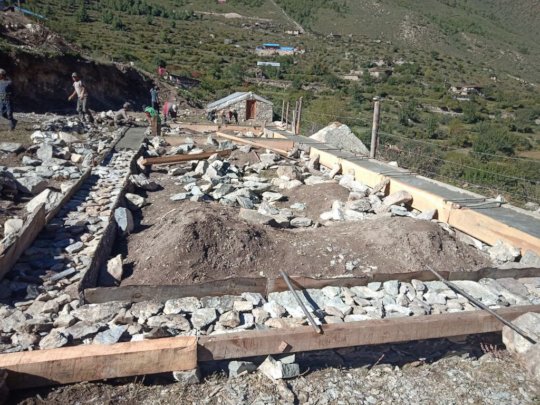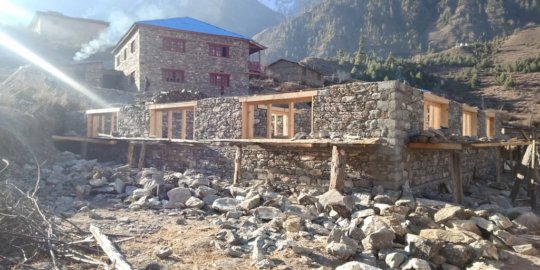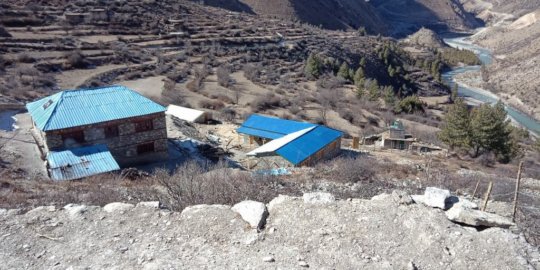 WARNING: Javascript is currently disabled or is not available in your browser. GlobalGiving makes extensive use of Javascript and will not function properly with Javascript disabled.
Please enable Javascript
and refresh this page.