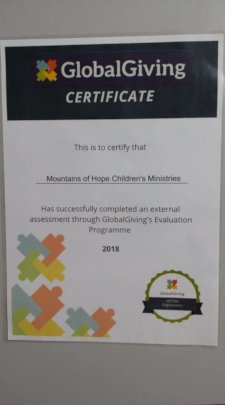 James is back at school, he is soon sitting his final examinations in November 2018, James will do exams in 2 days and thats all, he will be doing Mathematics, English, Science and Social studies.
He says he will pass al the exams, James' final results come back in February 2019, he is already excited
Mean while a month ago, a team from Globalgiving came on the ground to evaluate Mountains of Hope work on the ground, as you know Globalgiving gives non profits from anywhere around the world a chance to raise money that they need to improve their communities and organization's go through a vetting process for legitimacy and legality, Mountains of Hope has used this platform to securely fundraiser for various projects since 2009, am glad to inform you that we have received or evaluation feed back and certificate.
We are happy to continue fundraising through Globalgiving, now you know that your funds are secure and doing exactly what you donate it for, can we continue to partner together and change the lives of the children and the people of Uganda?