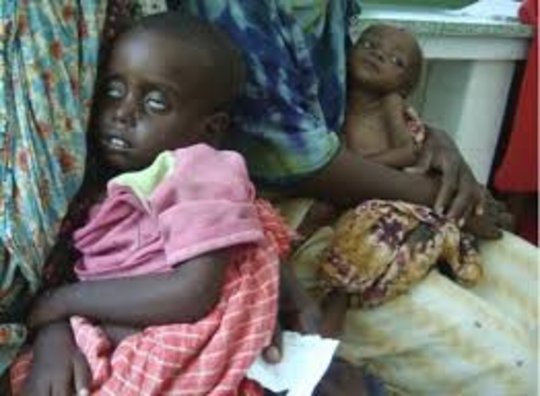 Annet was born last year in January, her mother is a single mother, she doesnt know the where a bouts of the husband as he abandoned them at home due to financial constraints, she struggles to make a living with her five malnourished children, they fall sick most of the time, she can not balance their diet nor can she afford money for hospital, two years ago, she lost a child to malnutrition, this year, she was losing her last born had it not been for the support we offered the family.
When you look at Annets back, you may think its of a very old person, her face is wrinkled, her arms are tiny and has brown hair.
Malnutrition is one of the number one killers in Africa as children 0-59 months do not have enough nutrients to help them grow. We realised that one of the needs of the communities is carrying out sensitizations among mothers to give information on care for children 0-59 months and provision of some food for starters. Most parents serve children with cassava and water for lunch and supper, yet cassava has only carbohydrates as a food value.
This training aimed at targetting mothers will improve on the feeding of children and adults in the community where we work.
Will you save 50 children today from dying of malnutrition?
Hi,
We are all exited for the great support you offered to Eve. When we posted our request on Globalgiving, we thought it would not be easy to reach our goal of $500, but to our surprise we were able to raise $600, what a great surprise?
When I broke the news to her, she was totally excited, I showed her all the Globalgiving donors who supported her, she started praying for them one by one while touching the Names, when she reached the last name I saw tears rolling down to her cheeks, I knew it was the joy of going back to school, immediately she picked a pen and paper and started writting a thank you letter to you, I have attached it here in this report. There are many girls like Eve who have not been able to continue with education just becasue they do not have some one to give a helping hand, and some of them have got married, some have resorted to prostitution and others have commited suicide, I dont know which of the above Eve would have become, but thanks for helping her. Eve will in four months from now be joining second semester of her second year, will you support her again?
"My day is bright, my future is bright, am glad you were there for me"(... tears roll down er eyes.....") thank you for your kind heart" said Eve while receiving money for tuition.
Hi,
We are very grateful for your kind support, after seeing your commitment in making this project a success, we have contracted a company here to make metalic windows and doors, with your donations, we are depositing some amount as part payment for them to begin the work, we are hoping to raise all the money by the end of this month, we are hoping to complete the windows and doors by the end of this month so that we leave that topic by now.
There is now little to be done, we have $700 to be covered before the end of this month. The children have hopes of entering their new home as soon as possible, its me and you to keep that joy alive, will you?, we will request you to talk to some body about this project, tell them how it will benefit the child and the community around, you may consider donating again, and many more things that you may choose to do to make it a success.
WARNING: Javascript is currently disabled or is not available in your browser. GlobalGiving makes extensive use of Javascript and will not function properly with Javascript disabled.
Please enable Javascript
and refresh this page.