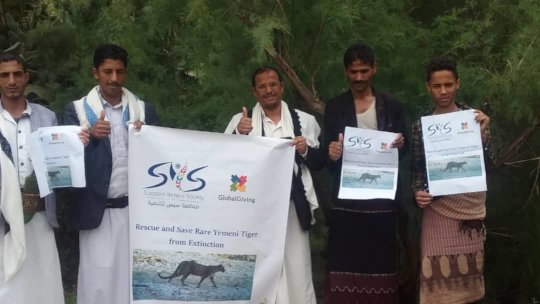 Dear Generous donors,
SYS Organization hopes that you are all healthy and well. It seems that our dream of saving the rare Yemeni tiger will come true.
Four months ago, we posted this project, "Rescue and Save Rare Yemeni Tiger from Extinction." on GlobalGiving. We were so enthusiastic and optimistic, and we still. But with the advent of COVID-19, everything changed in Yemen. There were full blockage and quarantine. Despite all of these obstacles, we, Support Yemeni Society Organization's volunteer team kept working to achieve the goal of this project," Saving Yemeni tiger from extinction. We prepared a new plan to deal with the situation. Therefore, we did the following actions:
1- We contacted the local authorities in Bani Qais and informed them about our project, and its goal. We discussed with them how to protect the rare animals in the Bani Qais Nature Preserve. We asked them to facilitate our job.
2- We enrolled six interested volunteers and started training them.
3- We launched the awareness campaign to Bani Qais local people on the importance of the Yemeni tiger, which is a National Symbol. Moreover, we lectured people on how to prevent and stop poaching.
4- We distributed 100 flyers about the significance of the Yemeni tiger, and urging local people to collaborate with the local authorities.
5- We visited Sana'a Zoo and discussed with its manager ways of protecting the only three Yemeni tigers in the zoo.
Dear generous donors, with your donations, we can do more and more to protect this rare animal from extinction. Every
donation helps us increase and raise awareness among Yemeni people on the importance of protecting these animals. Moreover, your donations will help in the tiger population.
Thank you so much again and again for supporting SYS
Organization. All together, we can achieve our noble goal.
Best regards.
Yours,
Ahmed Al-Qadhi