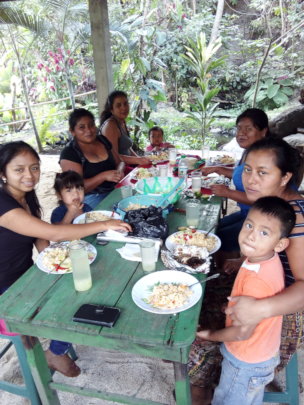 Getting to know our clients is one of the most important elements to project success. We're going to let you in on a day in our empowerment program with ATC's Project Coordinator and Women's Empowerment specialist, Marilena Choguaj. Marilena shares the responses of 5 women in a five hour sesion to define their life goals and take steps towards them. This process helps identify motivations to start-up green businesses in low-income communities. Here's what they said:
Discussion: Empowerment and it's characteristics
When presenting the characteristics of an empowered woman, we reflected on which characteristics students demonstrate in their environment. They mentioned: leadership, self-esteem, trust, honesty, respect.
When asking what quality should they improve, they mentioned tiscipline and independence.
Ruth added, "It does not mean getting away from our partners, but working with them. If we want to leave, it is not asking for permission, but informing them that we will leave, in this way not to create conflicts and reach violence."
When asked what they are doing to demonstrate their empowerment, they said, "Being in the group, working to strengthen the group."
We asked them, "Why are they in this entreprenuership group?"
Maricela: I'm because I want to be more economically and emotionally independent.
Ruth: So I do not have to ask my husband for money for the things I want and to learn more, besides contributing to strengthen the group.
Suly: I want to earn money to help my children to study, graduate and go to college, I want to give them opportunities that I did not have.
Aucelia: I want to support my mother with the expenses at home and continue studying at the university.
Jhoselyn: Earn money to give my son what he needs and have more knowledge.
Notice anything about their responses? We did!
Each new entreprenuer had some other family member in mind for their motivation to earn money.
Ultimately, this demonstrates that their prime motivation is the longterm wellbeing of their family. When a woman is emotionally empowered and ready to start her own business, she immediately transfers her success to her children, parents and community.
Come meet them in person - Community Volunteer Positions are now open to help communities start small green businesses!