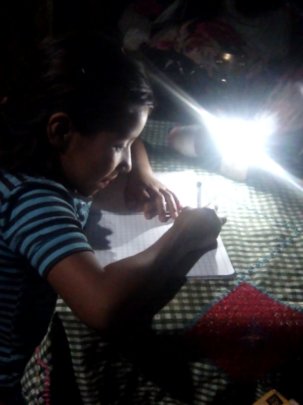 We were blown away by your show of support during #ClimateAction week. Over 115 people from the US and Europe chipped in over $11,300 to bring clean water and light to Guatemalan families affected by the pandemic. You helped us meet our goals and serve more people suffering under the COVID19 quarantine.
Overall in Guatemala 54% of the population live in poverty; in la Zona Reina, the poverty rate is at 75%. Thousands of people live day-to-day, but are out of work for over 2 months now. Stress is rising and UNICEF is warning of the rise of domestic violence. Living in isolated villages, kids in la Zona Reina rely on school as the only building with lights, cell phone charging and computers. With school closed, they spend long days and nights at home in the dark. Now the school principals of Chitas and Tiritibol are working with us to help their students cope with the added isolation.
Your generosity helped us serve 319 children last week with basic lighting to read and feel safe while school is closed. Their parents save precious funds on candles for food,and can be more productive at night.
It wasn´t easy. With the whole of Guatemala on lock down, our field staff can´t travel out to the poorest communities who need help. Luckily, our past collaborative projects with local community leaders developed mutual trust, transparency and a culture of cooperation to take action during this situation.
Two school principals in the un-electrified interior of Guatemala have shown exemplary community leadership since we worked together to install solar panels, lights and a computer lab at their schools. We organized the distribution of solar lamps to 319 primary school children by matching school enrollment lists with signed documents and using shipping services to send documentation and solar lights back and forth. When we can move around the country again, our field staff will visit Tiritibol and Chitas to interview parents and children for monitoring and evaluation purposes. We´ll update you with that information when the time comes.
Thanks to your recent donations, over 125 water filters are now on their way to Guatemala for distribution in May to help poor families stay healthy, save money and save the environment.
Stay tuned for more updates about our response to the pandemic.