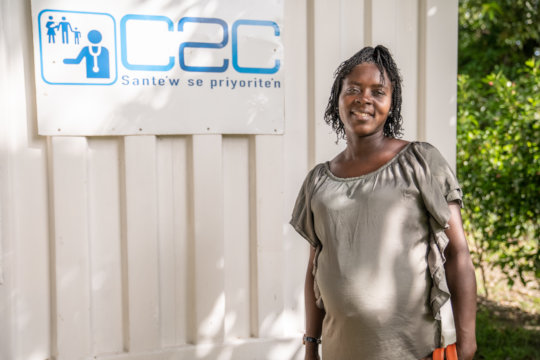 C2C's maternal health program currently runs at three C2C clinics: Camp Coq, l'Acul du Nord, and, thanks to the support of the GlobalGiving community, Bayeux. Our team is made up of an OBGYN, a midwife, and an auxiliary nurse. The same team works at our three sites, providing consistency and stability across the clinics. As of this month, the team is being managed by our Chief Medical Officer, which provides more accountability and reassurance.
The team goes once a week to each of our three clinics and provides prenatal care to the rural population. We usually have a maximum capacity of 25 patients a day. However, with the increased popularity of our maternal health program in Camp Coq, we had to add two extra days of consultation a month so that we do not have to turn away any women and can consult everyone that enters our clinic. Currently, the total average number of prenatal visits per day is around 22.
The team provides high-quality medical consultation to pregnant women by following an established protocol which defines the visit schedule, systematic preventions, management of complications, and the indications for referral to the hospital. This protocol respects the recommendations of the Ministry of Health and WHO for prenatal follow-up. Also, service providers have at their disposal a brochure that details advice they should give to pregnant women.
In their last evaluation, the maternal health care providers had a very satisfactory rating for the greeting, counseling, and compliance with the protocol. When it comes to the maternal care package that we provide, it includes complete clinic assessment, laboratory tests, obstetric ultrasound, iron, and vitamin supplementation, childbirth planning, follow-up calls, and a postnatal home visit.
The midwife consults all pregnant women after they are registered by the auxiliary nurse. She assesses them, orders lab tests, and prescribes medication. Afterward, she refers them to the OBGYN. Usually, the OBGYN will see all women coming for their first and last visit, all women who need to have an ultrasound, and all women who have complications. The gynecologist manages those cases or refers them to the hospital if necessary. The auxiliary nurse calls the patients to remind them of their visit and check on their status. Then, she gives a list of the women who have given birth to the community health team so they can schedule a postnatal visit.
According to the maternal health staff, the majority of pregnancies monitored in the program are uncomplicated and have good outcomes. The rare complications are linked to early age pregnancies and high blood pressure. We usually can manage these cases in our clinics if detected early and there is almost no need to refer to the hospitals for complications.
In summary, the maternal health program works very well in our three clinics. Our hope for the future is to expand the program to our network of clinics.