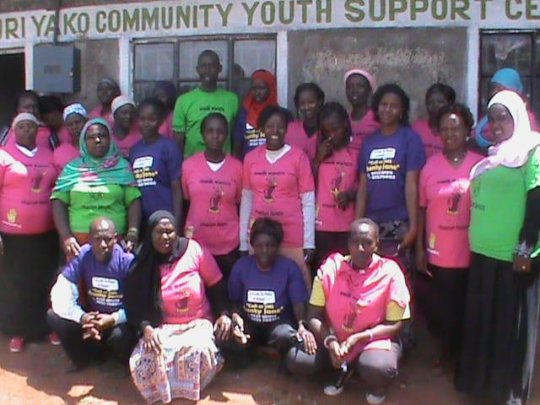 Dear Friends,
Thank you for continuing to support us. SYSC's mission is to give underprivileged young people from Nyeri County opportunities for social and economic development through education and skills training. We hope that this report, which outlines SYSC activities for the third quarter of 2018, shows us how you we are doing that with your help.
Programs update:
Skills training - Construction industry skills:
The 8 trainees for the 6-month construction skills training program, which is provided as a public-private sector partnership provided by SYSC in collaboration with Derisco Kenya Ltd and Options for Homes Kenya, have finished their training in August 14, 2018. These young people - 4 masons and 4 plumbers - are now job-ready and we have secured employment for 5 of them with Options for homes, Kenya! We are grateful that, because of your help, we are able to create opportunities for more people. You have enabled these people and their families to have a sustainable livelihood.
Training for Trainers in Reproductive Health and Family Planning:
SYSC, in collaboration with Family Health Options, Nyeri Branch, held a 3 day Reproductive Health and Family Planning training for trainers in July 9 to 12, 2018. The training participant were from all Nyeri sub-counties. The training was very successful, and since reproductive health education is a huge need in the communities we serve, we are looking for sponsors to enable us to do it twice a year.
The numbers of our informal school students are growing every month.
We now have 36 students and offer free tutoring classes
for level 5 to 8 three days a week. Your donation has enabled us to hire one full time teacher, who is supported by two volunteers. The school provides
education opportunities for children of displace families and refugees who are not able to go formal schools
. In August 2018, we received a donation of level 5 and 6 text books from Friends of SYSC and the Mwai family. If you or somebody you know would like to support our informal school initiative, we'd be thrilled. Please contact Joe at
j
o
s
e
s
h
a
u
r
i
y
a
k
o
@
g
m
a
i
l
.
c
o
m
.
Scout camping in August 2018 was a success, creating opportunity for slum children to experience nature. We would like to organize another one in December 2018, so are looking for camping equipment donations, including tents. The SYSC chair has provided a camping site in his Mathira, Itundu farm. We'd like to take this opportunity to thank Kenya Scout Association, Nyeri for
continued support to support SYSC Scout Rovers.
Please tell your friends and families about our projects. You can share the link on your blog or social networks. Together we will make a difference. We will keep you informed or our work and activities.
We are so grateful: your continued support means a lot to our centre. Thank you again for your continued kindness to the future of our youth.
Sincerely,
Joe