Julius and I depart this evening for the USA. We had a successful Uganda trip and highlights are as follows:
Kristina Clinic activity:
* Kristina Clinic and living quarters are virtually complete and look great - beyond our expectations - see attached photo
* we have over a dozen qualified applications to fill the clinical officer, comprehensive nurse and nurse assistant positions
* clinic and living quarter latrines dug and currently under construction for both buildings
* solar power negotiations and specifications completed with installation for the clinic and living quarters starting April 23 week
* furnishings for the living quarters and clinic selected - durable and attractive
* a low power medical refrigerator/freezer was selected; it is the same unit used by Engeye Health Center, our sister facility near Masaka
* completed a plan to landscape the health center grounds including pavers around both buildings and grass beyond providing an attractive and dust/mud resistant facility
* spent a full day at Engeye to learn and consult with Dr. Kathy Chang and her husband Joseph Freeman a pharmacist; they are Americans spending 18 months (6 thus far) at Engeye
We look forward to the grand opening and dedication of Kristina Clinic on August 25, 2012
Links: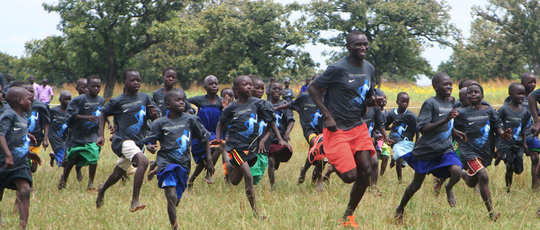 The fourth quarter of 2011 brought three major accomplishments for the Achon Uganda Children's Fund and the Kristina Clinic project:
1) Kristina Clinic construction neared completion in Awake Village as both the clinic and living quarters structures were completed with doors and windows added. Kristina Clinic has become a local destination site as villagers come daily in numbers to marvel at the buildings - unmatched by any local structure. See the attached photo showing Kristina clinic buildings in the rear with Julius' Achon's father's home and kitchen in the foreground.
2) On November 5th, the Nike sponsored Julius Achon Run was held at Orum Primary School bringing 21 schools and 1,200 students together for a 5k run - the first of its kind in over 20 years. The attached photo shows former Uganda Olympic runner Julius running in a boys race. A crowd estimated at 3,000+ raced, watched and were all fed during the awards celebration. This race was step one in Julius' effort to resume sports in the region.
3) Runner's World Magazine, in its January 2012 issue, featured Julius Achon as it 2012 Hero - for his humanitarian work in Northern Uganda. Julius' efforts through the Achon Uganda Children's Fund are focused on improving health via Kristina Clinic, supporting the education of 35 local orphaned children and returning sports competition to the region.
Kristina Clinic construction will complete in Q1 with the focus now switching to staff recruitment, securing furnishings, supplies and medications and training. Kristina Clinic is targeted for opening in the 2nd quarter of 2012.
Thank you to the many Global Giving supporters whose funding has been the necessary catalyst for significant progress in 2011. From a grassy field in February to two beautiful new clinic structures at year end - we thank you for your help.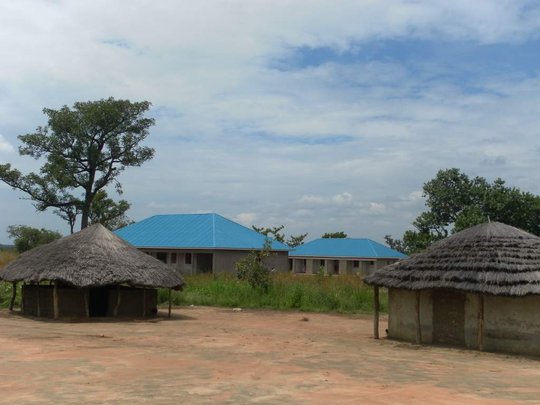 Links:
Kristina Clinic construction in Awake village, where Julius Achon was born and raised, is progressing very well since our May visit says Julius Achon, founder of AUCF. The clinic is named after my mother Kristina who was killed in 2004 by the LRA during the civil war. She bled to death in the village as there was no healthcare to save her. Since that time my goal has been to build a clinic in her honor to provide healthcare for future generations. Under the leadership of construction manager Patrick Ebyau and my brother, Jimmy Okullo, the living quarters are virtually complete, save windows, doors, painting and a patio surrounding the building. By Uganda standards, the facility is attractive; by village standards it is luxurious, as 99% of the people still live in mud huts with straw roofs. We expect the living quarters will be a significant asset recruiting staff. Since the May trip, clinic construction has progressed to completion of the walls and roofing; in addition Lifewater International has installed the clinic bore-hole well and cool, clear water is flowing for future clinic patients and staff – a huge asset and accomplishment. Clinic construction is scheduled for completion by the end of the year. Many villagers come to visit the construction as such a development has not occurred for 20 years in my village - since before the war.
Julius and I held a meeting with the Kristina Clinic board of directors; once completed, the clinic will be owned by the Awake community and governed by the board. The are enthusiastic and passionate about this wonderful addition to their community and committed to its success. They believe it will serve as a catalyst for economic development of the community as well
While in the village, Julius spoke to 450 students at his former primary school where he announced a Nov. 5th fun run sponsored by Nike at which 20 schools and 1,200 students will participate. When told each of the kids participating would receive a Nike shirt, the students went bananas.
We are grateful to our many supporters for their generosity said Julius as he surveyed the tremendous progress since his last construction visit in May. My mother would be so proud
Links:
WARNING: Javascript is currently disabled or is not available in your browser. GlobalGiving makes extensive use of Javascript and will not function properly with Javascript disabled.
Please enable Javascript
and refresh this page.