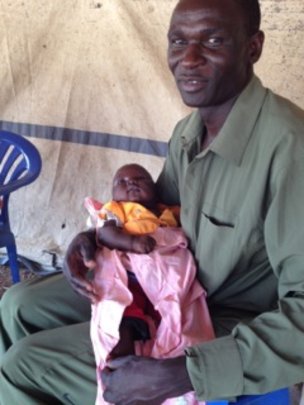 Dear Global Giving Friends
I am writing to you from Lira, Uganda as Julius and I arrived two weeks ago. We are spending this week at Kristina Health Center in Awake village and spent last week with many of the 37 orphan children supported by Achon Uganda Children's Fund (AUCF). Thank you, once again, for your generous donations to AUCF. Spending time at the health center and with the kids reinforces the importance of the work we are doing and the positive impact of your donation.
Julius and I first visited Kristina Health Center a week ago Tuesday and have returned four times since. The health center is booming - 610 patients seen in January. A line of patients formed early Tuesday morning at the center - mothers with their children, young and old men but mostly women - about 20 people. They have all walked here - anywhere from 400 meters to 10 kilometers as explained to me by clinical office, Achar Emmanuel, who I shadowed for the day. The patients and those accompanying them waited patiently on the veranda, in the shade, outside the clinic (see photo). Emmanuel told me with a smile what he hears over and over from the villagers, "we are so grateful to have local healthcare for the first time in the history of Awake, this clinic brings new hope to our village and villages beyond". Three consultation rooms and the laboratory were busy the entire day with the three clinical staff and laboratory technician treating patients; the pharmacy distributing medicines. I could see and feel a sense of pride among the staff as I watched them treat patients.
Julius mixed comfortably with all of the patients and staff; he is a celebrity in the village but is 100% just a humble man helping his people. It is easy to find Julius in the crowd; he is where the people are invariably laughing. The people love him.
In the evening, Julius and I, Julius' brother Jimmy (who manages AUCF in Uganda), Julius' father Charles who lives next to the clinic and is a village elder, and the clinic staff of five met to discuss future plans for Kristina Health Center. We have a number of challenges; I equate it to a small business that is growing rapidly and reminds me of my business days in the medical device industry. The number of patients has grown month by month, the clinic and staff are busy from dawn to dusk; there is a need for an ambulance to transport serious patients to Lira Regional Hospital (42 miles away); we are planning to expand the staff and begin a phase II facility plan adding additional staff housing and a patient ward as many patients travel several miles for treatment and cannot return home the same day. In addition, patients require extended observation and/or multi-day treatment.
All in all, Kristina Health Center has exceeded our expectations during its initial five months of operation. The staff is professional and extremely patient focused, the community has embraced the facility and, most importantly, local healthcare is a reality in Awake village.
am writing to you from Lira, Uganda as Julius and I arrived two weeks ago. We are spending this week at Kristina Health Center in Awake village and spent last

week with many of the 37 orphan children supported by Achon Uganda Children's Fund (AUCF).

Thank you, once again, for your monthly $20 donation to AUCF. Spending time at the health center and with the kids reinforces the importance of the work we are doing and the positive impact of your donation.




Julius and I first visited Kristina Health Center a

I am writing to you from Lira, Uganda as Julius and I arrived two weeks ago. We are spending this week at Kristina Health Center in Awake village and spent last

week with many of the 37 orphan children supported by Achon Uganda Children's Fund (AUCF).

Thank you, once again, for your monthly $20 donation to AUCF. Spending time at the health center and with the kids reinforces the importance of the work we are doing and the positive impact of your donation.




Julius and I first visited Kristina Health Center a week ago Tuesday and have returned four times since. The health center is booming - 610 patients seen in January. A line of patients formed early Tuesday morning at the center - mothers with their children, young and old men but mostly women - about 20 people. They have all walked here - anywhere from 400 meters to 10 kilometers as explained to me by clinical office, Achar Emmanuel, who I shadowed for the day. The patients and those accompanying them waited patiently on the veranda, in the shade, outside the clinic (see photo). Emmanuel told me with a smile what he hears over and over from the villagers, "we are so grateful to have local healthcare for the first time in the history of Awake, this clinic brings new hope to our village and villages beyond". Three consultation rooms and the laboratory were busy the entire day with the three clinical staff and laboratory technician treating patients; the pharmacy distributing medicines. I could see and feel a sense of pride among the staff as I (the muzungu - white person) watched them treat patients.




Julius mixed comfortably with all of the patients and staff; he is a

celebrity in the village but is 100% just a humble man helping his people. It is easy to find Julius in the crowd, he is where the people are invariably laughing. The people love him.




In the evening, Julius and I, Julius' brother Jimmy (as you remember he manages AUCF in Uganda), Julius' father Charles who lives next to the clinic and is a village elder, and the clinic staff of five met to discuss future plans for Kristina Health Center. We have a number of challenges; I equate it to a small business which is growing rapidly and reminds me of my business days in the medical

device industry.

The number of patients has grown month by month, the clinic and staff are busy from dawn to dusk; there is a need for an ambulance to transport serious patients to Lira Regional Hospital (42 miles away); we are planning to expand the staff and begin a phase II facility plan adding additional staff housing and a patient ward as many patients travel several miles for treatment and cannot return home the same day. In addition, patients require extended observation and/or multi-day treatment.

Must sign off, but thank you again,

ago Tuesday and have returned four times since. The health center is booming - 610 patients seen in January. A line of patients formed early Tuesday morning at the center - mothers with their children, young and old men but mostly women - about 20 people. They have all walked here - anywhere from 400 meters to 10 kilometers as explained to me by clinical office, Achar Emmanuel, who I shadowed for the day. The patients and those accompanying them waited patiently on the veranda, in the shade, outside the clinic (see photo). Emmanuel told me with a smile what he hears over and over from the villagers, "we are so grateful to have local healthcare for the first time in the history of Awake, this clinic brings new hope to our village and villages beyond". Three consultation rooms and the laboratory were busy the entire day with the three clinical staff and laboratory technician treating patients; the pharmacy distributing medicines. I could see and feel a sense of pride among the staff as I (the muzungu - white person) watched them treat patients.




Julius mixed comfortably with all of the patients and staff; he is a

celebrity in the village but is 100% just a humble man helping his people. It is easy to find Julius in the crowd, he is where the people are invariably laughing. The people love him.




In the evening, Julius and I, Julius' brother Jimmy (as you remember he manages AUCF in Uganda), Julius' father Charles who lives next to the clinic and is a village elder, and the clinic staff of five met to discuss future plans for Kristina Health Center. We have a number of challenges; I equate it to a small business which is growing rapidly and reminds me of my business days in the medical

device industry.

The number of patients has grown month by month, the clinic and staff are busy from dawn to dusk; there is a need for an ambulance to transport serious patients to Lira Regional Hospital (42 miles away); we are planning to expand the staff and begin a phase II facility plan adding additional staff housing and a patient ward as many patients travel several miles for treatment and cannot return home the same day. In addition, patients require extended observation and/or multi-day treatment.

Must sign off, but thank you again
Links: