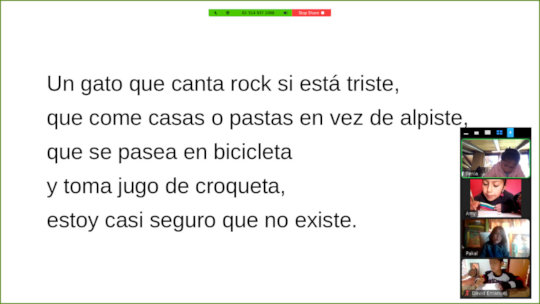 We would like to start by extending our gratitude and appreciation to all the teachers out there. Thank you for making Education possible in the middle of a pandemic. Thank you for not giving up and for finding ways of accompanying students. Thank you for your creativity and adaptability during this difficult time. This post is dedicated to all of you.
Dear readers, as you all know, 2020 was a challenging year, changes were made and adaptability and flexibility became our best friends. 2021 has started, and we are still learning to navigate the waves of uncertainty.
Since 2021 began, we have been carefully observing what is happening regarding Covid around us, and analyzing whether it is safe to go back to school or to wait a bit longer. Due to the rising of cases nearby after the holidays, always placing health as a priority, it was decided to begin the year with online classes.
In order to do so, we got in touch with the families and made sure that our students had internet access and a device for connecting from home. The ones who did not were offered a computer to take home and some were given the option to come to the school to pick up materials.
Our year started by becoming familiar with the ZOOM platform; teachers, students and even parents, all together exploring a new online world. It was a real challenge at first; online education has its pros and cons. We acknowledge that it will not replace face to face interaction but at least it helps us give continuity to the children and the program. Another benefit is that the children get to see and interact with their teachers and classmates, which makes them feel safe.
Another alternative to complement online classes has been sending materials and workbooks home with the purpose of reinforcing what was seen during class.
Another highlight is that our kindergarten teachers started to record videos for children to learn how to use certain materials at home, which has made the learning process easier for such a young age group.
We are not sure what is on the horizon for the future. We are hoping 2021 will be the year where we can all go back to school and slowly return to our routines. In the meantime, Ananda's team is trying their best to keep children intellectually stimulated. Teachers continue exploring options to reach the kids and continue to sustain them educationally and emotionally throughout this period. Big thanks to the parents as well, who dedicate a part of their day to connect the children and to make sure that they are following the lesson.
Now more than ever we need your financial help to continue making this project possible. Since the children are not attending school, most parents have fallen behind with the monthly contribution and the school expenses continue to be almost the same. We thank you all for your continuing support and for making this project possible.
Best Regards