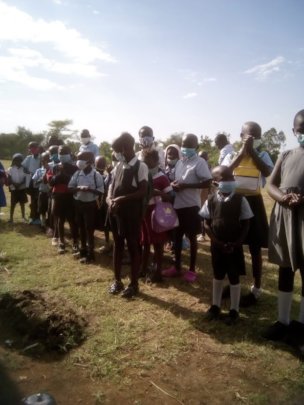 The importance of continuous feeding program to give a child hope and be comfortable staying in school cannot be over-emphasized. In the slum where we are operating, Feeding Program is key if the pupils will stay in school, otherwise they would go back to the streets scavenging for food in the dustbins.
We are very grateful to our supporters who have come in to help us keep the feeding program going, however sometimes it has been quite challenging. When schools were fully opened in the beginning of the year after the lockdown was partially lifted, we have had an influx of pupils seeking admission into our schools. The reason is that many schools who were also having the feeding program closed down and could not continue.
Now the need is overwhelming and our monthly budget to feed 425 pupils in Nairobi and 95 in Kisumu is US$ 2,650 per month. We thank you for choosing to support us. Last disbursement we received only US$ 35.50 from our supporters on the feeding program yet as I said we have to keep these 520 children in school. My sincere appeal to you is to help us meet the feeding budget otherwise since feeding program is a priority we will lose the children and their future hope will be gone.
Thank you for your support and we ask that you share the fulfillment of seeing a future for a child that could not have made it had you not come at the right time to support. Please talk on our behalf to your Networks to support us regularly (Monthly).
Attached see photos of some impact made as some of our Alumni who recently graduated from various credible Universities in Kenya came to encourage the candidate class sitting this year 2021. Apart from the motivation talk, they presented each candidate with a gift of pen and a rubber.
Forever Gratefull for choosing to be being part of us.
Blessings,
Luke Jakoywa - Project Leader.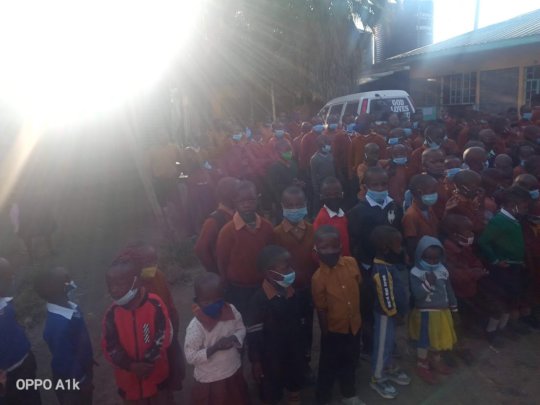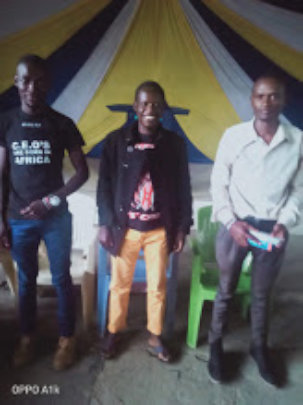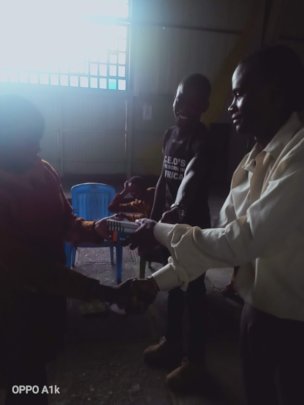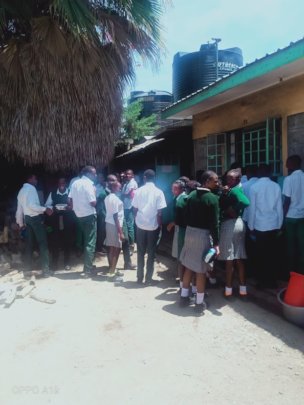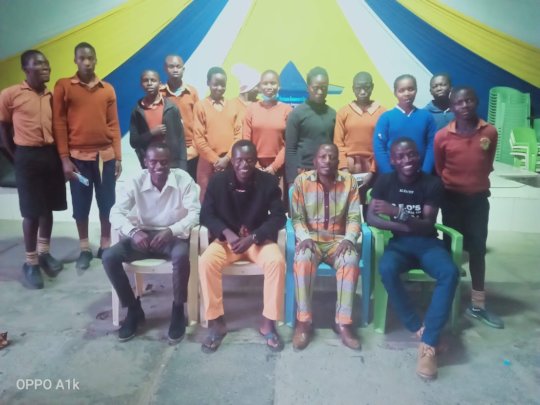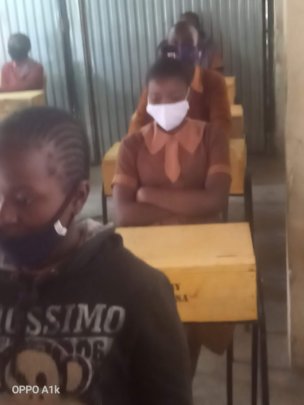 With the full resumption of schools by the Kenya Government, after two weeks we have not received back all the giirls that have been in our schools. This is not strange since in normal cases even when there is no Corona pandemic, the poor in the slums change their status of residence depending on their economic status. Some even travel upcountry and never come back to the city if they get some better livelihood in the rural area or some are not back because of lack of fare. But we have began in an encouraging note.
We are yet to know if any of our girls are among those 152,000 Kenyan teenage girls who became pregnant during the lockdown. Our policy is that even if they are pregnant they need to finish their education. Education being the basic right of every citizen need a combined effort to ensure these precious girls finish the school.
During this reporting period September - November we received a total US$1,185 mainly from Girl Fund account since we are among the eight (8) organizations in the cohort of Girlfund. Whenever we could manage we have continued to assist the girls through giving them crotcheting skills, provision of free clean water for both domestic use and drinking. Water provision has enabled the poor to improve on their health and cleanliness. We have provided our compound as a venue for continuous self study for those who could come.
We are glad that despite the hard 10 months, most of the staff are back and we have managed to replace the three who did not make it back. We continue to appeal to our supporters and well wishers to commit at least US$10 every month and enables us continue giving these girls hope despite the devastating effect of COVID-19 which added already to their desperate situation of gender inequality, abuse and other disadvantages girls already suffer. It will be your joy and mine, if we can shape such lives like the lives of the two girls I have taken a photo with (see the photos) who have gone upto university level. I am so proud of them that now they are self reliant and are giving back to the community. Join me in doing this noble work.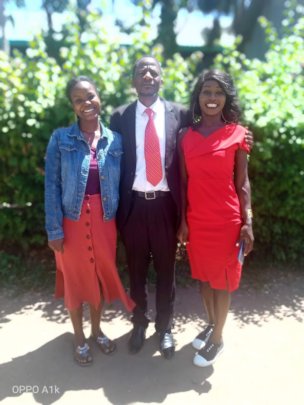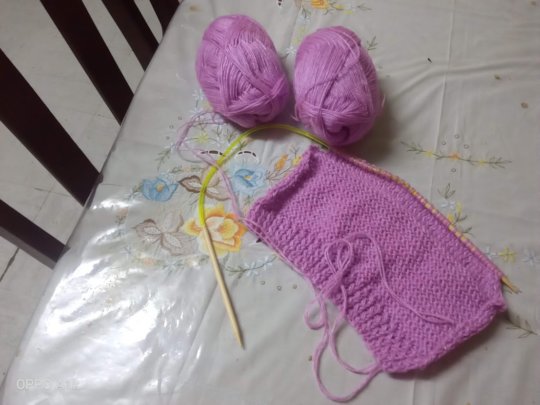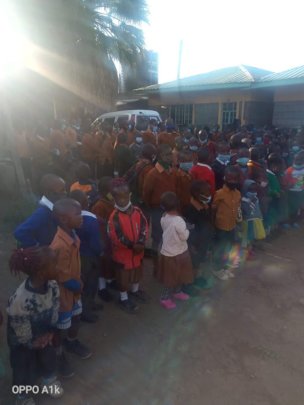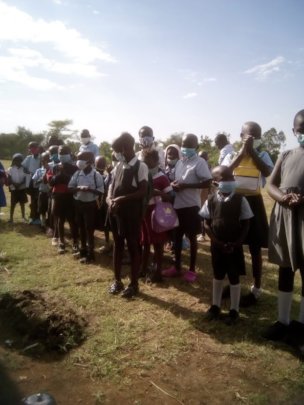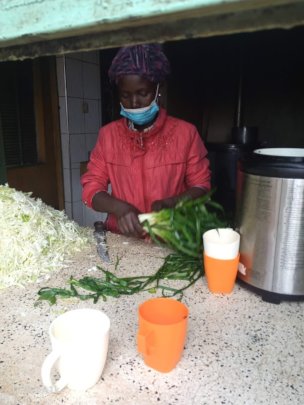 When COVID-19 lockdown threatened to end a vision that we have pushed for the last 18 years by abruptly forcing the entire 60 staff in both our projects in Nairobi and Kisumu Counties, we were stranded and wondered what to do. From March upto October 2020, they were at home and we could not give them anything to give them hope. To make it worse by the time of lockdown we were already in arrears in salary payment. Adding to the effect of lockdown our situation was made worse.
However, we thank God for GlobalGiving fundraising platform. During the September Little by Little fundraising campaign, our appeal to you our donors was on how to help us give hope to our staff. During the campaign our target was US$18,000 which we had anticipated to help in cushioning our staff and give them hope as we were uncertain how long the lockdown would last.
On behalf of Sheepcare Community Centre, I take this opportunity to thank you for putting a smile on the face of our staff at least for the month of October 2020. The total remission from GlobalGiving for month of October was US$4206.67 (Kshs. 420,667/=) which we used to clear part of the arrears from a total of Kshs767,000/=.
The Kenya Government started school re-opening in phases from October 2020 where candidate classes namely Grade 4, Grade 8 and Grade 12 were recalled back to school. This made us to recall a total of 20 staff plus other staff who were recalled earlier working in other departments apart from education. Now we have a total of 34 staff in both Nairobi and Kisumu Counties. Having that number of staff and no income means more arrears is being accrued and our committed staff are still suffering particularly realizing that November month is already ending.
We sincerely thank you but urge you to commit at least US$10 monthly to make sure we retain our staff. Our greatest need is on how to motivate and sustain our staff. No organization can exist without staff. Thank you so much and with your support, we will fulfill our vision.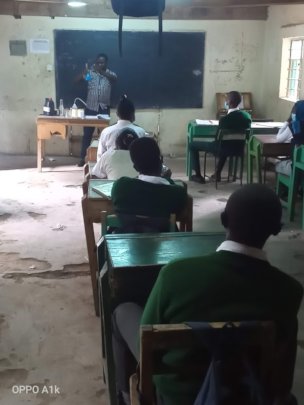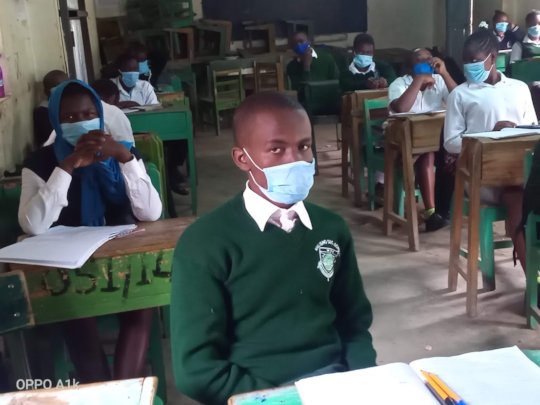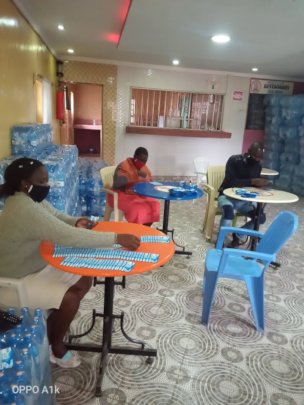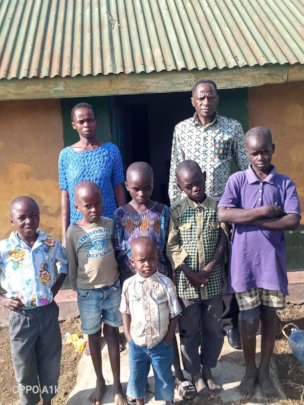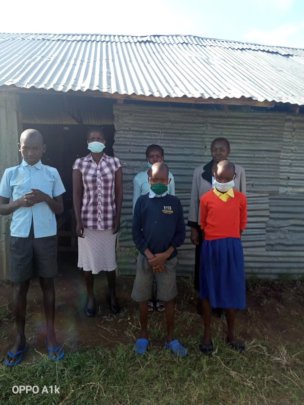 Attachments:
WARNING: Javascript is currently disabled or is not available in your browser. GlobalGiving makes extensive use of Javascript and will not function properly with Javascript disabled.
Please enable Javascript
and refresh this page.