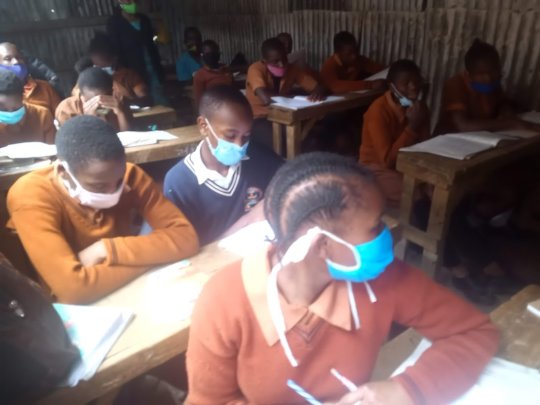 COVID-19 pandemic totally disrupted the learning of the pupils and since 15th March 2020, they were sent home. We kept hope alive by provision of food items whenever we could. We kept counselling lessons to avoid pupils particularly girls not to be lured to early marriage or giving in to sex predators.
We also introduced crocheting having used the talent of one of the Sheepcare Alumni to start training girls on crocheting with the hope that it would turn out to be a means to get a livelihood.
However on 14th October, the Government of Kenya annoucned that the Candidates classes had to resume school. This caused alot of concerns as we had to ensure our teachers who were involved with the candidates classes had to be recalled. Recalling them without paying them anything was an uphill task but due to commitment to serve the community they agreed to report to continue teaching. We managed to have the grade 4, grade 8 and Form 4 back.
Feeding program being one of the incentive to keep a child in school, had to begin as soon as the pupils and students resumed classes. We have opened with a total of 19 Form 4 students, 2 are yet to report. We have 17 grade 8, only 1 is yet to report. For grade 4, 16 pupils are already in, 4 are yet to report. Currently we have a total of 52 pupils and students with 28 members of our staff back including teachers, other community projects workers and subordinate staff.
During this reporting period we have received only a total of US$ 101 in our FEED A CHILD TO STAY IN SCHOOL (43021). We sincerely request you and our other donors and friends to be our recurring monthly donors targetting a total of US$ 2,000 per month. This will help us go along way in ensuring we keep the feeding program without which many children would drop out of school. If we can get 20 donors giving us US$100 every month, this would be of great significance.
We also need to inform you that the new normal as our Government opens schools gradually have increased our expenses as the requirement of COVID-19 containment must be put in place. We have three hand-washing stations with the liquid soap and sanitizers including thermogun which we realized fail after taking a maximum of 60 people. We are glad that water is available in plenty from our borehole and pupils and staff adhering to wearing masks and social distance in the classes are kept.
Attached are the pictorial evidences of our activities to keep hope alive and ensure our pupils continue staying in school in order to complete their education.
Gratefully Yours,
Luke Jakoywa - Project Leader.