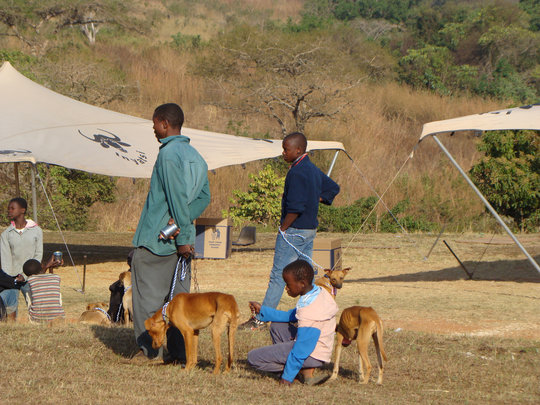 On June 21, 52 dogs (plus 1 cat) were sterilized at the Mshingishingini Spay Clinic, and a further 30 dogs were vaccinated against rabies, de-wormed, and received free medical examinations.
On June 20, Waterford Community Service project AWARE (Animal Welfare and Rabies Education) students, Swaziland Animal Welfare Society (SAWS) and Vusumnotfo staff transformed Mshingishingini Primary School into a community clinic.
On June 21 community folk came very early on a cold morning to start the process, which included a pre-op clinic, to determine if their dog was well enough for the operation. The pre-op also vaccinated against rabies, de-wormed, and provided any other medical services. Importantly, community members were given specific advice on how to improve the well fare of their dogs.
15 vets from the Swaziland Veterinary Association soon had surgeries underway. The Veterinary Surgeons were generous both with their time (donated) and their patient explanations of how procedures were being carried out, while Waterford AWARE students watched and listened intently, gaining new knowledge and insight.
After surgery, dogs were kept in the recovery room for several hours until they were medically discharged. During recovery, each dog received one on one observation and care. Although we finished well after dark, everyone was filled with a sense of enormous satisfaction and accomplishment.
For me, it was very impressive to watch the project team and volunteers transfer a local community school into a clinic. I loved the Head teachers look of awe when she first saw the Grade 7 classroom being used as surgery! I very much appreciated community member's comments about the care that their dogs were receiving, this itself made an impression.
I will be posting additional reports with more specific information and insights on the day, but I wanted to let you know what we were able to do so far with your support. On July 5 we will provide follow up support.
We hope that this is the first of several Spay Days and we really appreciate your assistance in helping us make this happen, and in passing the word so that we can make more Spay Days happen.