In Swaziland, cats are often seen as pests and treated with hostility and superstitution. So aside from making available veterinary services, the challenge is how to help children learn to take care of and enjoy the companionship of cats when most of them do not have cats at home (or if they do, the cats are not well treated).
Thus was borne "The Ginger and Griffin Project" at Hlanganani School. Hlanganani is an independent Not for Profit pre and primary school in the town of Piggs Peak, northern Swaziland. In conjunction with Vusumnotfo and Swaziland Animal Welfare Society (SAWS), the school has started "The Ginger and Griffin Project" to provide a hands on positive experience for the students. Project activities include:
Grades rotating weekly the responsibilities of providing food and water to Griffin and Ginger.
Government Veterinary officer providing veterinary services, while explaining both animal care and science concepts.
SAWS providing Hlanganani with age appropriate educational material about animal care - and Hlanganani students will later be taking a field trip to SAWS Animal Shelter in the capital city.
Supporting students in a manner that allows each child to slowly become comfortable in handling and petting Ginger and Griffin.
The arrival of Ginger and Griffin at Hlanganani caused quite a stir as most children (and some of the staff!) were afraid of them. So the first few days the kitties stayed in my office. We recyled an old computer for their bed and are giving them a few days to get settled in before introducing them to the students.
Thank you for your support in helping make this really fun yet important project happen, and for your help in passing the message that by bringing animal care services, combined with education, to rural Swaziland, together we can teach young children how to care for and enjoy the companionship of animals, thereby promoting the development of empathy in young children
The Spay Clinic was a truly rewarding experience for all of us from Waterford AWARE who volunteered to make this project a reality. It was in many ways transformative. We were able to interact closely with members of the community through caring for their dogs – animals which are often overlooked as priorities despite being valued by their owners. We had a chance to talk to people, show them how to really care for their animals and encourage them to develop a deeper bond. It was an exhausting undertaking on many levels as we worked intensively in the pre-op clinic, the surgery and the recovery unit. However, we all agreed that it was the most rewarding volunteer work we have ever done and we are so grateful for the opportunity to be involved.
These are quotations from some of the students who volunteered at the clinic:
"I thought it was an amazing day because I felt like we were making a huge difference in a community that needed it. I want to be a Vet so it was really a great opportunity. I learned so much!" Nqobizitha Claire Dixon (Zimbabwe)
"The Spay Day for me was exhausting but an even more rewarding experience. It enhanced the love I have for dogs and made me realise how precious they are in the structure of our communities" Matilda Mahne (Finland)
"I learned a lot about surgery and everything that related to it in general. The weekend was a great experience and I gained loads from it. It felt like we actually did help and make a difference" Linda Uusitalo (Finland)
"The spay clinic was an amazing and exhausting experience. I really enjoyed being able to go into surgery and talk to the Vets" Kaina Arizcurinaga (Bolivia)
"The spay Day was for me an opportunity to reach out further than what is usually possible in my everyday life. It was exhausting but very rewarding and there was a strong feeling that we were actually making a difference" Louise Nielsen (Denmark)
"I am so happy that I could be part of a great team that achieved an amazing goal. I hope that through this Spay Day a bit of extra love is spread. I learned a lot a got a whole new view of Swaziland" Joy Dekker (The Netherlands)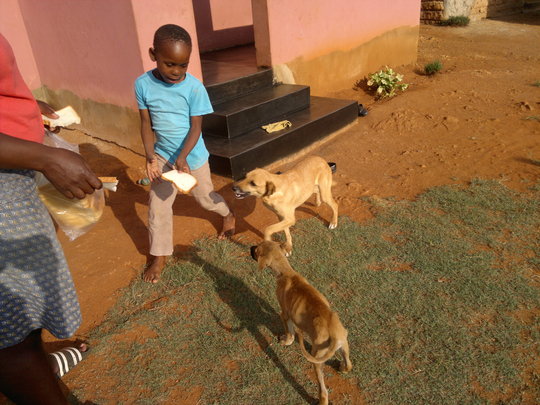 The dog that I brought to the spay day at Mshingishingini was skeletal and in very bad health, so it failed to wake up properly after its operation. The doctors ended by taking it with them to town, to give it extra attention. I lost faith that it would make it but surprisingly, the doctors brought it back in good physical shape - with no fleas and no ticks. Now I don't reprimand it when it comes into the house, instead I call it and pet it and play with it like friends. If dogs knew how to talk we would have some fun conversations.
Spaying of the dogs helped us significantly, because another of my dogs that was not spayed died one day due to straying to other people's homesteads at night and becoming a nuisance. I woke up one morning and found it dead in front of my house. It had vomited around the yard, so I sniffed at it suspecting that it has been poisoned with the habitual weevil tablet but could not detect a whiff of it. I therefore could not ascertain what killed my dog; however, by looking at the vomit I could tell that it had eaten left over food from neighboring homesteads.
When I found it, the puppies were still milking from their dead mother, which also made me realize that whatever my dog ate was not the medicinal kind of poison. I think whoever did this crashed bottles and mixed it with the food and the dog swallowed the bottles with the food and died.
What I am grateful for is that my other dogs will not meet this kind of death because since they got spayed, they have not left home for other people's homesteads; even the younger dog, which is not yet spayed, has learned good behavior from the spayed dogs.
NOTE: In Swaziland, it is common for dogs to not be in good condition, be wandering around scavenging, killing and eating domestic chickens, stealing eggs, and fighting with each other. Given this, it is not uncommon for people to poison dogs.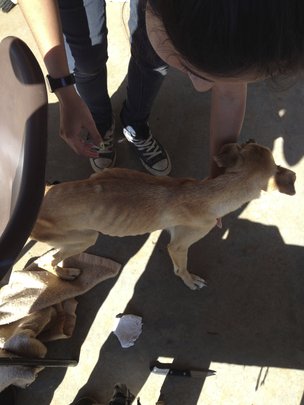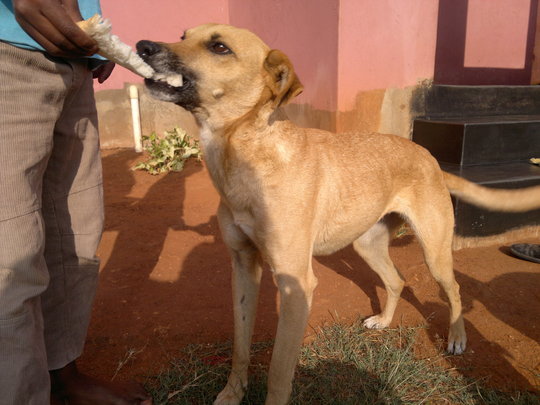 WARNING: Javascript is currently disabled or is not available in your browser. GlobalGiving makes extensive use of Javascript and will not function properly with Javascript disabled.
Please enable Javascript
and refresh this page.