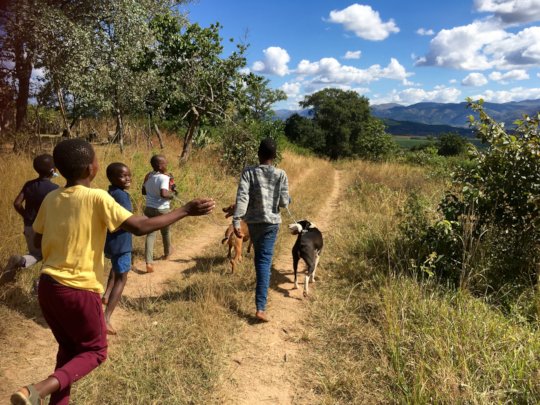 A pleasure of living in northern Eswatini is the hiking just outside Vusumnotfo's office. These photos were taken from a two-hour turn around hike, at the point where the path runs through homesteads.
Over the course of many hikes, the children from these homesteads have grown to know Coffee (the brown dog).
On this hike for the first time I had my not so small puppy Rocky (the black one). On this day the boys ended up walking with me back to Vusumnotfo.
Their questions focused on how I feed my dogs, in comparison with their own dogs. People always notice the health of my dogs. Very few homestead dogs are spayed so there are many puppies yet dog food is expensive. As a result, most homestead dogs get feed only maize meal scraps. Dogs feed only maize meal are lacking protein so often go after chickens. Since many homesteads have free-range chickens, this is a source of ongoing frustration.
I showed the boys how I extend the dog food by mixing it with Holsum (a cheap type of lard available in rural shops) and "saw dust" (the shavings off the saw blades at the local butchery shops). Just as importantly, I explained that my dogs are spayed so they cannot have or make puppies.
Direct exposure to a spayed dog that is also well feed generates so many questions. Staff and I use these 'teachable moments" to highlight our Spay Day, and to encourage people to get dogs from Swaziland Animal Welfare Society (SAWS), as these dogs are already spayed and fully vaccinated.
We are still waiting on the COVID-19 situation for the go ahead to carry out our annual Spay Day in 2021; to date 35,227 people have received their first vaccination out of 1.3 million, the challenge being securing additional supplies of vaccines.
In the meantime we continue with forward planning for our next veterinary clinic, while making use of teachable moments to promote the use of animal care as a positive demonstration of responsibility and empathy to children.
We appreciate your support and your interest, as this is what makes our positive outcomes possible.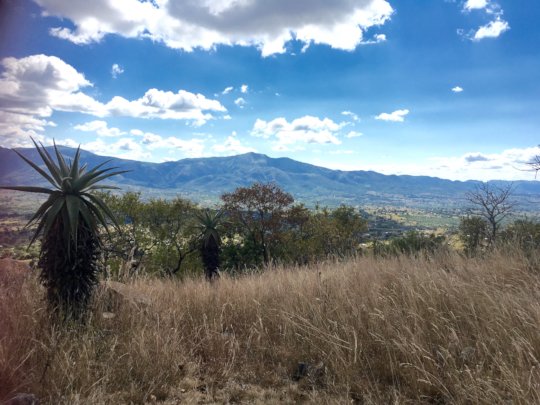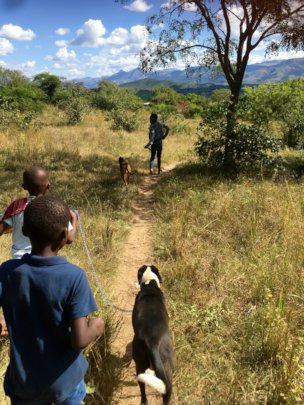 Links: