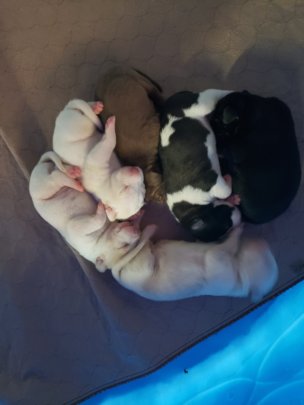 Dixie Adoptables has been very busy these last few months.We have again taken in over 200 animals since our last report. Of these, 5 are very old seniors. It is always sad to see these older guys end up in a rescue.
We have had to trap a lot of skittish dogs, 3 of which were only days from giving birth. It was such a relief to get these girls into our care just in time. Eve gave birth to 11 puppies and 9 lived. Marigold gave birth to 7 puppies and 6 lived. We also took in an abandoned dog, Junebug, that gave birth to 4 puppies. She had a fractured pelvis from being hit by an ATV and had to have a cesarean because of her injuries. All 3 moms and their pups are doing wonderfully.
Another of our skittish dogs that was trapped, Nikki, is very fearful. We don't think she has ever had human interaction, but we are working with her to teach her love and trust. She is also pregnant, and in foster care and will soon give birth.
Dixie Adoptables has treated 14 heartworm positive dogs in the last 3 months. One of them, Damon, had an episode a few weeks after treatment, and spent a few days at the vet. He is now back in our care, but the poor fellow has a lot of pills he has to take for now.
There has been no shortage of kittens coming in either, especially those that need to be bottle fed. Between all the kittens on bottles and all of the nursing mother dogs, we have quite the nursery at Dixie Adoptables.
Another litter of puppies that came in were almost starving when they arrived. As if that wasn't bad enough, they also tested positive for parvo. They are in the care of our veterinarian and it looks like 4 of the 6 will pull through. We are sad that 2 didn't make it.
Dixie Adoptables also took in 2 puppies that were born without front legs. Unfortunately, they were brought in after one had taken a turn for the worse. Despite the vet's best efforts, that poor baby didn't make it. The other one, Nola, is thriving. She is fat, happy, and isn't letting her disability slow her down.
One of the best adoption stories from the last 3 months is Nova's. She was hit by a car and then abandoned at our veterinarian's office. She was very fearful of everything and everyone. Fortunately a family up north heard her story and wanted to make her part of their family. She is now living a great life. We are so happy for Nova!
We have successfully transported over 90 animals up north in the last few months. On our last trip, our bus broke down after the animals were unloaded. Some wonderful mechanics in Connecticut got it up and running well enough for our team to make it back home. The bus is now in the shop and will get everything fixed up so that we can continue to adopt and transport animals to other parts of the country. The ability to transport animals is a vital component of Dixie Adoptables' ability to make a difference in our community.
Your support continues to save lives and make our work possible. Thank you!