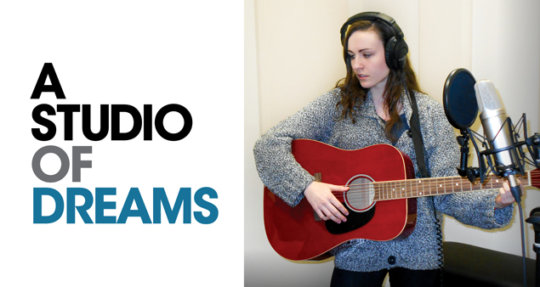 We are very grateful for your continued support to Boys and Girls Clubs of Canada. Your donations allow us to continue providing much-needed programs and services to underserved children and youth across the country.
We are pleased to share with you an article about opening a music studio at the Kawartha Lakes Club. This is a welcomed addition to the Club, creating space for aspiring young musicians from the community to record their music, which they would otherwise not be able to do.
If the Community Builds It...
As Lacey picks out the notes to Dust in the Wind on her guitar, she doesn't even hear a whisper from youth down the hall in The Warehouse after school. That's because she's in the soundproof music studio of this very active youth centre at the Boys and Girls Clubs of Kawartha Lakes.
"I love playing guitar," Lacey says. "It's so therapeutic."
The Grade 12 student is a regular at The Warehouse and is in the music studio every chance she gets.
Although it was built less than a year ago, the studio has brought the community together and has had a profound impact on the Club's young people.
It was initiated by a legacy donation and has been completed thanks to the unique talents and hard work of a diverse group of volunteers. Lindsay residents Bill Jay and Morley Coombs donated $50,000 to the Club with the goal of sharing their love of music with generations of young people.
When three local recording engineers (Frank Watt, Garrett Drach and Dante Winkler) learned that the Club was creating a music studio, they volunteered their expertise to ensure the space was designed and built according to world-class standards.
With the construction nearly completed in June 2014, a group of AstraZeneca employees stepped in to put the finishing touches on the studio. They donated time and materials on AstraZeneca's Community Connection Day at the Club, painting and putting sound baffles on the wall.
Now, the Club's recording studio has become an important community resource.
"This is a place where young people can explore the world of music, both in front of the microphone and at the mixing board," explains Robert Cyr, the Club's Manager of Community and Volunteer services.
Sound engineers Winkler and Drach are still on the volunteer roster, sharing their knowledge and personal time to give Club youth a range of opportunities for expanding their creativity and skills.
Cyr says he is amazed by how deeply music connects and resonates with some of the teens, and Lacey agrees.
"Music helps me relax. I feel calm," she says with a smile. Lacey puts down her guitar and makes room at the microphone for Andrew, a teen who is known around The Warehouse as "the DJ."
Andrew has high-functioning autism and a love of music and singing. He likes to manage the playlist at The Warehouse, with a preference for anything by Lady Gaga.
Lacey and Andrew are on a subcommittee of the Club's youth council, planning a number of upcoming concerts, jams and rap contests in the music studio.
Cyr, meanwhile, is exploring options for expanding the room to accommodate more musicians and bigger instruments.
"We've been given this amazing gift and it's become a catalyst for growing music in the community," he says. "If we can expand the space here, then I think the floodgates will open."
Thank you for your generous donations. We would like to wish you a happy holiday season. We look forward to providing you with our updates in 2017.