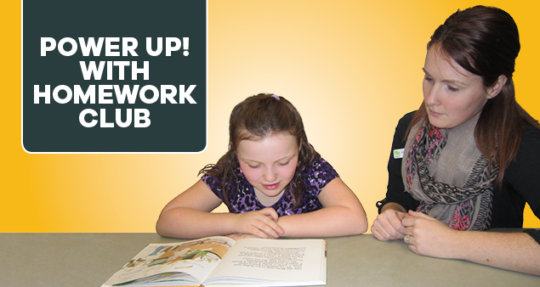 Children and youth across Canada are preparing to go back to school and Boys and Girls Clubs are also gearing up to offer after school programs. A notable program that we offer at our Clubs is Power Up!, an academic enhancement program for children between 6 and 12. This long-standing program, funded by Fidelity Investments, has helped hundreds of children to succeed in school. Please read about Lauren below from our Fredericton Club who has greatly benefited from participating in Power Up!
Lauren's learning ways
"Joie de vivre. That is Lauren in a nutshell."
Amanda Audette, program manager with Boys and Girls Club of Fredericton, is very proud of this cheerful 8-year-old.
"I'm in French immersion!" Lauren says with enthusiasm. "I'm going to go to Paris someday."
"Lauren made great strides in school, thanks to her daily attendance in the Power Up! Homework Club at our Skyline Acres facility," Amanda explains.
Lauren's parents were hesitant about enrolling their daughter in French immersion and concerned that switching her from the regular curriculum would be too much of a challenge.
"Lauren convinced them to give her the opportunity and they finally agreed because of the academic support she gets with us after school, five days a week."
Created by Boys and Girls Clubs of Canada and funded by Fidelity Investments for over a decade, Power Up! is an academic enhancement program for children between 6 and 12. They get to try new things and develop life and learning skills but most importantly, they have fun—an important factor for kids like Lauren, who declares recess as her favourite "subject" at school.
"I really like the Power Up! Homework Club because I get all my work done here before I go home," Lauren says.
"Lauren's mom really likes it too," Amanda says with a smile. "It makes things so much easier for her, knowing Lauren's getting help with her French vocabulary and reading. And with the homework out of the way, the whole family can relax and enjoy their evening.
"Most of our parents tell us how much they value the academic support provided by Power Up! and the fact that volunteers, tutors and mentors are provided at no extra cost."
Power Up! is just one of three Boys and Girls Club programs supported by Fidelity Investments Canada that promotes learning, both in and out of the classroom.
Fidelity sponsors the new STEAM (science, technology, engineering, arts and math) program that encourages youth to explore STEM fundamentals and includes an artistic (A) component to encourage creativity and innovation. Fidelity Investments Canada also offers scholarship opportunities for Boys and Girls Club youth pursuing post-secondary education.
THANK YOU!
Thank you for your continued support, which enables us to expand our reach, allowing us to help as many kids as possible to succeed in school, open doors to new experiences and opportunities and paving the way to a successful future.