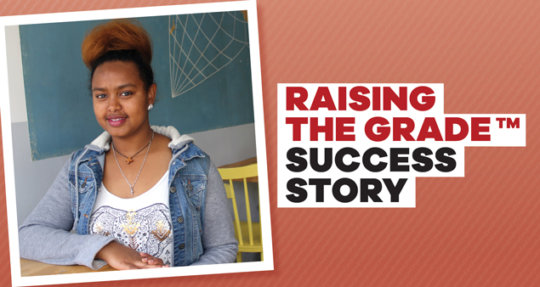 Thank you so much for your continued support. Your generous donation enables us to provide homework support to children and youth across Canada.
We're pleased to share Israel's story with you. Israel is a member of the Raising the Grade program, aimed at increasing academic skills, high school graduation rates and access to post-secondary education for at-risk youth from a select group of Boys and Girls Clubs across the country.
Israel's dreams become reality
Israel Mohammed saw her mother and thought she was dreaming.
Israel and her brother immigrated from Ethiopia to St. John's, NL, in 2012 when she was just 14 years old. Their mother was already living in Canada and Israel had not seen her in seven years.
"When I first saw her I couldn't believe it. I thought, 'Is that my mom?'" says Israel. "Even after living here for more than a year I would wake up thinking I was dreaming. I couldn't believe I was with my mom."
However, Israel's new life wasn't an easy one.
"I didn't speak English before I came here so it was difficult to communicate with people," she remembers. "I was very friendly back home—I knew everyone and was such a chatterbox, but after I came here I was very quiet because I didn't know what to say or how to say it."
One of Israel's ESL instructors recommended the Raising the Grade™ program at Boys and Girls Clubs of St. John's. Offered by Rogers
Communications, the after-school program allows youth to explore their interests, connect with mentors and tutors, increase their digital literacy, and plan for post-secondary education.
"It was wonderful—there are no words to explain it," she says excitedly. "I would go three or four days a week to work on my school assignments and there was always someone there to help me with my language."
It didn't take long for Israel to blossom. She became a top student, more self-assured and more social with her Boys and Girls Club friends.
Her success allowed her to step into a facilitator role for the Raising the Grade™: Youth Stories Research Project, a peer-based initiative that explores and assesses the impact the Raising the Grade™ program has on its participants.
"We did research about how the program helped students," she says.
"Then we had to present that information to our community and share our stories. I used to be kind of shy about my words, but being part of the Raising the Grade™ program helped so much. I can speak about the Stories Project in front of people and have more confidence."
Now 18 years old and studying at Memorial University, Israel plans on pursuing a career in the medical field and staying in St. John's.
"It is home now. Everyone is helpful and great, and I love it here."
However, her greatest wish is to share the Raising the Grade™ program with kids who could benefit from it the most.
"In the future, I hope I can open a similar program, especially for girls who have limited access to education."
"I don't think I would be here today without the program."