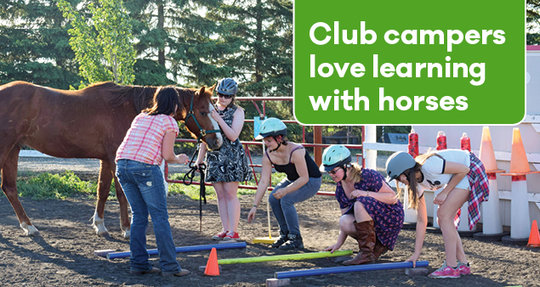 The days are getting shorter, the school year is quickly approaching, and summer camps are wrapping up. This summer, thousands of campers at Boys and Girls Clubs across Canada experienced what it is to be kids, while developing skills such as leadership, teamwork and self-confidence.
For many Canadians, the opportunity to attend summer camp is a defining part of a young person's life. For many families across Canada, they unfortunately cannot afford to provide this opportunity to their children. Some kids have never been outside the city, to enjoy a day in nature.
Boys and Girls Clubs across Canada operate summer camps - at low or no cost - where we provide opportunities for kids to experience their own childhood. Programs offered at camp - like Equine Assisted Learning - are helping kids at the Boys and Girls Club of Airdrie to become caring, responsible and motivated adults. See how we're making an impact in Airdrie, AB:
"We just started offering Equine Assisted Learning and the kids are so excited about it," says Cassandra Clem, Director of Programs and Services at the Airdrie Club.


Equine Assisted Learning (EAL) is a form of experiential learning that involves group activities with horses and a trained facilitator. Cassandra, a certified EAL facilitator, runs the program along with another two-legged instructor and two four-legged instructors–Tucker and Arrow.


"The horses are the teachers," Cassandra explains. "You don't need to know anything about horses. All of the learning is done on the ground."


For the equine day camp, small groups of children and youth aged 9 to 14 work with horses to complete activities geared to enhance life skills in a fun and engaging way.
"Horses use a lot of body language," Cassandra says. "The kids learn to observe and figure out what the horse is telling them. Are the ears forward? The eyes soft?


"Horses also mirror back what you are feeling, so the kids get instant feedback and become more self-aware. It's really amazing to see," she says.


In addition to Equine Assisted Learning, Boys and Girls Club of Airdrie camp programs include a wide range of offerings, from farm visits to learn about animals and farm life, to water slides and splash parks, to the dinosaur museum and the science centre in nearby Calgary.


For older youth and teens, the Airdrie Club has overnight wilderness camps with hiking, horseback riding, paddle boarding and white water rafting.


Boys and Girls Club summer camps give young people a chance to try new things and develop special interests, from the performing arts to sports and from computer programming to Lego camp. Camp staff are trained facilitators who focus on developing self-esteem and feelings of belonging among the campers.


Club camps are also popular with parents because the programs are designed to promote their children's health and well-being. Day camps provide healthy meals and snacks and, like all Boys and Girls Club offerings, family income is never a barrier to participation.
THANK YOU for your support of summer camps at Boys and Girls Clubs across Canada!