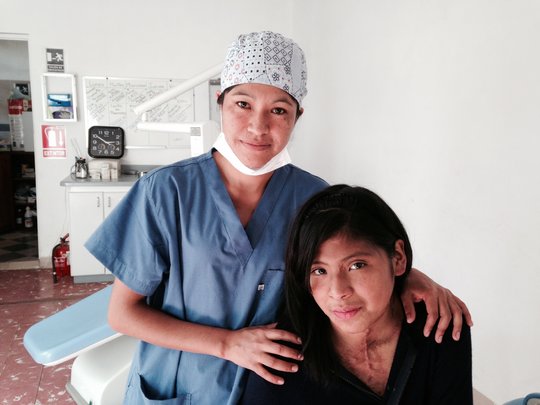 Smiles Forever's projects all benefit from Microsoft Corporation's summer matching funds "contests."
Our parent project "Send a Homeless Bolivian Woman to School for a Year (#7925 ranked a respectable 411th out of 14,294 overall projects), and our current micro-projects: "Sonia's Road: From Orphan to Dental Professional" (#17037 ranked an amazing 13th out of 14,294 Global Giving total projects) & "Give Aracelly Dental Training to Escape Servitude" (#17502 ranked a stellar 94th out of same 14,294 projects) all earned matching funding.
Recounting the Wild Giving Flurry of Matching Day:
A simple 100% YouthSpark matching day flared up quickly to bonfire proportions. In case you haven't heard, the June challenge broke the record for sizzling speed--donations came in so rapidly that the $200,000 in funds provided by Microsoft was consumed in just over 5 minutes. It was a true conflagration as human hearts spoke with the fire of their passion for favorite organizations which benefit not only Bolivia's, but the world's youth.
There is no way of expressing fully how important YouthSpark's gift will be towards starting up this fall's Dental Hygienist school's operations. We will be not only welcoming our new students, but also welcoming back our 2nd year students.
Hearing Our Student's Stories:
You've met our students Sonia (#17037), Aracelly (#17502), Adela ("Share Adela's Dream/ Hone Dental Hygienist Skills" (#16713), and Lucy ("Send Lucy to Bolivian Hygienist School for a Year" #15212). The way YouthSpark projects work is they stay active for 90 days or until fully funded, then they are "Retired."
Now meet Fabila ("Fund Fabila's Future with Dental Hygienist School" #17592 ranked 36th). Fabila's story is one of turning a life of despair and neglect into one of promise and purpose.
Recognizing our Contributors Big & Small:
While the dollar goes far in Bolivia, it is nevertheless often stretched thin. To launch our school, we relied on a small donor base back home in the states, but increasingly the answer is our world-wide donor pool.
Sincerest thanks to our individual donors like you, and please allow us to add:
Thank you Microsoft YouthSpark and Global Giving!