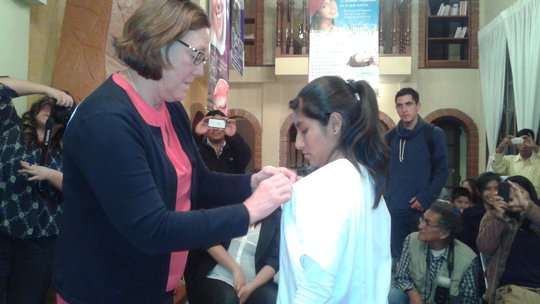 Smiles Forever Dental School Welcomes Dental Professionals
It's been an exciting time here in Cochabama as Rosie Bellert, RDH BS, Dr. Tracey Wayman, Dr. Michael le Clair, Deborah McGlynn, RDH BS, and Becki Delaney, RDH, and Kristin Labeck RDH, came to teach for two weeks, sponsored by Rotarians and a generous grant.
This is the 3rd visit for Rosie who leads the Shoreline Community College Dental Hygienist school, and in many ways the most rewarding. Our students here were excited to be learning so much. Besides seeing demonstrations about the newest cleaning techniques, and learning about root canal therapy, they also were hearing cutting-edge information about oral cancers--one caused by a HPV virus.
Fame, Fanfare, Food, and Fun
These dental professionals took their show on the road and did teaching demonstrations at the nearby Universidad de Valle dental school. They received recognition from the University President and were given a book his poetry. Then they were interviewed on TV. In between, they were discovering the adventurous foods of Bolivia: quinoa tabouli, barbecued heart, potatoes with peanut sauce, Bolivian style chocolate with the natural salts from the Salar de Unari salt flats, and all washed down with robust Bolivian coffee. The group had excursions, including to the colorful market. What wonderful relationships were forged between the professionals and the eager students. Rosie shares, "Each time is a new experience. I am so proud of the strong women who are the pioneers of the dental hygiene profession." We wish you all could have been here!
April Highlights: A Visit from Global Giving's Natalie, and a Microsoft Youthspark Fundraiser April 14th
We're delighted here at our Smiles Forever school to have the opportunity to entertain Natalie from the Global Giving home office. She'll be joining us April 13th to meet and greet our new students & to get a first-hand update in all we are accomplishing. Also, now that we have been active on Global Giving for 5 years, Natalie will use our knowledge to help recruit other organizations and projects. This effort should raise worldwide awareness for Bolivia and help many more deserving indigenous communities.
Join us on 50% Match Youthspark Day April 14th, beginning at 6:00 A.M. Seattle Time!
Help Geovanna, and our other young mothers. Donate to our two newest projects: "Geovanna's Genuine Goal: Career and Safety for her Baby", and our new permanent project "Send a Young Bolivian Mother to School for a Year." Our original project "Send a Homeless Bolivian Woman to School for a Year" is also Youthspark eligible.
Just a few times per year, we are eligible for 50% matching. Join us for this opportunity to increase your gift!
The donation window closed 9:00 P.M. Seattle time. Each gifts helps these women & all they will do to give back.