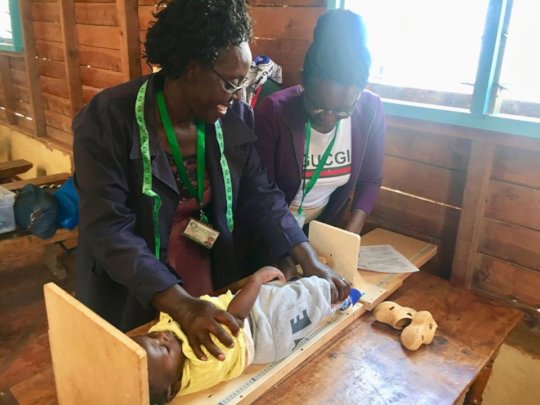 Dear Friends
We are glad to report that for the past three months, Hopecore has made tremendous progress and remarkable impact in providing universal healthcare to the poor in Maara Sub-county. Then number of clients have increases rapidly and this is credited to the mobilization done by our NCHVs.
We are happy to report that for the period between June 19 and August, our Neighbourhood Community Health Volunteers (NCHVs) have conduct 4287 household visits. The NCHVs taught the community about: breastfeeding, nutrition, family planning, Immunization and hygiene. This has led to significant reduction in diarrheal related cases and minimum cases of malnourished children. We also collected a list of success stories from our NCHVs:
"....after several visits and health education in two households whose mothers have not been taking their children for immunization, these mothers have accepted to take their children for immunization and they are ready to continue without failing for theyhave realised the importance taking the kids for immunization"
"...l met a mother last week who had not taken her Child for immunization. The child was eleven months old and he had not been given measles vaccine. l took time to advise her to attend clinic. This week l was very successful and happy to find out that the child was given the vaccine. This created a lot of impact to the childs health"
"...two malnourished children who were under the care of Village Hopecore for last two months have picked well and they are very healthy.both parents and community are proud of that, continue with the same spirit, thanks Hopecore God bless you"
Our Maternal Child health clinic has registered remarkable number of patient where:
- 3562 Mothers have been educated.
- 2271 Children Under 5 years participated in growth monitoring
- 1760 Children under 5 have been treated.
- 1,266 Children under 5 years have been dewormed
- 425 Children under 5 have been given Vitamin A dose.
- 19 Malnourished children were referred to a dietitian
In August, we started operating a full-time clinic that opens from 8:00Am to 4:00Pm. The clinic makes our health service more reliable because clients can visit the clinic at any time and when we don't have our mobile clinics in their villages. For a period of one month, we are glad to report that we have been able to treat 273 patients. We expect much turn-up at the clinic because of the reliability of our services.We got positive feedback from a client who visited the clinic:
"...am very happy about Hopecore full-time clinic because am able to bring my child to clinic after am done with my home chores and at any time. The nurses are very hospitable and am glad I got all medication for my daughter "
We have been able to accomplish all these because of the generous support from donor like you and for that we say a big Thank you for the continued support.