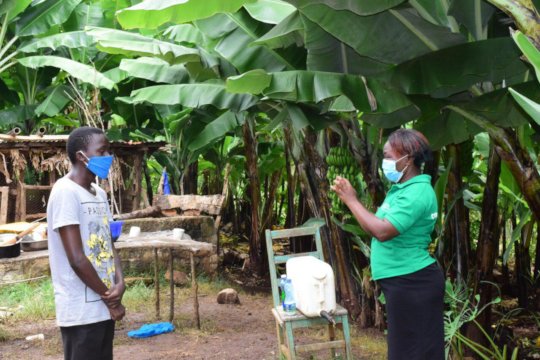 HOPECORE IN COMBATTING COVID-19.
Amid the confirmation of COVID 19 In Kenya, the Government put in place response measures to prevent the spread of the Virus in the County. These measures included: suspending of learning in all learning institutions, request to employers to allow employees to work from home and reducing social gatherings. This made HopeCore to scale-down its programs to comply with the government directives and to ensure the safety of our staff and the communities that we serve. We embarked putting in place measures that would help create awareness on COVID-19 among the rural population in Tharaka Nithi County and helping the Government in combatting the pandemic.
COVID 19 Toolkit
Having a reliable and correct source of information is key to preventing panic and misinformation in a pandemic situation. Village HopeCore developed a comprehensive COVID-19 education toolkit that has COVID-19 information and updates from the World Health Organization (WHO) and Kenya Ministry of Health (MOH). This is a resource hub that provides correct information for clinicians and training resources for Community Health Workers/Volunteers. HopeCore's toolkit is among Segal Family Foundation's COVID-19 resources shared globally.
Distribution of handwashing facilities
In efforts to promote sanitation in the Community, Village HopeCore's first response to COVID 19 was the distribution of handwashing tanks and soap to high traffic places. We have installed 11 handwashing stations to markets, police and bus stations, 28 handwashing tanks have been distributed to all the health facilities in Mwimbi and Muthambi sub-counties as requested by the Department of Health Services and Sanitation. Additionally, we trained 13 town council officials on COVID 19 and handwashing techniques, these officers partner with Community Health Volunteers to ensure that water and soap are available at the handwashing the station as well as educating members of the community on the importance of handwashing in the fight against COVID-19.
Training of Community Health Volunteers (CHVs) on COVID-19
Community Health Volunteers supplement the formal health systems in their communities, through door-door health education, that enhances disease prevention and cultivates health-seeking behaviour among community members. Village HopeCore developed a COVID -19 training Curriculum for Community Health Volunteers that was approved by the Tharaka Nithi County Department of Health Services and Sanitation to be used for CHVs COVID 19 training by all health partners.
As from March 2020 up-to-date, Village HopeCore has trained 698 CHVs across Tharaka Nithi County. The trained CHVs are COVID-19 community educators, in less than a month, the CHVs have conducted over 15,520 household visits in their respective Community Units (CUs) where they have educated over 81,120 individuals on COVID 19 and Handwashing. Through the CHVs intervention, there has been a total reduction in panic and misinformation on COVID 19. The communities have embraced social distancing, handwashing and use of facemasks to prevent the spread of the Corona Virus.
REOPENING OF HOPECORE CLINIC:
With all these interventions, there is still a gap in the provision of maternal and reproductive health services yet they are very essential in promoting women and children health. Based on the Global Citizen survey of April 2020 in Meru, immunization clinics are down by two-thirds while hospital delivery is down by over 50%. Through our CHVs network, we have learnt that routine nutritional assessment clinics where children are supplemented with Vitamin A and dewormed are not being done. Additionally, medical outpatient clinics that manage chronic conditions such as hypertension, diabetes and sickle cell disease in most government facilities were closed.
In the dispensaries, these patients are being referred to higher-level facilities which are far. This poses the risk of increased complications and fatalities. The main reason that has been cited by health care workers (HCWs) are lack of personal protective equipment (PPEs). The unprotected HCWs are therefore afraid of contracting COVID-19 from their patients or transmitting the disease to them in case they are already infected.
Village HopeCore would wish to address these challenges by creating access to health services through our Community Clinic in Chogoria. This would allow women and children to access free quality services i.e. treatment and laboratory services. We plan to reopen the clinic in mid-May 2020
However, before we reopen the clinic, we need to ensure the safety of our clients and that of HopeCore's clinical staff. We have developed a strategy that defines and guides on how each patient shall be handled from triaging point outside the building where they shall be screened for COVID -19 symptoms i.e. fever, cough and shortness of breath. The patients shall then be coded before accessing further clinical services.
There is a need for Personal Protective Equipment for the 12 clinical staff to enable them to attend to the clients safely at HopeCore's Community Clinic. These items range from masks, face shield, gloves, infrared thermometers and hand sanitizers. The total cost for purchasing these items is $1600 and they shall be used in the clinic for 3 months as we continue assessing the situation concerning the pandemic.
Now more than never, our community needs us and we need your support as a partner to enable us to provide essential health services safely to our community.