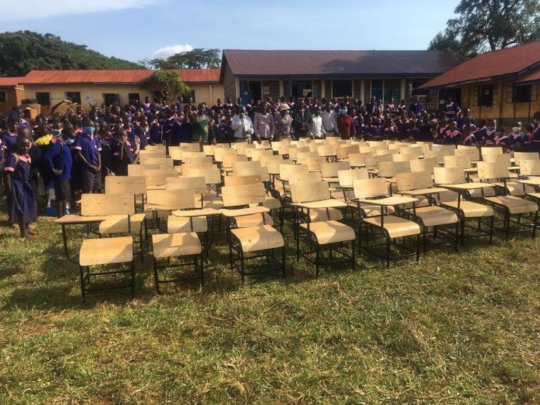 There is no doubt that 2020 has been a difficult year. Yet, through the chaos of a global pandemic and all that came with it, each of you has been there to continue supporting the Collective for Orphan Care and Education's (COCE) mission: To support and empower youth with the knowledge, power, and tools necessary to lead healthy, safe, and productive lives.
For youth in rural Kenya, having a place to learn and grow is a first step in realizing their dream of achieving formal education. Yet, many children do not have such a space. In 2020, you helped us build 2 new classrooms in Nangina village -- a primary school that serves children from Nangina and neighboring villages.
The work did not stop there, however. Our supporters dug deeper and funded the construction of 90 desks to fill these 2 classrooms. Most youth had never seen a desk such as this and were in awe that people -- strangers, at that -- believed in them and invested in their education. The impact that these projects have and will continue to make for children in these communities should not be understated. These classrooms and desks will serve at least 90 youth each school term and will last for years to come. We invite you to check out our recent blog to see videos of the desk and desk delivery.
At COCE, we are beyond grateful for the support we have received in 2020. As we move into 2021, we will continue to focus our efforts on education and empowerment through (1) financial sponsorship of education for students and (2) fundraising, planning, and constructing a community library. We hope you will join us in this journey.
Links:
COVID-19 continues to impact children and families in Busia County, Kenya. The closure of schools has resulted in dire struggles for food, basic hygiene items, and access to books and instruction. Yet, we have seen the strength and resilience shown by families and communities through their efforts to come to together and support one another.
The Collective for Orphan Care and Education (COCE) continues to support youth during this difficult time. We have determined the need to shift our focus to our community library project so that COCE will have a physical location that will enhances our ability to empower and support youth through crises such as this in the future. We appreciate the donations and kindness shown to the children we serve during this difficult time. We hope you will consider supporting COCE in the future.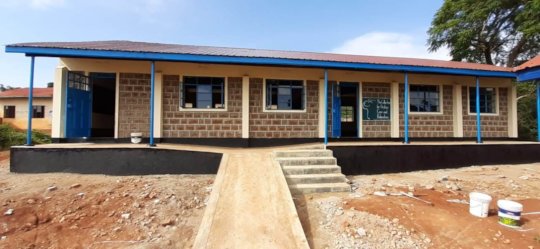 Thanks to the support provided by you and our other amazing donors, construction for two new classrooms at Nangina Primary School was completed by the end of May 2020. In June, your cotinued support meant that the Collective for Orphan Care and Education (COCE) raised enough money to purchase desks to fill both classrooms.
Please check out our latest blog to hear from the local school Chairman about the impact these two classrooms will make on Nangina and surrounding communities.
In Kenya, the academic year begins in January and ends in December. Usually the second term would begin for our primary school students in Nangina Village in June. Like many other countries, COVID-19 resulted in school closures across Kenya in March. However, Kenya made a decision in July to keep all Kenyan schools closed until January 2021. All children will repeat the grade they began in January 2020. This will further exacerbate gaps in educational attainment -- particularly for poor children in the rural villages COCE serves.At COCE, we have set up a Student Assistance Fund here on GlobalGiving to raise money that helps support young people in the rural villages while they wait for schools to reopen.
We are moving forward on having desks built by local tradesmen. We have had two prototypes constructed and are making decisions this month so we can move forward with construction. When children do return to school this January, they will have a desk to support their learning. We will send an update with pictures when they are completed.
Additionally, we are beginning to fundraise and plan for a community library to better meet the educational needs of children in this rural area. Next week, September 14th-18th, we will be participating in GlobalGiving's Little x Little campaign, where every donation between $10 and $50 made to our project will be matched at 50%! We hope you will check out our GlobalGiving project page to learn more.
Thank you for being part of our collective. It truly takes a village to ensure healthy growth and development for all of our children.
Links:
WARNING: Javascript is currently disabled or is not available in your browser. GlobalGiving makes extensive use of Javascript and will not function properly with Javascript disabled.
Please enable Javascript
and refresh this page.