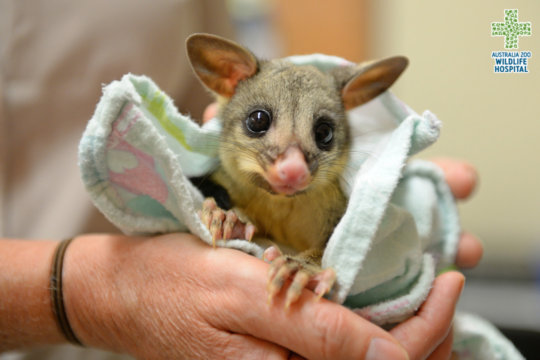 Lil Darlin the Common Brushtail Possum
Lil Darlin the brushtail possum joey was found clinging to her mother's body after she had been sadly poisoned by rat bait at a local school. A specialised wildlife carer noticed that the orphaned joey was in poor condition and brought her to the Australia Zoo Wildlife Hospital.
Poor Lil Darlin was lethargic, dehydrated and her gums were pale when she arrived at the Wildlife Hospital. A thorough examination and x-rays by Dr Danny confirmed that she was suffering anaemia from rat bait toxicity, as a result of drinking her mother's milk after she had been poisoned.
Thankfully, Dr Danny was able to perform a blood transfusion to replenish the red blood cells in her system, before administering fluids and transferring her to a humidicrib in the nursery, for close observation.
After one week at the Wildlife Hospital, Lil Darlin's conditioned had improved immensely; the colour had returned to her gums and she was bright and responsive, a good sign that her red blood cell count had returned to normal. Lil Darlin was given the all clear to continue her rehabilitation with a specialised wildlife carer. Once she is fully grown she will be able to return to life in the wild.
Thanks to your suypport, orphans like Lil Darlin are given a fighting chance to make it to adulthood.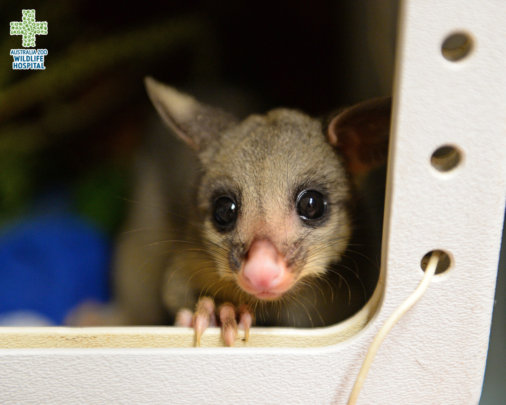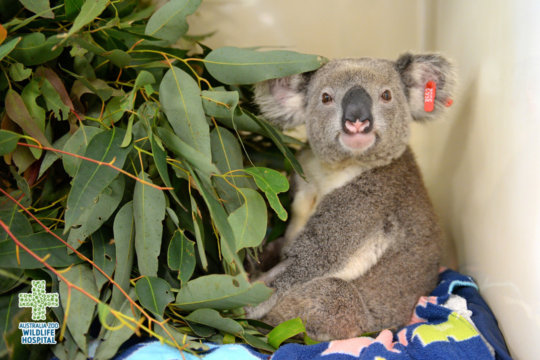 Braveheart the Koala
Four months ago Braveheart the koala was found with a busted leg on the side of the road. Poor Braveheart was hit by a car after attempting to cross the road, in search a new girlfriend. Braveheart was rescued by a local rescue group and transported to the Currumbin Wildlife Hospital, where they confirmed he had suffered serious trauma injuries; a fractured leg and bruising to his lungs.
Thankfully, orthopaedic surgeons from Veterinary Specialist Services at Carrara performed surgery to
stabilise Braveheart's broken leg, before applying a bandage and administering pain relief.
After one week in care, Braveheart was transferred to the Australia Zoo Wildlife Hospital, to continue his recovery in a long term rehabilitation facility.
After three months in the koala rehabilitation wards, rebuilding his strength and eating plenty of fresh eucalyptus leaf, Braveheart was ready for his pre-release check-up. A thorough examination and x-rays by Dr Amber confirmed that Braveheart's leg had completely healed and that he was ready to be released back into the wild.
Thanks to your generous support, Braveheart and many other koalas are given a second chance at life in the wild.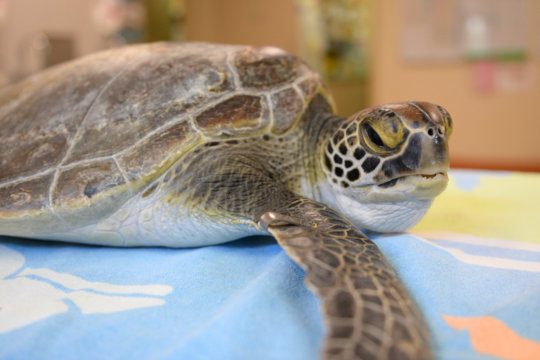 Lucy the green sea turtle was found in poor condition after she became beached on Fraser Island, Queensland. Weighing nearly 15 kilograms, a team from Queensland Park and Wildlife Service rescued poor Lucy and transported her to the Australia Zoo Wildlife Hospital.
When Lucy arrived at the Wildlife Hospital she was pale, thin and had no appetite. After being stranded on the beach for a number of hours she was very dehydrated and her eyes were sunken. A thorough examination by Dr Ester confirmed that Lucy was suffering from fibropapillomatosis, a common condition for turtles in the wild where benign tumours triggered by a viral infection grow on the turtle's soft tissue. Sadly, Lucy was also suffering from 'floating syndrome,' a condition where sea turtles can't control their buoyancy; bloating in their cavity prevents them from diving and forces them to float on the surface. The bloating can be caused by a parasite infection in their gut, an intestinal blockage as a result of ingesting plastic or from air escaping a torn lung after a boat strike. When a turtle can't dive, it can't feed, navigate ocean currents and waves or avoid predators – this can be life-threatening.
Dr Ester administered anti-inflammatory pain relief and antibiotics before transferring Lucy to the shallow turtle enclosure to be monitored. After a week at the Wildlife Hospital, Lucy was moved to the turtle pool to slowly begin diving again. After a month of rehabilitation and rebuilding her strength, Lucy was given the all clear to return home and was released back into the ocean.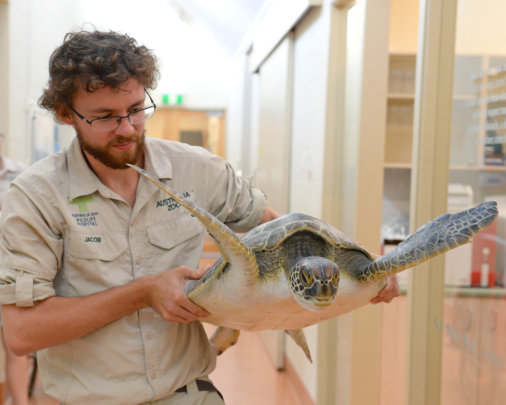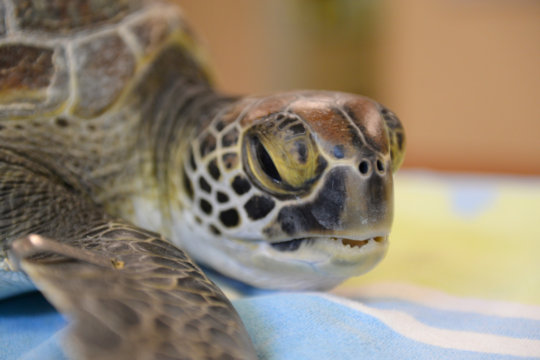 WARNING: Javascript is currently disabled or is not available in your browser. GlobalGiving makes extensive use of Javascript and will not function properly with Javascript disabled.
Please enable Javascript
and refresh this page.