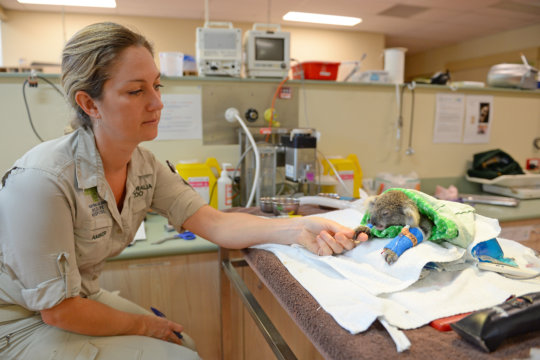 September marks the beginning of spring in South-east Queensland and the start of trauma season at the Australia Zoo Wildlife Hospital. As temperatures rise so too do the Wildlife Hospital's patient admissions. Every year from September to January, the number of wildlife coming through the doors almost triples as many species enter breeding season. As wildlife begin to move around in the warmer months, in search of a mate or suitable habitat, domestic pets and busy roads pose a greater threat to wildlife,
Since opening its doors in 2004 in memory of Steve Irwin's mum Lyn, the hospital has admitted over 70,000 patients. All native Australian wildlife are given the best care at the hospital, where the aim is to treat and release every patient. A brilliant team of vets, nurses, caretakers and volunteers work around the clock to nurse our most vulnerable back to health.
Often during trauma season, we will see gorgeous animals with tiny casts for broken limbs, orphans in humidicribs and recovering koalas in makeshift eucalyptus trees. Seeing firsthand the impact that our environmental footprint leaves on our wildlife and the work the hospital team does will stay in your heart forever.
There are many reasons our native wildlife end up in the Australia Zoo Wildlife Hospital and there are plenty of ways we can help reduce the numbers. Whether it be orphaned youngsters, car strikes, pet attacks, effects from litter such as fishing tackle or they're simply in a strange area, our vets won't turn away any native in need.
HOW YOU CAN HELP SAVE WILDLIFE:
Pay careful attention to the sides of the roads, particularly at night and around forestry areas
Make sure your pets are secured
Don't leave behind any rubbish
WHAT TO DO IF YOU FIND AN INJURED ANIMAL:
If it's safe and the animal is calm, use a towel and box to rescue it and take it to your nearest wildlife hospital or vet
If you're not comfortable rescuing the animal, keep an eye on it and call your local wildlife rescue team for advice or assistance.
For more, head to wildlifewarriors.org.au