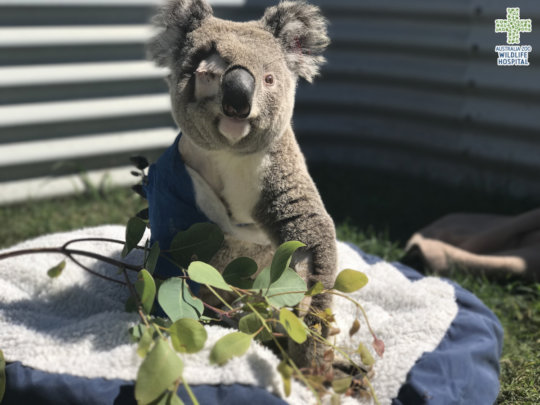 Pinto the koala was left fighting his life after being hit by a car in a high-speed zone.
With blood on his face and a broken arm, Pinto was rushed to the Australia Zoo Wildlife Hospital, where the team confirmed he had sustained multiple breaks to his arm, a ruptured eye and internal bleeding.
Dr. Amber and her team began a number of surgeries to mend Pinto's broken body. To repair the upper part of this arm, Dr. Amber inserted a series of surgical pins into the humerus (upper arm bone), which were then connected on the outside with surgical clamps to stabilise the fracture (called an external fixator). The other fracture in Pinto's arm was stabilised with a soft cast which required bandaging his arm and part of his chest. Further surgery was performed 24 hours later to remove Pinto's badly damaged eye as it was beyond repair.
Pinto has been a fighter from the start. Due to the extent of Pinto's injuries, and the immobilisation of his fractured arm, he was restricted from climbing for the first part of his recovery and housed in an enclosure in the Mammals Intensive Care Unit. With intravenous fluids, strong pain relief and anti-inflammatories to assist his recovery, he was walking around in the ICU on his own and self-feeding within a couple of weeks.
Despite Pinto's inspiring progress, his road to recovery has only just begun. Once his fractures have started healing he will begin physiotherapy to build the muscles in his arm and begin climbing again. His extensive rehabilitation means he will remain in care for at least eight months before he can return to the wild.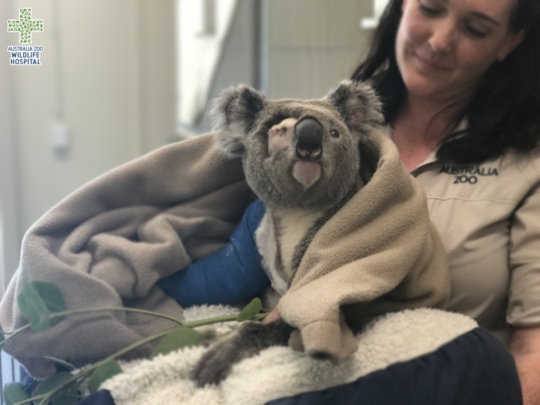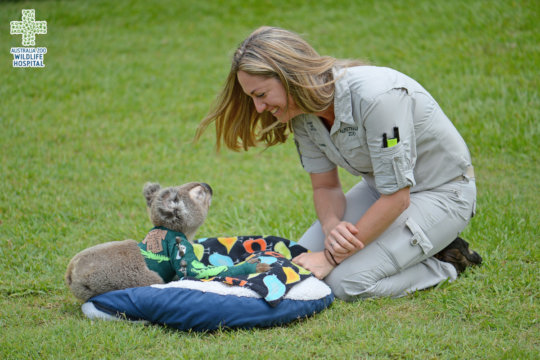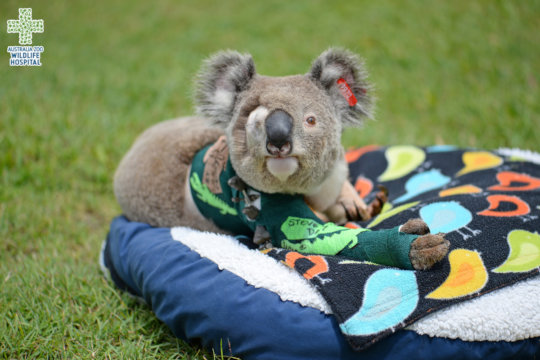 Links: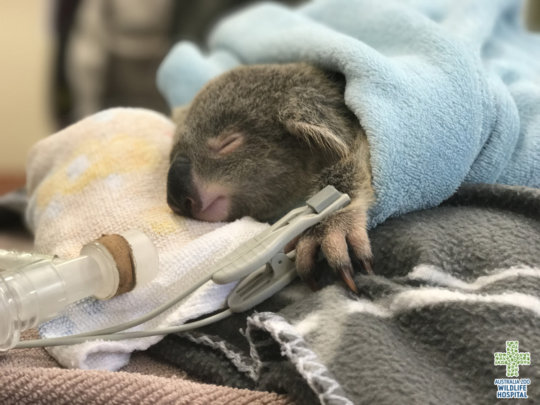 Lucy the koala joey and her mother were viciously attacked by a dog, leaving Lucy to fend for herself. When Lucy arrived at the Australia Zoo Wildlife Hospital she was dehydrated, distressed and breathing with difficulty. X-rays showed that she had suffered a collapsed lung and was bleeding into her chest and abdomen. During her veterinary examination, tiny Lucy had a seizure due to her injuries, keeping the hospital team on high alert, as they re-inflated her lung and closely monitored her heartbeat, breathing and oxygenation until her condition stabilised. Almost 24 hours after the attack, Lucy's condition had improved but her long road to recovery had only just begun.
This trauma season you can help protect wildlife in your local area by spreading these important conservation messages:
DRIVE SAFELY - adhere to speed limits and be sensible around wildlife close to roads.
KEEP YOUR PETS AWAY – be conscious of your pets and where they are, especially at night when koalas and other nocturnal wildlife are on the move.
DONATE TO WILDLIFE WARRIORS – a donation to Wildlife Warriors helps Australia Zoo Wildlife Hospital continue its lifesaving work.
Thanks to you, the team at the Australia Zoo Wildlife Hospital can continue to help orphaned animals like Lucy survive and prosper this trauma season.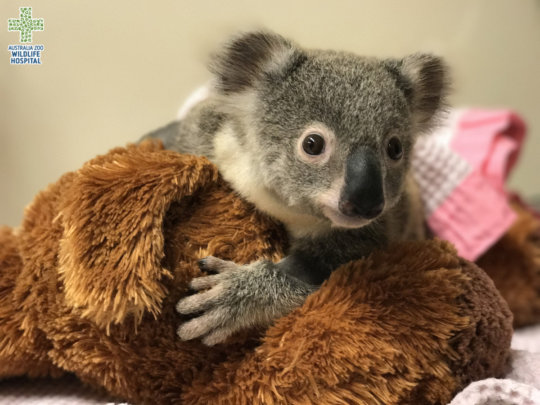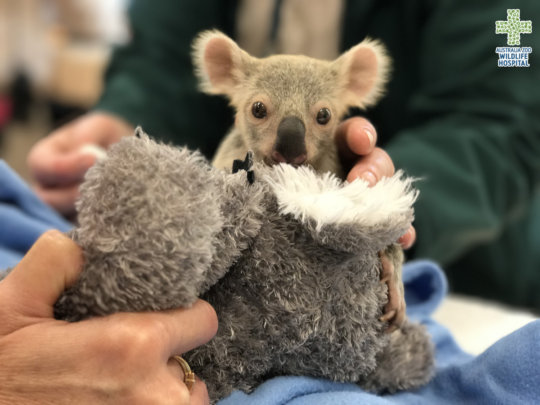 Lelo and her mother were tragically struck by a car. The people involved in the accident did all they could, however, Lelo's mother was not able to be saved and sadly died at the roadside. In a determined effort to help Lelo, the family drove for three hours to bring the baby to the Australia Zoo Wildlife Hospital.
Lelo received a full veterinary examination under anaesthetic and it was found that she had bleeding into her abdomen but had no fractures or other major injuries. The hospital team wrapped her in a blanket, gave her a plush toy to cling to and placed her in a warm humidicrib, instantly calming the nerves. Within the hour, Lelo was bright, alert and munching on eucalyptus leaf and the hospital team had arranged a specialised koala carer to raise the tiny orphan.
Thanks to your support, the team at the Australia Zoo Wildlife Hospital can continue to help orphaned animals like Lelo and Lucy survive and prosper this trauma season.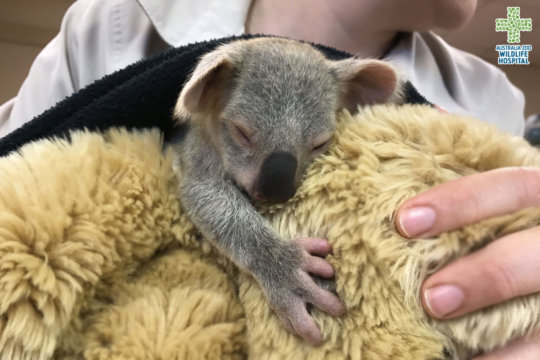 WARNING: Javascript is currently disabled or is not available in your browser. GlobalGiving makes extensive use of Javascript and will not function properly with Javascript disabled.
Please enable Javascript
and refresh this page.