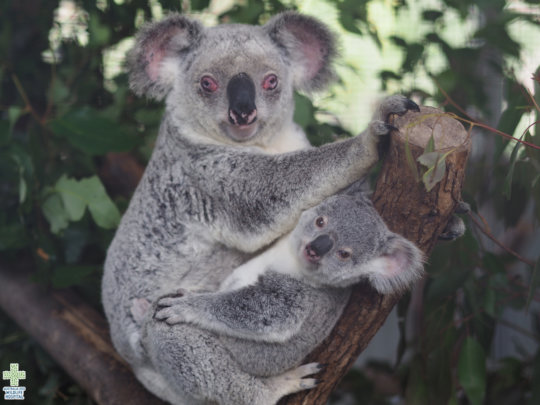 Leah, the koala was fighting for the survival of her life, and that of her joey, after disease had temporarily taken her sight. The five-year-old koala was spotted in a tree with a severe case of chlamydial conjunctivitis and a back-rider joey.
The red, inflamed, cauliflower-like infection had engulfed both her eyes. With no ability to, see to source food or escape threats, the pair were in an extremely vulnerable position in the wild.
Rescuers were called to the scene and carefully coaxed Leah down the tree, guiding her safely to the ground where they were waiting with a transport box.
To give Leah some relief, the experienced rescuers flushed her sore, swollen eyes and applied antibacterial ointment. Her six-month-old joey, Paula, hugged her mother tightly all the way to the Australia Zoo Wildlife Hospital.
At the hospital, Dr Wendy provided Paula with a soft teddy bear and a warm blanket to ensure she felt warm and safe whilst they examined her mother. Under general anaesthetic, Dr Wendy was able to complete a full veterinary exam on Leah.
Based on the severity of her conjunctivitis, she had been suffering from the chlamydial disease for some time. The infection had rendered her incapable of climbing tall trees or moving quickly along the ground, increasing her risk of being hit by a car or attacked by a dog. It was miraculous that Leah was rescued in time and that she had been able to raise a perfect, healthy joey in her poor body condition.

Dr Wendy began Leah on a treatment plan of antibiotics and eye drops to clear her eye infection and rid her of the disease. Within a week, the veterinary team observed significant improvements. The inflamed eyelids had receded making her pupils visible and giving her limited sight. There was still a long way to go for Leah's recovery, but it was a great start.
For the next two months, the veterinary team continued Leah's treatment, monitoring her progress and keeping an eye on her quickly growing joey.
During regular check-ups under general anaesthetic, Dr Wendy would surgically trim the excess conjunctival inflammation on the eyelids to promote healing. It was not long before Leah's eyesight had returned to normal, allowing her to become a confident climber and restoring her capacity to care for her joey in the wild once more.
Once the veterinary team received the test results confirming that Leah was disease-free, both her and Paula were released back into their home habitat.