Thor the beautiful red-legged pademelon is as strong as his name suggests, surviving three days on his own after losing his mum.
Rangers from the Mary Cairncross Scenic Reserve were called to Thor's mum's rescue after she was hit by a car. Upon inspection, they noticed her pouch showed signs of having a joey, but there was none in sight. Suspecting that he had been thrown from the pouch during the collision, they searched the area surrounding the accident and astonishingly managed to find him days later.
Cold, hungry and terrified, they wrapped him in a warm blanket and rushed him to the Australia Zoo Wildlife Hospital. Upon examination it appeared Thor may have had a suspected gastric torsion. Dr Ludo rushed him into surgery, thankfully confirming there weren't any ruptures.
Thor was transferred to the Nursery ICU with pain relief, anti-inflammatories and fluids to aid recovery. Once his condition stabilised, Thor was transferred to a specialised wildlife carer to provide him with the long-term love and support he needs to be able to return to the wild.
FACT: Pademelons are some of the smaller members of the Macropodidae family. The red-legged pademelon is found across the East Coast of Australia, more commonly the northern regions.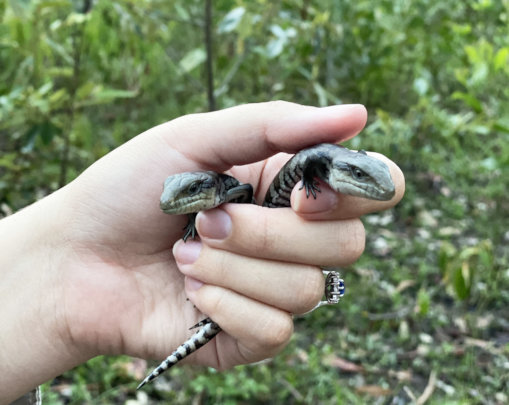 Woodie and Buzz were still in their mother's womb when they were admitted to the Australia Zoo Wildlife Hospital. Unfortunately, their mum had been attacked by a dog, and she passed away on her way to the hospital.
Dr Jaimee and Nurse Teale discovered her pregnancy on arrival and quickly sprang into action, performing an emergency caesarean to deliver Woodie, Buzz and the rest of their siblings.
After a few days under close observation with the team, they were given the all clear and were released back into the wild.
Blue-tongued lizards are the largest members of the skink family. Skink lizards have overlapping scales that are usually smooth and contain small plates of bone.
When threatened, blue-tongues turn towards the threat, open their mouth wide and stick out their broad blue tongue that contrasts vividly with the pink mouth. This display, together with the large size of the head, may frighten off predators. If the threat does not go away, blue-tongues may hiss and flatten out the body, making themselves look bigger.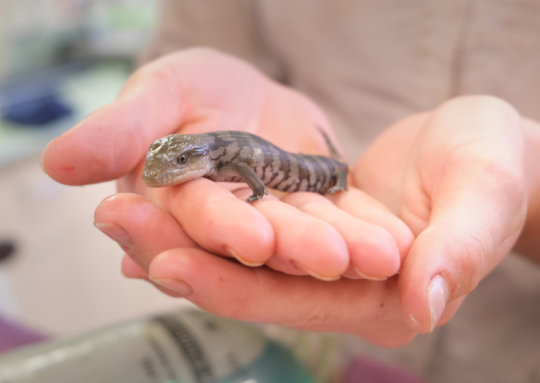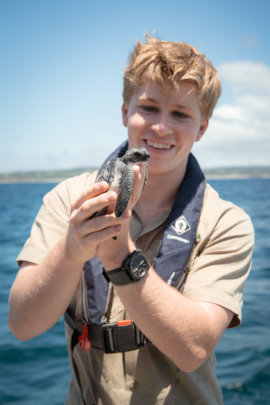 Lucky the Green Sea Turtle was found stranded on the beach on Stradbroke Island. Cold and lifeless, Lucky's kind rescuers knew he was in desperate need. He was rushed to the Australia Zoo Wildlife Hospital for emergency help where Dr Ludo was ready and waiting. Upon examination she found he had old injuries to his flipper and shell, and a fresh injury to the top of his head. Thankfully, Dr Ludo determined Lucky hadn't suffered any major trauma and despite being exhausted, he would make a full recovery.
Dr Rosie Booth, Chief of Staff at the Australia Zoo Wildlife Hospital, said it was incredibly rare to see a sea turtle of this size. 'Little Lucky is a little yearling green sea turtle that got left behind from last year's hatchlings. Normally he would have caught the East Australian Current to South and Central America with all his little brothers and sisters. After a few years they return to Australian shores to eventually breed when they are in their twenties.'
After a few days in the Intensive Care Unit with pain relief and antibiotics to prevent infection, Lucky was back to his 'turtley' awesome self and was transferred to Sea Life Sunshine Coast to continue his recovery. A few weeks later, Lucky had gained weight and was ready to be released back into the wild.
Due to Lucky's age and size, he needed to be released away from shore, so the khaki crew called in the help of our good friends in blue, the Queensland Water Police! With their ocean expertise and equipment, we found the perfect spot to release Lucky.
Today, six of the Earth's seven species of sea turtle are endangered. The Australia Zoo Wildlife Hospital has treated over 1,500 sea turtles, with boat strikes and fishing tackle entanglement some of the most common causes of harm to these beautiful animals. We can all help by disposing of our litter and fishing tackle correctly and picking up any rubbish we see on our beaches.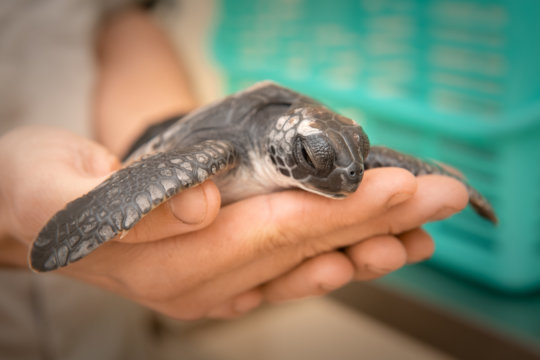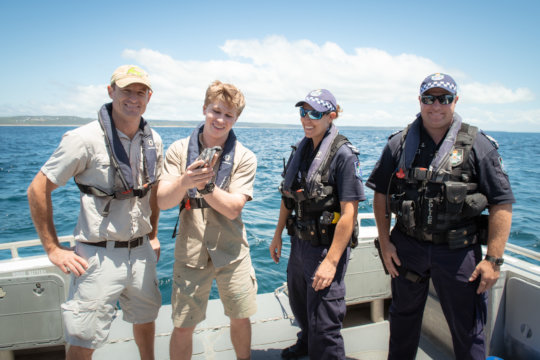 WARNING: Javascript is currently disabled or is not available in your browser. GlobalGiving makes extensive use of Javascript and will not function properly with Javascript disabled.
Please enable Javascript
and refresh this page.