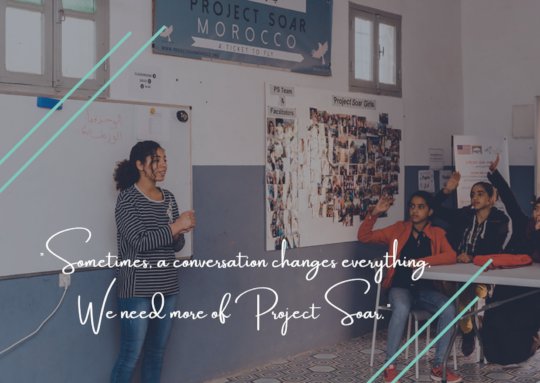 Hi Project Soar Friends!
We hope you continue to be well and in good health, as we send our gratitude to you, our supporters.
Thanks to your contributions, we are able to keep vital staff at our Douar Laadam Headquarters location during these challenging times. This team of strong and determined women is the foundation for maintaining our global Project Soar operations.
This week, we wanted to highlight Fatima, one of our team members. Fatima has been involved with Project Soar for four years, working as an Empowerment Facilitator and Coordinator. She impacts countless young girls, modeling outspokenness, confidence, hard work, and compassion.
Fatima contributes to the Project Soar curriculum and helps launch Project Soar's scaling methodology, known as Project Soar in a Box (PSB) in new locations. Fatima spends most of her time supporting PSB facilitators throughout Morocco and ensuring program effectiveness.
For veteran facilitator Fatima, work as a Senior Program Coordinator is still incredibly rewarding. She recalled that facilitators are often nervous and unsure when they begin implementing PSB; they frequently call Fatima and the other coordinators for help and advice. Fatima encourages the facilitators to take ownership over their squads of Project Soar girls, utilizing their unique abilities to devise solutions. "I love to see their confidence grow."
Fatima expressed gratitude for everything she has discovered through her involvement with Project Soar.
"Living in small communities, there is no exposure to feminist thought and little chance for us to think differently from the conservative society in which we live. With Project Soar, I have been exposed to a beautiful, feminist way of thinking and living that I previously had not known. It has really boosted my confidence and opened my eyes to so many things."
When asked to reflect on her numerous accomplishments, Fatima said she was, above all, proud of the determination and resilience of the girls.
"Sometimes, their power blows me away. The way they go back after Project Soar and work to change the society around them is amazing." The girls' wins are her wins, too.
Ever ambitious and dedicated, Fatima is spearheading initiatives to reach girls from all backgrounds. She is helping launch Project Soar's first squad of girls with disabilities!
She is indefatigable, tenacious, and kind. Through every position she has held, everything Fatima does, in her heart, is for the girls.
"I feel so sad that there are so many girls that are out there missing out on living their best lives just because they didn't have that little push or little more exposure, or somebody different that they could look up to or talk with. Sometimes, a conversation changes everything. We need more of Project Soar."
Stay tuned for more Project Soar news, and never doubt that you are making a difference!
Warmest wishes,
Project Soar Team
Links: