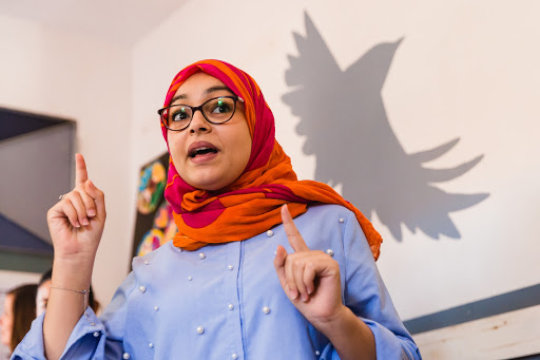 Hi Friends! We are sending gratitude to You, our supporters, and positive wishes for good health as we continue to navigate this challenging year together.
We have been hard at work preparing to launch the 2020-2021 cohort of Project Soar Girls with in-person and online sites, and wanted to highlight the brave women who are behind it all: our Empowerment Facilitators. Your support of this campaign helps provide positive role models in the lives of girls to continue developing their confidence and leadership through this global pandemic.
Here are just a few ways in which these social activists help transform girls into leaders of today and tomorrow:
Empowerment Facilitators have a passion for girls' rights: Project Soar facilitator Latifa in Morocco is a woman on a mission! She is a university student, a member of many organizations in her community, and an advocate for girls and women. Over the last year, Latifa has worked to empower girls in her community through the Project Soar in a Box curriculum and by sharing her own experiences of overcoming challenges, pursuing her education, and following her dreams.
Empowerment Facilitators are inspiring girls to embrace leadership: Project Soar facilitators at Mbogo Progressive School in Uganda helped 6 girls in the program gain the confidence to be elected for leadership positions. Ahead of the elections, the facilitators used the empowerment curriculum to help build the confidence and public speaking skills of these girls in a safe space.
Empowerment Facilitators are leading by example: Project Soar facilitator Habiba in Morocco persevered to receive an education after dropping out in the 5th grade because of family expectations and community perspectives about girls attending school. Habiba's consistent positivity and determination in pursuit of her goals has helped make her a role model within her community. She passes her positivity on to the girls of her community as a facilitator for Project Soar, where she leads by example to help girls forge their own path.
Project Soar Empowerment Facilitators are leaders of change in their communities, and instrumental in empowering girls across Morocco and Uganda.
Stay tuned for more stories of these incredible women, and never doubt you are making a difference!
Warmest Wishes,
The Project Soar team