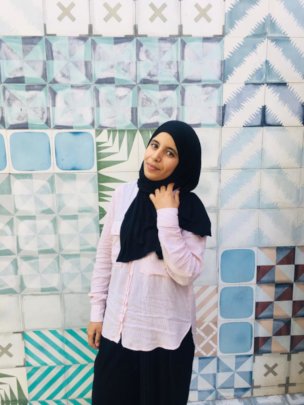 Dear friends,
Project Soar is sending its gratitude to you, our supporters, and positive wishes for good health and happiness for you and your loved ones.
We are currently in the process of launching a new year of the Project Soar in a Box (PSB) Empowerment Curriculum in sites across Morocco. Our signature bags and boxes, full of all the supplies needed to implement the program, have been packed and shipped, and this year's new Empowerment Facilitators are wrapping up their in depth training. This is an exciting time of fresh starts and new beginnings for everyone at Project Soar, including all of our wonderful Empowerment Facilitators. 23 Empowerment Facilitators are in the process of completing their training virtually and, along with the 35 renewing Empowerment Facilitators, we are ready to welcome girls to our sites across the country and get started with the 2021/2022 edition of the Project Soar in a Box program!
Khadija Boulahcen is one of our amazing Empowerment Facilitators turned full time Program Assistant at Project Soar. Her dedication and relentless hard work are a constant source of inspiration for those around her. Khadija has successfully guided 20 girls through the Empowerment Curriculum and inspired countless girls beyond this with Project Soar values. Additionally, since joining Project Soar as a full time employee, she has played a vital role in organizing the rollout of a new year of Project Soar in a Box. Khadija shares some reflections on her time as an Empowerment Facilitator and her hopes for the future of Project Soar.
"I wanted to do something for the girls." Khadija says when asked about why she initially decided to become an Empowerment Facilitator. "When I was their age, I would have loved to have had someone to listen to me, to guide me, to give me advice" she continues. Khadija recalls how proud she was to witness the girls progressing in front of her eyes as she guided them through the 5 modules focused on Value, Voice, Body, Rights, and Path. She says that "comparing the girls from the first session to even just the middle of the curriculum, you can see the very positive changes taking place." She shares how the girls became more confident and more comfortable speaking out and voicing their opinions, which she found incredibly rewarding to observe.
For the coming year, Khadija has hopes and aspirations, especially for the new Project Soar girls living in rural areas. Having grown up in a rural village in Morocco, she says "It is in rural areas where the program is most needed, as girls from these more remote places are often lacking the tools they need to express their thoughts and a safe space to do so."
Khadija and all of our Empowerment Facilitators are an essential part of Project Soar. Without them, we would not be able to deliver the Project Soar in a Box Empowerment Curriculum. They are strong and inspiring women who serve as role models, guides, and confidantes to PS girls!
We are so grateful for your continued support of our Empowerment Facilitators, like Khadija, especially given the especially challenging times we now live in.
Stay tuned for more stories from these incredible women, and never doubt you are making a difference!
Warmest Wishes,
The Project Soar Team